Media companies, whose earnings are driven by content are notoriously hard to predict as investments. However, one that seems underpriced given their film assets, strong production pipeline and reasonable valuation is Dreamworks.
DreamWorks Animation (NASDAQ:DWA) – "DreamWorks Animation SKG, Inc. engages in the development, production, and exploitation of animated feature films and characters worldwide. It provides animated feature films and characters for the theatrical, home entertainment, television, and merchandising and licensing markets". (Business description from Yahoo Finance)
7 reasons why Dreamworks could provide solid returns in 2012:
1. The stock is selling at the bottom of its five year valuation range based on P/E, P/S, P/CF and P/B.
2. The stock seems to be building a technical base just under current price levels (See Chart).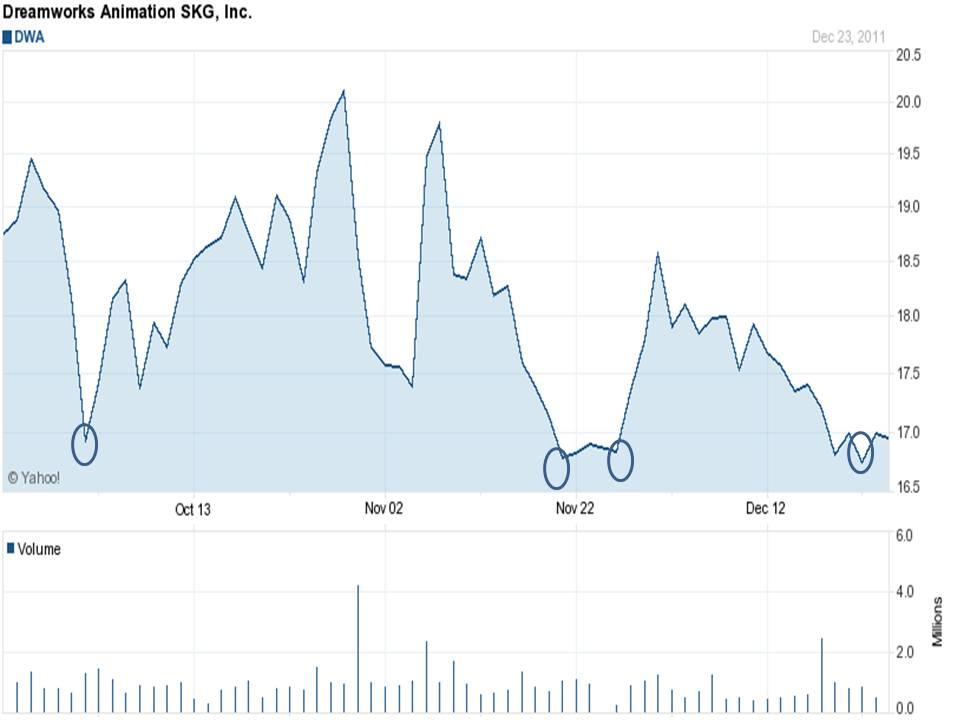 3. DreamWorks plans to release three films for 2013 for the first time ever. It also just signed a pay TV distribution with Netflix (NASDAQ:NFLX) that has significant potential upside.
4. DWA has a pristine balance sheet with almost $2 a share in net cash on the books.
5. Revenues should be up roughly 10% in 2012 given new releases and a growing catalog of previous films.
6. DWA has beat earnings estimates for six straight quarters. The average beat over consensus earnings over the last four quarters is 13%.
7. DreamWorks is rated a "Strong Buy" at S&P with a $28 price target. The mean analysts' price target is $20 for Dreamworks.
Disclosure: I have no positions in any stocks mentioned, but may initiate a long position in DWA over the next 72 hours.