Compared with stocks (and especially small-cap stocks), REITs did especially well in 2011. As explained by Brad Case, Ph.D., CAIA with NAREIT (REIT.com):
There were two countervailing forces driving the sector. The first (positive, force) was the steady improvement in real estate operating fundamentals--occupancy rates and rent growth--along with employment growth, retail sales and other signs that the macroeconomic situation has been firming up. Add to this, the fact that publicly traded REITs still have a competitive advantage over other real estate investment managers in terms of access to capital, and therefore, the ability to buy high-quality properties at favorable prices; investors are clearly happy with the prospects for earnings growth.

The second, (negative force) was continued concern about the European debt situation and the inability of governments to bring their spending under control. The European problem reared its head several times this year, most notably in August, when it was coupled with similar concerns about the U.S. My own sense is that the U.S. economy will continue to improve—not rapidly, but steadily--even if problems in Europe and even Asia weigh down those economies.
Here is a chart (supplied by Brad Case) comparing the FTSE NAREIT All Equity REITs Index, the S&P 500, and the Russell 2000 for Dec 2010-Nov 2011: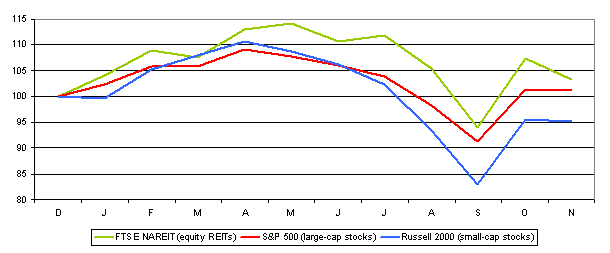 As we enter 2012, REITs should continue to outperform most stocks, and especially some of the demand driven sectors. As explained by Victor Calanog, PhD, Chief Economist with Reis, Inc. (reis.com/) "The 'safest' play seems to be multifamily, with vacancies continuing to crater and positive headwinds from the fallout from single-family homes. Even office and retail REITs are getting into the apartment building game. According to Reis data, Boston Properties (NYSE:BXP), Mack-Cali (NYSE:CLI) and Simon (NYSE:SPG) are all breaking ground or planning to do so on apartment developments.
According to Victor Calanog with Reis:
Rent growth will be stellar, but not uniformly strong for every player. Equity Residential (NYSE:EQR) seems well poised to raise rents in the current economic environment, catering mainly to higher-end households with Class A apartment buildings. REITs that have a larger mix of Class B and C properties have recently shown some signs of a slowdown in leasing, primarily because they are bumping up against the relatively stagnant income growth of their tenant mix. Still, look to apartment properties to post higher-than-inflation figures for income growth as both occupancies and rents continue to improve .And as the apartment sector advances, the office sector will not be as positive.
As explained by Calanog:
Office properties will continue to improve, but at a fairly modest pace. Consensus forecasts show little chance of a ramp-up in job creation in the US, and if we continue to proceed at a roughly 100,000 to 150,000 a month pace in terms of job creation it will continue to nudge office vacancies down, but not at a very fast rate. Expect year-end 2011 vacancies to be at around 17.2% nationally (down from 17.6% at the end of 2010) and below 16% by the end of 2012. Absorption will be positive, but what we'll experience over the course of an entire year we've seen the office sector absorb in a single quarter during more robust times.
The retail sector - consisting of malls, shopping centers and single tenant sub-sectors, has been a favorable investment in 2011, and 2012 appears to be just as promising. As explained by Calanog:
For the risk-loving investors, retail REITs will be an interesting play. Retail as a whole continues to show little signs of consistent recovery, with vacancies moored at 20 year highs for neighborhood and community centers. Rents haven't been recovering that well either, and it doesn't seem that the bloodletting is over for many of their target tenants, with announcements of store closures still making the news. Still, if you own quality properties in relatively supply-constrained areas where your center is the only game in town, you'll probably do well. Mall operators like Simon Property Group (SPG) will continue to do well because of their higher quality malls, for example. On specific subsectors like outlet malls you've got the Tangers (NYSE:SKT) of this world riding the wave of greater frugality and consciousness about spending habits that will probably characterize American consumer behavior for at least the next few years.
Finally, Canalog provided me with the illustration below that compares unemployment and vacancy rates with apartment, office and retail. As you can see, this illustration is dated 1980 thru 2013, and it provides a useful representation of vacancy trends for the three major CRE asset sectors (and near-term fundamentals):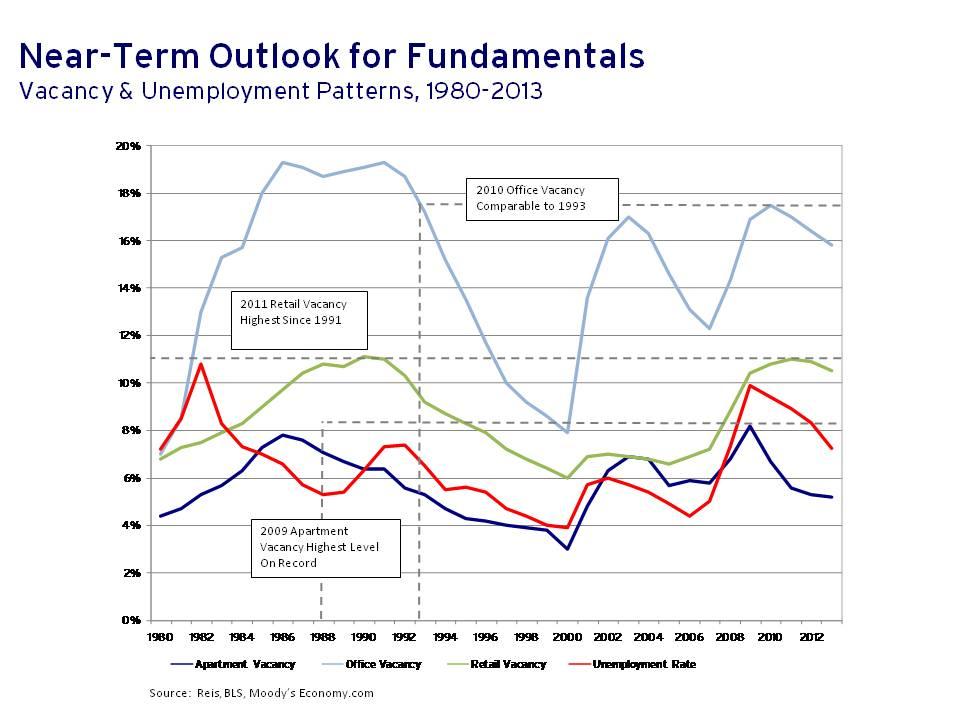 Thoughts for the New Year
Every man should be born again on the first day of January. Start with a fresh page. Take up one hole more in the buckle if necessary, or let down one, according to circumstances; but on the first of January let every man gird himself once more, with his face to the front, and take no interest in the things that were and are past. ~Henry Ward Beecher
Finally, I have provided a chart below for my favorite "sleep well at night" (SWAN) REITs. I have written articles on a number of these in 2011, and I will continue to provide results and detailed summarizes during 2012. Thank you for all of your comments as Seeking Alpha has been a great experience. Good luck and always remember Warren Buffett's rules for investing:
"Rule No.1: Never lose money. Rule No.2: Never forget rule No.1"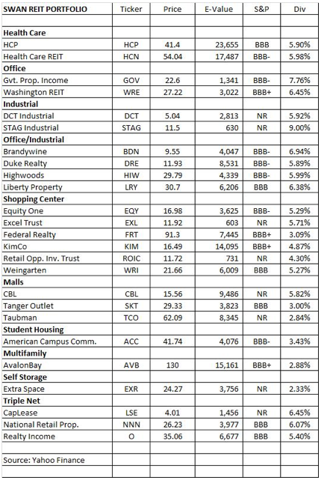 Disclosure: I have no positions in any stocks mentioned, and no plans to initiate any positions within the next 72 hours.