Italy is planning to auction about 22B euros of T-bills and T-notes this week, Dec. 26-30, 2011, on Wednesday and Thursday. With the current yield of the Italian 10 year note at 7.13%, any spike upward will be a huge negative for the equities and the commodities markets. Such action would encourage an EU credit crisis panic. Everything would again be sold. For this reason I believe there is a better than even chance that the ECB will step in to buy Italian bonds to prevent the above scenario from unfolding. If the note yields can move lower, this should be a tremendous buy signal for gold.
The US Congress has recently approved a nearly $1T spending bill. It has approved a two month extension of the payroll tax cut. The Congress is expected to approve the payroll tax cut for the entire 2012 year early in 2012. This is another $200B in stimulus. If the Keystone Pipeline approval is included in that bill, that will be even more stimulus.
On top of the US stimulus, the ECB has been providing QE. It has been buying up to 20B euros of sovereign debt per week. Plus the oversight committee, which meets every two weeks, has talked of raising that limit to 30B euros. With approximately 4.35 weeks in a month, this means the ECB can spend approximately 87B euros to 130B euros on sovereign debt per month. If you take the 87B euro figure as the high limit, this translates into approximately $114B (US) per month. This high end figure is far more than the US Fed's QE2 program's approximately $70B/month. The idea that the ECB is not doing QE is a fallacy. If the ECB bolsters the Italian note auction, it will be a clear signal to everyone that the ECB is in the QE business.
Via the LTRO (Long Term Refinancing Operations) program, the ECB recently supplied many EU banks with needed liquidity. The LTRO program is providing virtually unlimited 3 year loans to EU banks that have collateral to offer up. This is an attempt by the ECB to help banks overcome liquidity issues, especially those due to the 720B euros worth of funding maturing next year. The ECB said on Wednesday Dec. 21, 2011 that it had provided 523 EU banks a total of 489B Euros in funding. This is adding liquidity. In fact, some banks are over borrowing, so they can re-invest the money not used for liquidity in such things as Spanish 3 month T-bills, which yield approximately 1.75% (0.75% more than the ECB lending rate of 1.00%). This allows the banks to make a profit on the extra amounts borrowed. Plus, it helps to decrease the yields of Spanish T-bills.
With all of this new stimulus and liquidity money, both commodities, especially gold, and the equities markets are set to rally. A successful Italian note auction on Thursday Dec. 29, 2011 would give the green light to such a rally. It would extend the Santa Claus rally. It would mean that gold would have very little reason to go down due to panic selling. Instead gold would have every reason to go up due to the huge recent increases in stimulus and liquidity monies. Conversely, bad Italian note auctions would be a signal to stay clear of gold for the near term. The Italian T-bill auctions on Wed. Dec. 28, 2011 will be a warm up to the main event, the note auctions, on Thursday. It should provide some hint of what may happen; but it is unlikely to be the deciding factor.
The two year chart of the SPDR Gold Shares ETF (NYSEARCA:GLD) is a good proxy for gold (see below).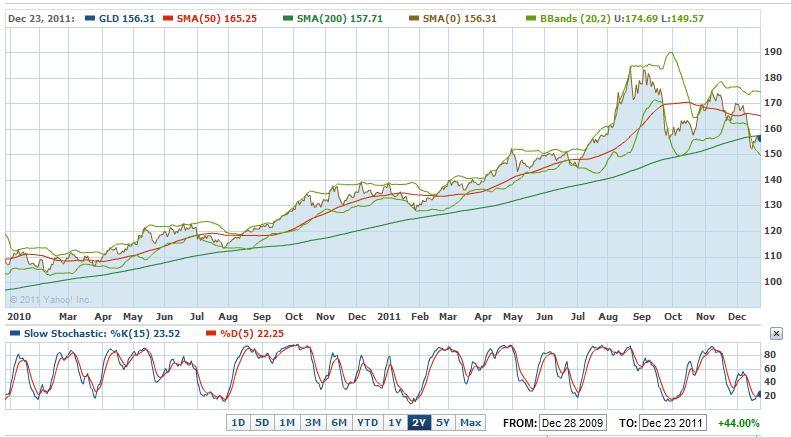 The chart shows that GLD is near oversold levels on its slow stochastic sub chart. GLD is below both its 50-day SMA and its 200-day SMA. It is technically set up to rally, if the fundamentals back up that rally.
A common way to invest in gold is the GLD ETF. It seeks to replicate the performance, net of expenses, of the price of gold bullion. The trust holds gold, and is expected to issue baskets in exchange for deposits of gold. It distributes gold in connection with the redemption of baskets (Yahoo Finance).
The China PMI on Friday is also important. The HSBC Flash PMI came in at 49 earlier this month. That was up from 47.7 in November, but it was still below expectations for a more robust recovery. If expectations were correct, the full month PMI figure should be an improvement in the 49 figure. If that figure comes in at 50+ (expansion), that would be a big plus to the markets too. Any improvement over 49 would probably be a positive. Any fall to a value lower than 49 would be a big negative. We can hope for the best.
Some other gold ETF investment vehicles are: the iShares Gold Trust ETF (NYSEARCA:IAU), the ProShares Ultra Gold ETF (NYSEARCA:UGL) -- two times, the ProShares UltraShort Gold ETF (NYSEARCA:GLL) -- two times, the PowerShares DB Gold Double Long ETN (NYSEARCA:DGP), and the PowerShares DB Gold Double Short ETN (NYSEARCA:DZZ). There are others, but the above are some of the most heavily traded ETFs. You can also buy gold, gold futures and/or gold options.
Good Luck Trading.
Disclosure: I have no positions in any stocks mentioned, but may initiate a long position in GLD over the next 72 hours.