EarthLink's (NASDAQ:ELNK) share value has gone up by 65% in a year. The company is a provider of network, security and cloud solutions for individuals and businesses in the US. EarthLink has remained a top performer in the industry for a long time: the company's revenue growth has averaged 10.2% over the past five years, while the industry has seen its top line increase at a lesser rate of 7.2%. With the macro environment proving favorable for EarthLink, this trend is expected in the future.
In this article, I will evaluate the company's financial strength by reviewing its performance in the latest quarter. Later, I will discuss factors to support my quantified upside of the company.
First Quarter
EarthLink reported its latest quarterly result this week: the company's revenue declined by 5% as the top-line figure came to $282 million. However, the year-over-year drop was much better than the fall of 5.7% delivered in the fourth quarter and was achieved through favorable industry conditions which led EarthLink to charge higher prices.
Gross margin, however, went up by 330 bps to 54%, owing to productivity gains and favorable product mix. A similar trend followed for SGA expenses, which fell by 209 bps to 33.7% of sale due to an increase in the absorption of overhead and internal restructuring.
The net result is a loss of 10 cents per share, which not only beat the analysts' estimate of 17 cents by a wide margin but also came 61% above the loss reported in 2014. Looking ahead, the earnings momentum is expected to sustain because of the reasons discussed below.
Market Expansion
The market for IT services is forecast to grow at a CAGR of 17.7% over the next two years. The reason is that electronic devices are becoming more connected day by day. With the introduction of social platforms and smartphones, consumers are accessing information through multiple gadgets. This has created a need for firms to adopt solutions that can help them promote their commodities through various channels. It also has pushed the business of cloud computing up as the ease of accessibility and time-saving characteristics of quick data access are helping companies grow their productivity.
While the macro environment will provide a tailwind to every player in the sector, several factors indicate that EarthLink will stand out as a winner: first, the company has expanded its portfolio of products by launching a new Internet Protocol Security for Virtual Private Networks "VPN" service in April. VPN is used to support secure data exchange at economical rates and connect multiple locations on high-bandwidth networks. As businesses continue to shift applications to cloud storage, their transfer will require higher bandwidths in the future but at a lower price.
With that being said, the addition of VPN will assist EarthLink in extracting a bigger share of market growth by providing customers a low-cost way to satisfy their data needs and ensure compliance with security standards such as PCI-DSS. Firms in various sectors including retail, healthcare and financial will be able to self-install the product as well, which will save them money in setting-up expenses charged by rivals, and so improve the likelihood of higher revenue generation for EarthLink in return.
Secondly, during the latest quarter, the company also introduced a bundled version of its PCI assessment tools and VPN for franchisees. Recently, EarthLink received requests from franchisers on its retail-advisory council that they needed an all-inclusive package which could be set up without their staff requiring technical training or IT competence.
The newly-introduced bundle will include several additional features apart from providing basic security, like a financial breach protection of $100,000 on every location of a franchise. Moreover, the company will distribute its Secure WiFi with rogue device detection and quarantine capability, a social media platform to connect guests to loyalty programs, and an optional offer engine for generating return visits to customers. The package will therefore help EarthLink grow its penetration into several niche markets that operate on a franchise business model, and will consequently expand the breadth of the customer base catered by the company.
Bottom Line
Industry growth, introduction of new products and an increase in market coverage have led analysts to believe that EarthLink's losses will narrow by 18% to 58 cents per share by the end of 2015. The growth in earnings will ensure that the stock-price trend moves ahead.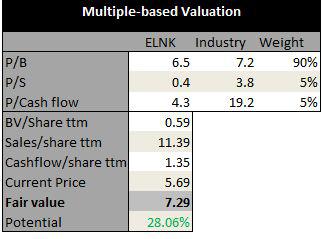 EarthLink will pay a dividend of 5 cents to investors on record by 18th June; the payment will return an attractive yield of 3.5%. The company also remains undervalued through several metrics that investors tend to rely on: EarthLink's price-to-sales multiple of 0.4x is below the 3.8x industry average, while the price-to-book ratio of 6.5x 10% lower than the industry average. In addition, EarthLink's price-to-cash flow multiple of 4.3x is well below the industry average of 19.2x. Adding the fundamentals reveal that the company is undervalued by 28% (see table above). Therefore, EarthLink holds a buy rating.
Disclosure: The author has no positions in any stocks mentioned, and no plans to initiate any positions within the next 72 hours.
The author wrote this article themselves, and it expresses their own opinions. The author is not receiving compensation for it (other than from Seeking Alpha). The author has no business relationship with any company whose stock is mentioned in this article.