Four countries stand out for favorable short-term and long-term returns among 34 MSCI country indexes for which there are also proxy ETFs.
They are Indonesia (proxy IDX), Thailand (proxy THD), Malaysia (proxy EWM) and the United States (proxy VTI).
This table provides data as of December 23, 2011, for the 34 country indexes for the periods month-to-date, 3 months-to-date, year-to-date, 1-year, 3-years, 5-years and 10-years. A proxy ETF for each country is also shown.
Click to enlarge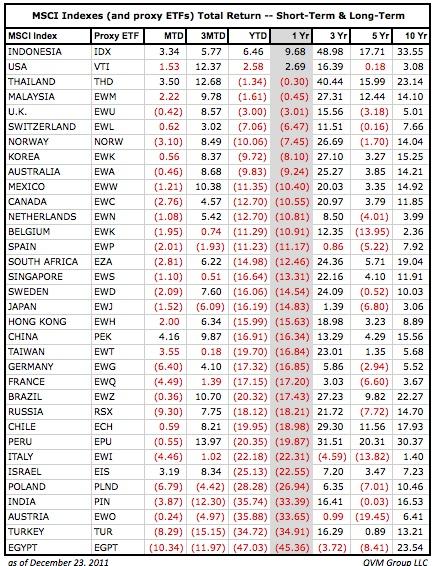 At the bottom of the list is an obvious choice, Egypt (NYSEARCA:EGPT) due to the chaos there, but in next to last place is Turkey (NYSEARCA:TUR), which is not suffering the same kind of problems found in the general region.
Turkey has a dynamic market economy, however its proximity to Syria and the generally unsettled nature of the region and the declining secular influence of the government may make price recovery harder than it might otherwise be.
Austria and Poland are near the bottom due to the economic problems in Eastern Europe. Poland is solidly part of Eastern Europe, and Austria is at the interface of Western and Eastern Europe with substantial business investments there.
India is doing badly too, and has not been able to take advantage of its English language and democracy to compete well with its neighbor China. In fact, some might argue that democracy there has gotten in the way of progress, but we think it is more there state enterprise and difficult employment laws, and/or its protectionist policies, not democracy that has been the problem -- perhaps illustrated by their "on" then "off" plan to allow foreign food distributors into their economy.
The China index (which includes stocks available to non-Chinese investors) has done substantially better than the Shanghai index (which includes stocks that are not available to non-Chinese investors).
Mentioned Securities:
IDX, VTI, THD, EWM, EWU, EWL, NORW, EWK, EWA, EWW, EWC, EWN, EWK, EWP, EZA, EWS, EWD, EWJ, EWH, PEK, EWT, EWG, EWQ, EWZ, RSX, ECH, EPU, EWI, EIS, PLND, PIN, EWO, TUR, EGPT
Disclosure: QVM does not have positions in any mentioned security as of the creation date of this article (December 26, 2011).
Disclaimer: This article provides opinions and information, but does not contain recommendations or personal investment advice to any specific person for any particular purpose. Do your own research or obtain suitable personal advice. You are responsible for your own investment decisions. This article is presented subject to our full disclaimer found on the QVM site available here.