The famous quote "you are what your record says you are" is from NFL Coach Bill Parcells. It was his retort to a suggestion that "team X was better than their record would indicate". It is applicable to dividend stocks as well as football. In this article I will review the record of dividend payments for 20 stocks over the past five years. In keeping with the spirit of the season (i.e. the football season), I will present the data analogous to a season of competition of a sports league, where the twenty stocks comprise the "league" and the previous five years represents the "season." The evaluation will consider only the dividend records. Each stock will be categorized as a "contender, pretender, disappointer, or disaster."
Before I go any further, in the interest of full disclosure, note that I am not a financial professional, nor am I certified in any way as a financial advisor. I am an independent, small investor sharing experiences that hopefully will be interesting, as well as helpful, to others in similar circumstances.
In the table below, I have summarized five years of dividend history for the 20 stocks. The five year period encompasses what has come to be called "The Great Recession", which tested the staying power of dividend stocks more than any period since the Great Depression of the 1930's. It will be interesting to see how our "teams" handled this tumultuous period.
The stocks, with symbols and sectors indicated, are:
Abbott Labs (NYSE:ABT) - Pharmaceuticals & Health Care Products

Chevron (NYSE:CVX) – Integrated Oils

Johnson and Johnson (NYSE:JNJ) – Pharmaceuticals & Health Care Products

AT & T (NYSE:T) – Communications

Southern Company (NYSE:SO) – Utilities

Health Care REIT (HCN) – Health Care Facilities

Piedmont Natural Gas (NYSE:PNY) – Utilities

Universal (NYSE:UVV) – Tobacco

Mercury General (NYSE:MCY) – Insurance

Exelon (NYSE:EXC) – Utilities

Du Pont (DD) – Chemicals

Energy Transfer Partners L.P. (NYSE:ETP) – Natural Gas Pipelines

Pfizer (NYSE:PFE) – Pharmaceuticals

First Potomac Realty (NYSE:FPO) – Industrial & Office Facilities

Breitburn Energy Partners L.P. (BBEP) - Oil & Gas Production

Ares Capital (NASDAQ:ARCC) – Financial Services

Apollo Investment (NASDAQ:AINV) – Financial Services

General Electric (NYSE:GE) – Industrial & Financial Conglomerate

Annaly Capital Management (NYSE:NLY) – Mortgage REIT

Bank of America (NYSE:BAC) – Money Center Bank
For each stock, the table shows the dividends paid by year, the five-year low price, the five-year high price, and the annualized yield as calculated at these price levels, considering the dividend rate in effect on the day that the price extreme occurred. Of course, there is much to consider besides the current yield when contemplating an investment in a dividend stock. This will be seen as we review some of the stocks that didn't fare too well during "The Great Recession."
Click to enlarge: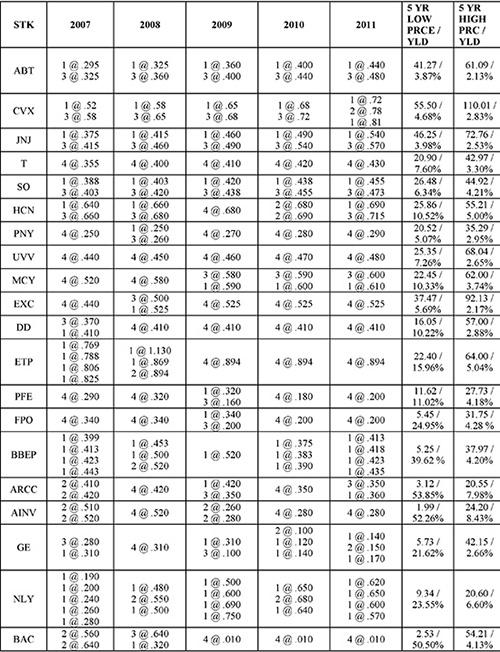 The best performers are companies that pay regularly, never miss a payment, never cut the dividend amount, and can be counted on to increase the amount every so often. These are the contenders, companies that will eventually provide an impressive yield on cost if performance continues. Companies that fall into this category, at least for the time frame shown, are Abbott Labs (ABT), Chevron (CVX), Johnson & Johnson (JNJ), AT&T (T), Southern Company (SO), Health Care Reit (HCN), Piedmont Natural Gas (PNY), Universal (UVV), and Mercury General (MCY). Given steadily increasing dividends and enough time, an impressive yield on cost will be achieved.
The key phrase here is "given enough time". Because dividends are usually only increased in small increments, five years of increasing dividends will not provide a yield on cost much more than the yield at purchase. Five years is just not very much time for a long-term investment strategy.
Consider Johnson & Johnson, which could have been purchased at the beginning of January 2007 at $66.13, with a quarterly dividend of $.375, providing an initial yield of 2.27%. After five years, with dividends steadily increasing to $.57 per quarter, the yield on cost is 3.45%. This is an improvement over the original yield, but not by much, and is actually less than the current yield of 3.53%. To get an impressive yield on cost, go back to the beginning of January 1992, when the stock could have been purchased at $14.06. It initially paid $.05 a quarter, yielding 1.42% annually. The yield on cost, considering the current $.57 dividend, would now be 16.22%. Plus, the investment has generated income steadily for twenty years, increasing slightly each year. (While not the focus of this article, the really high returns on this type of investment are achieved by harnessing the power of compounding by reinvesting accumulated dividend cash periodically.)
But what if a stock turns out to be a pretender instead of a contender? These are companies that once looked like contenders, but then increases suddenly stalled. These companies have fallen short of the highest performance level. Companies above that fall into this category are Exelon (EXC), flat since 4th Quarter 2008, DuPont (DD), flat since 4th Quarter 2007, and Energy Transfer Partners (ETP), flat since 4th Quarter 2008. These companies are not disasters, but if dividends are not increasing, yields on cost are not increasing.
Now let's consider the next tier, companies that either cut their dividends during the period under review, or suspended payments for a time. These are not necessarily disasters, just disappointing. They showed flashes of performance early on, looking like they might contend, but then fell short. Stocks falling into this group are Pfizer (PFE), First Potomac Realty (FPO), Breitburn Energy Partners (BBEP), Ares Capital (ARCC), Apollo Investment (AINV), and most famously, General Electric (GE).
For pretenders and disappointers, an investor has to make a decision whether to hold on, sell, or even to add to a position. This latter alternative is viable if the stock has declined drastically as part of a general panic sell off, and an investor believes that the company will eventually recover. The financial crisis presented some extraordinary opportunities to buy these last six stocks at prices resulting in very high yields, based on the dividend rates then in effect: Pfizer - 11.02%, First Potomac -24.95%, Breitburn Energy - 39.62%, Ares Capital- 53.85%, Apollo Investment - 52.26%, and General Electric - 21.62%.
An investor doing any research on these stocks had to know that the dividends were at risk. Even without doing any research, an investor has to know that any time yields like these appear, the dividends are at risk. So how would an investor have done if he/she had possessed the intestinal fortitude to buy these stocks at the lows?
Pfizer – The low occurred on 3/02/2009, the dividend level was $.32/share. Investors buying on the low day never experienced the 11.02% yield shown, however, as the dividend was cut to $.16/share before the next dividend; a 50% haircut. The initial yield realized was only 5.51%. With a couple of small increases since, the yield on cost would now be up to 6.88%.
First Potomac – The low occurred on 11/21/2008, the dividend level was $.34/share. One more dividend was paid at the $.34 level, after which the dividend was cut to $.20/share, where it has remained. So the yield realized was not 24.95% for long. But even at the reduced payout, a yield on cost of 14.68% has been achieved, not over decades, but from day one.
Breitburn Energy – The low occurred on 12/22/2008, the distribution level was $.52/unit. One more distribution was paid at the $.52 level, after which distributions were suspended for four quarters, then resumed at $.375, with increases occurring regularly ever since. The yield on cost at the point of resumption was 28.57%, which was available after just 1 year. Today, with the rate at $.435/unit, yield on cost would be 33.14%.
Ares Capital – The low occurred on 3/12/09, the dividend was $.42/share. Interestingly, the low was reached exactly on the ex-dividend date of the next-to-last dividend at the $.42/share rate. One more dividend was paid at this rate, after which the dividend was reduced to $.35/share. Dividends continued with no lapses, and an increase occurred in 2011. The yield on cost from day one was 44.87%, and is today a bit higher, up to 46.15%.
Apollo Investment – The low occurred on 3/17/09, the dividend was $.26/share, which had been in effect for one cycle already, the dividend having been reduced 50%, from $.52/share. The low day was the first ex-dividend day for the new rate. The dividend remained at $.26/share for one more cycle, and then increased to $.28/share, where it has been for the last 10 cycles. The yield on cost from day one was 52.26%.
General Electric – The low occurred on 3/3/09, the dividend was $.31/share. Investors buying on the low day never experienced this yield, however, as the dividend was soon cut to $.10/share. Still, the shares have done reasonably well, since the yield on cost from day one was 6.98%, and with four increases since, it is now up to 11.87%.
Unfortunately, opportunities like these are long gone, and even if prices should return to these levels coincident with a new financial crisis, who can say whether a recovery will occur as before? The risk of a distress purchase is, of course, that the company continues on a downward path, the dividend is eliminated, and the company possibly disappears by way of bankruptcy or merger.
Some companies have dividends that vary with each payment, based on each period's profitability. Annaly Capital Management (NLY), a mortgage real estate investment trust (REIT) popular with dividend investors, is one such company. At a certain psychological level, it makes sense to me that a company should have high dividends when times are good and low or no dividends when times are bad. But as a retiree looking for steady income, or an investor hoping to eventually achieve a very attractive yield on cost from dividend growth, a company with dividends that fluctuate up and down every quarter is not a desirable holding. High yield stocks such as Annaly can have a place in a dividend investor's portfolio if the risk is understood and accepted, but only for a very small percent of a total portfolio. This stock defies categorization in our sports league analogy, but if and when the high dividends stop coming, it will be a disappointer also.
Finally, I want to discuss Bank of America (BAC). Prior to the financial crisis, the financial sector had been growing in importance for twenty years or more, compared to other sectors. Banks were extremely profitable, and with their high yields, were very popular with dividend investors. We all know what happened: The profits evaporated, questionable practices were revealed, and bank dividends in nearly all cases were either eliminated or reduced to the ridiculous level of a penny per share. The lesson here is to never allow a dividend portfolio to be weighted too heavily in one sector, no matter how appealing. This can easily happen, since dividend payers tend to be concentrated in certain sectors, such as banks (formerly), utilities, tobacco, and pharmaceuticals, to name a few. A macro-level development can cause mass casualties throughout a sector, no matter how well-managed an individual firm may be.
Of all the stocks discussed, Bank of America is the only true dividend disaster. While the bank is not likely to go bankrupt, it looks like it will be a long time before a meaningful dividend is restored. Further dilution or a reverse stock split could occur. The only defense an investor has against this type of stock, purchased when times were (at least superficially) good, is to sell before the loss gets out-of-hand, and limit the impact of whatever loss occurs by always adhering to the rule to limit a single holding to no more than 5% of the portfolio. Unlike the teams in the NFL that finish at the bottom, Bank of America will not receive consolation in the form of a high draft pick that could turn things around quickly for the firm.
In practice, an investor needs to consider many other factors besides the dividend history before investing in a dividend stock. Delving into this topic would require a separate article, perhaps several, and will not be attempted here. There are many resources available on evaluating companies from a dividend perspective. On my blog I provide a short summary of some key considerations, and name a resource that I have found to be very helpful.
In conclusion, the record of dividend payments should be reviewed, along with many other factors, when evaluating a dividend stock for purchase. To restate Coach Parcell's quote, adapted to dividend stocks, 'a stock's investment value in the long run is what the dividend payment record says it is!'
Disclosure: I am long ABT, JNJ, T, EXC, ETP, PFE, FPO, BBEP, ARCC, NLY, AINV, GE, BAC.
Note: Data sources for the stocks discussed were: TD Ameritrade - Charts, Comparisons and Events, Dividends, for dividend dates and amounts; and Think or Swim - Charts, for five year stock price lows and highs.