In a recent article about the direction of technology and how it applies to the delivery of content I received a very spirited and engaging comment stream. One of the great and satisfying aspects of putting my thoughts to the pen is receiving feedback. I have noticed a common theme with many of the comments and questions in several technology articles regarding the relationship with Google (NASDAQ:GOOG), Apple (NASDAQ:AAPL), Sprint (NYSE:S), Verizon (NYSE:VZ), Sirius Radio (NASDAQ:SIRI), Pandora (NYSE:P) and the many other Internet radio content providers as it relates to investing. Click here to read my Apple articles.
What is lost on many is the underlying theme - about trading options - and making money is the only goal. Well, that is not totally correct. For me the only goal is to make money and where we run into a bit of a problem is the goal for many is not to make money. For many the goal is about bragging rights, self esteem and pride. The people who are not focused on money and are motivated by other influences are easy to spot. They will talk to you all day about how much money they made with XYZ company, but when asked what their overall return is for X number of years they "don't recall," "had bad luck with a stock(s) throwing the number off," etc. The ones that can tell you what their time weighted five-year rate of return is are the ones who are more likely to be focused on making their portfolio swell and not their head.
Most of my investments fall into two categories. Selling options and shorting stocks. The exception is retirement accounts. In retirement accounts I hold long positions quite often. With the last article about making money with options and the questions received, I put together this list.
Waterinfo writes in a comment: "Your discussion misses the main point. Internet radio, whether or not they can eventually compete with Sirius XM for premium content, will either have to charge subscription fees, or force listeners to endure commercials. The Sirius XM business model always provides a mechanism for commercial free listening, something most subscribers value greatly, and will continue to pay for.

Moreover, the cable and satellite television business model continues to thrive, despite the fact that since the evolution to digital over-the-air broadcast, high quality (HDTV) television is free. Why do more than 90% of the population pay for television service via cable or satellite when they can watch for free over the air?"
This is partially true, but with a churn rate that turns over the total subscriber base about once every five years it is clear many will not pay for the service. For the second paragraph, It would appear it was not based on a statement on actual numbers. Here are some recent stories to review, Subscribers turn off cable TV in record numbers, More People Abandon Cable for the Internet, But There are Tradeoffs, and an article to demonstrate this is not new - Big Cable Is Bleeding.
More importantly, this is not relevant. Radio/music is usually a passive activity with several delivery methods. Even this is not that important, but what is important is the greater competition provides greater choice, lowering the bar needed for people to either not subscribe in the first place, or cancel service. Usually this translates into headwinds for shareholders of Pandora, Amazon (NASDAQ:AMZN), Apple and Sirius. Because of the relative revenue dependence, Pandora and Sirius stock is the most impacted. The impact causes a lower expectation for out of the money calls to become profitable. Click here to read my Sprint articles.
WuWeiwarrior wrote:
"Sirius has a viable business model. Unlike other Internet radio companies, it can pay for content and make a profit because it is subscription based. Pandora and it's ilk are free, and make next to nothing via pay subs. They would have to raise their rates to over $10 a month to stay viable and even wish to afford a fraction of the content Sirius has accumulated over the years.

And if Pandora and its ilk raised prices, which service would most people choose? Hmm? Sirius with all its content? Or some digital jukebox?

You also fail to mention who their is no barrier to doing what Pandora does. Sirius can and will easily mimic Pandora's create your own radio station feature in upcoming versions of Sat 2.0. But again ... Pandora can never equal the breath of content Sirius offers.

Also, Sirius has spotless coast to coast sat coverage. Pandora is only through your smart phone. Try driving cross country or in spotty rural areas and get a steady signal via your phone. Not to mention the data hungry apps that will deplete your data limits for heavy radio listeners of Pandora and such."
Actually, Pandora is very close to being profitable without having to require subscribers to pay a monthly fee. Also, Pandora has a very large amount of inventory to sell. "Pandora said its number of listener hours more than doubled in the fiscal third quarter compared to the same period last year, reaching 2.1 billion. Advertising revenue more than doubled to $66 million, while revenue made from subscriptions to Pandora's service and other facets of the business rose 80% to $9 million."
I agree the barrier to entry is low into the Internet radio space. This is not a positive for Google, Apple, Pandora or Sirius. The ease of new and better competition should be considered reason enough to factor in slower growth or limitation to growth potential. Click here to read my Google articles.
While I don't agree with the comment "Pandora can never equal the breath of content Sirius offers," because "never" is a long time, they don't need to. Again, you have to consider Amazon, Apple and Google clearly moving further into the space as time moves on. Let us not forget AT&T, Verizon and Sprint. The cell phone carriers certainly can move further into the space with surgical precision in costs. While small relatively speaking, the three carriers are already in the space.
Sirius has anything but spotless coast to coast coverage. Most people have Sirius in their car. Most people on trial subscriptions are trying it in their car. Once out of the car and in the gym, on a bike, walk etc… the service is gone. Yes, you can subscribe to the internet Sirius service if you pay extra, but some will choose not to and use free online services through a smartphone or computer. Every time this happens it's another opportunity for subscribers to question why they are paying for Sirius.
Ol Blue Eyes wrote:
"Why is it that the anti-Sirius crowd continue to compare the service to services that feed the music desires of the 18 to 34 age group?"

"I don't see how you can predict the future in this volatile and innovative sector. I, for example, always used to listen to Sirius in my car. Now I find that quite often I plug in my iPod instead."
I am not anti-Sirius, and I am not focused on any age group. With that being said, the demographic is looked at very carefully because they represent the best opportunity for advertisers to sell their goods to and provide guidance on the direction of the population.
Predicting the future is a fool's errand. We predict the odds and the further you move the time scale out you lower the ability to predict. There are too many large players in the space and as stated, the barrier to entry is low. In other words, for my portfolio any player in the space needs to be discounted for the unknown.
Nashjesse wrote:
"However, short interest on the satellite radio titan jumped by 11.65% during the most recent reporting period, which could indicate that some of the recent call volume is the result of short sellers looking to hedge their bets. Either way, these bearish plays make up 8.01% of SIRI's float. At the stock's average daily trading volume, it would take more than four days to buy back these shorted shares."
Short sellers buying volatility is not very typical for highly liquid stocks. Getting in and out of Sirius, Apple or Google is very easy and the idea of finding yourself trapped is not the first thought a short seller will have with Sirius. Transactional costs generally make it difficult to justify buying volatility to maintain a position over any length of time by those who are likely short.
I consider four days of average volume to cover both bullish and bearish. First bearish, as it indicates "smart money" is betting against the company. If the stock does start to move in double time higher, four days is enough to add momentum as a result of shorts covering. Of course in a short squeeze it rarely takes more than a day to enable the entire short interest to turn over. This is due to the spike in volume accompanying most short squeezes.
Sirifiar wrote:
"I keep wondering what is wrong with Roberts, Roccos and the likes. They are like a vinyl record that got stuck.

Keeping comparing Sirius with music players or juke boxes is a travesty. The tragedy is that they should know that. If they do not, they are jokes.

Why would you compare an established monopolistic company with a $3B+ annual revenue already in 2011 with struggling juke boxes that do not even know when and how they are going to make money?"
I am fine with being "stuck" because the space I landed on is called profit. I understand you may not enjoy the message of the articles, but after reading my articles and looking at the chart it's clear to see I have called it correct this year.
I compare satellite radio to Internet radio for the same reasons newspapers compared the new horseless carriage with a horse and buggy.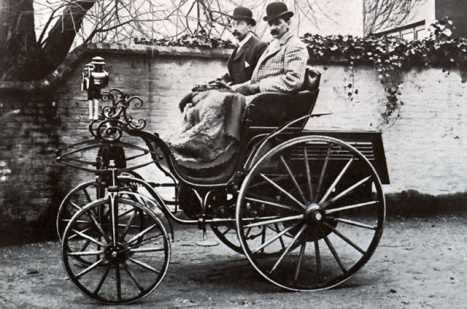 Google, Amazon and Apple are already in the business of competing against Sirius as well as each other. The idea Pandora is the main problem facing Sirius and is not currently making money is to be taken as a negative, not a demonstration of greater growth for Sirius. It's not that I believe Pandora will not increasingly become more of a competitive influence for Sirius, because I do, but Google, Apple and Amazon are the real problem because they are likely to become a problem for Sirius even if they do not go after the market space directly.
Volatility for Sirius options is understandably low and the price of options are cheap. For those long Sirius, this means the price of portfolio insurance is also cheap. Buying puts enable investors to be protected if the market throws Sirius a curve ball (extended outage, talent problems, poor guidance, and a million other things every company faces). The other choice is selling calls against shares that are owned. I am not nearly as excited about using a covered call strategy unless it's based on less then a week until expiration and the relative premium is higher. If Sirius does run up in price, a covered call seller would miss out on too much of the gain relative to the cheap options sold for me to entertain the idea.
I do like selling Sprint put options each time the stock price dips below $2 a share. Overall Sprint is priced for bankruptcy (I believe most stocks under $5 are), but based on current events I do not see it happening. Sprint is my favorite long of all the stocks in this article. I believe 2012 and beyond will be very rewarding for Sprint investors with a long term view.
I remain bullish on Google and Apple, but neutral on Amazon, AT&T, Verizon, Pandora and Sirius at current prices. I do currently look to buy Apple and Google during dips for short investments.
This article begins the discussion sprouting from many common comments and questions received, but certainly doesn't address all of the many points as well as the misinformation out there. I will continue working to correct and clarify misconceptions as we move into 2012. Please click to follow me to get alerts to my latest articles on technology.
Do you have a company you want me to review? Let me know in the comments below.
I use a proprietary blend of technical analysis, financial crowd behavior and fundamentals in my short-term trades, and while not totally the same in longer swing trades to investments, the concepts used are similar. You may want to use this article as a starting point of your own research with your financial planner.
Disclosure: I have no positions in any stocks mentioned, but may initiate a long position in S over the next 72 hours.
Additional disclosure: Author may initiate a long in GOOG, AAPL, or a short in SIRI over the next 72 hours.