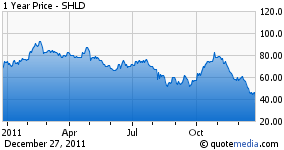 Sears Holdings (NASDAQ:SHLD) announced on December 27th that it will be closing between 100 and 120 stores due to same store holiday sales decreasing by 5.2% year over year. After this announcement, shares dropped over 20% as bearish activity on Sears continues. In this article, I explain what Sears Holdings will become going forward if lower revenues and net losses continue.
Sears Holdings has been in the red for four of the last five quarters and analysts expect losses to continue in 2013. Sears department stores have been losing significant market share to more popular stores like Macy's (NYSE:M) and J.C. Penney (NYSE:JCP) while its K-Mart stores have been losing to Wal-Mart (NYSE:WMT) and other big box retailers for years on end. The company has about $4.6 billion in debt and a market cap of $3.9 billion. In its most recent quarter, Sears Holdings lost $1.3 billion in cash from operating activities and has lost $1.9 billion in the last four quarters. With only $624 million in cash on its most recent balance sheet, Sears Holdings could go bankrupt in as little as two or three years if trends continue.
Sears Holdings currently has about 4,000 stores, so its closing of 100 to 120 stores is only 2.5% to 3% of its stores. The company announced some other changes in its business plan, including lowering peak inventory in 2012 by 3% and reducing fixed costs by $100 million to $200 million. From this announcement, expect mass layoffs to be next at Sears Holdings followed by more store closings as Sears and K-Mart will most likely continue to underperform.
Sears is the leader in appliance sales and holds some notable brands including Kenmore, Craftsman, DieHard, Lands' End, Jaclyn Smith, Joe Boxer and Apostrophe. In the long term, I expect Sears Holdings to no longer exist as a big department store, but rather a brand manager and appliance and hardware retailer.
The question for stockholders is if transforming to this business model (which would be profitable) can add value to their position. With $4.6 billion in debt, Sears Holdings will become highly leveraged before it can fully transform its business and may need a bankruptcy, which could propel the stock to absolute zero. In the near future, I'm still very bearish on Sears Holdings (as I was in August) and I don't suggest buying SHLD until the company can become profitable again or successfully restructure itself.
Disclosure: I have no positions in any stocks mentioned, and no plans to initiate any positions within the next 72 hours.