I recently shared my views that the January Effect will likely work for the first time since 2006. If you agree with me that January could be strong for small caps, you can buy the ETF for the Russell 2000 (NYSEARCA:IWM). For stock-pickers, though, I think that there are lots of potential bargains worth investigating.
In the previous article, I mentioned that almost half of the stocks in the R2000 have declined by more than 25% from their respective 52-week highs, though the index itself has declined just 14%. In order to narrow the field a bit, I screened for the R2000 stocks down more than 30% from the 52-week high, reducing the list to just under 800 names.
To reduce it further, I restricted it to stocks that have failed to rally in Q4 so far, thus lagging the overall index, which is up 16% and suggesting that tax-loss selling and window-dressing by professionals may be at work. I then reduced these 356 names by requiring them to have been profitable (in terms of EPS) over the past four quarters. This left the list at 179.
I eliminated a few more by requiring positive tangible book value and positive 2012 earnings (if there were estimates). This left 139 names, still far too many to include in a single article. Therefore, I decided to split the list into five posts. In this one, I will address technology and telecom services.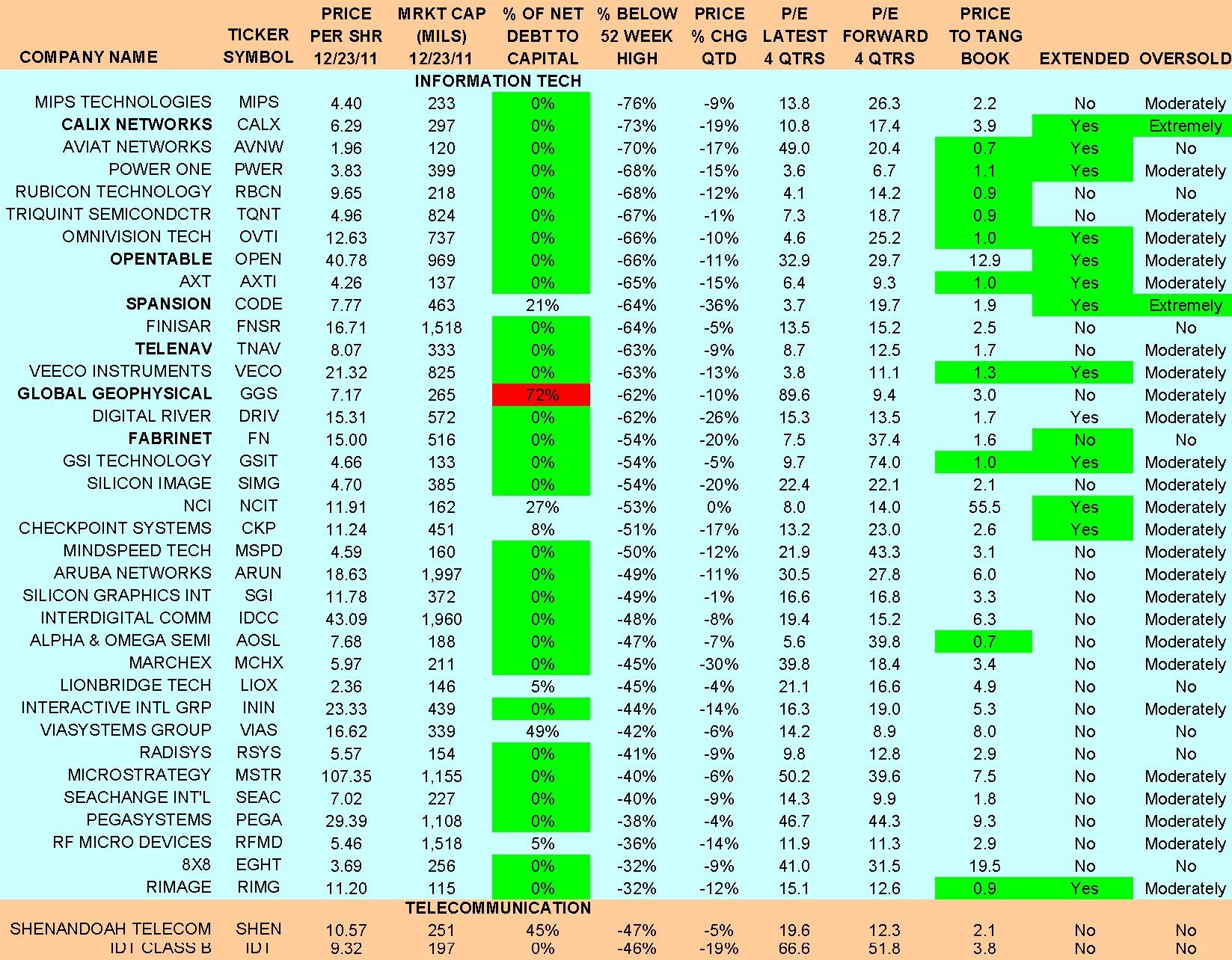 Before I go on, allow me to share that I do not closely follow most of these names. I am sharing this list not as a recommendation but rather as a starting point for you in terms of identifying potential opportunities. With that said, when I do closely follow a stock or have something of note to say, I will.
I included the company name, ticker, price, market cap as well as the net debt to capital, highlighting it in green when there is more cash than debt and in red those that have more debt than equity. The names are sorted on the next column, which is the percentage below the 52-week high. I also included the price change quarter-to-date, the trailing PE as well as the forward PE (when available). Price-to-tangible book can be helpful for value investors, but TBV is no certain floor. I find it helpful when earnings metrics don't work due to near-term earnings being below the potential. I highlighted those below 1.5X.
Except for the last two columns, all of the data comes from Baseline. "Extended" is my own observation based upon the relationship of the short-term, intermediate-term and long-term moving averages over the past thirteen weeks. If the stock is overextended, it is potentially more likely to bounce. "Oversold" reflects the old StockVal PMI indicator, which is based upon the distance between the moving averages (it's a complex formula). I believe that the ones that are oversold or extremely oversold could be more likely to bounce as well, but even the moderately oversold names stand out in what is now a slightly overbought market.
I highlighted several of the names in bold to represent recent IPOs. OpenTable (NASDAQ:OPEN) came in 2009, while the others were in 2010. Speaking of OPEN, this is one that alarmed me when their CEO checked out recently. I actually like the service, but there are lots of competitors popping up. Still, it is WAY up from its IPO at 20. The other recent IPO that has done alright despite the pullback is Fabrinet (NYSE:FN), up 10%. I don't follow this one closely, but its factory in Thailand was hurt badly by the floods.
Power One (NASDAQ:PWER) looks very cheap to me. The company sells power management solutions. Estimates for 2013 are still positive, but they have come down by more than 50% in the past few quarters. Rubicon (NASDAQ:RBCN), which provides equipment for LED manufacturing, has competitive issues from what I have able to gather. Global Geophysical (GGS) is likely misclassified - it should be energy in my view, as the company is a seismic services provider.
Digital River (NASDAQ:DRIV-OLD) is perhaps the cheapest stock in My Top 20 Model Portfolio. After peaking in the spring, it has fallen by 62% as the 2012 estimates have been cut back by about 25%, reflecting 18% growth off of 2011 projected earnings. The company lost a major client a couple of years ago and had looked to be growing the rest of its business strongly while the Symantec (NASDAQ:SYMC) business rolled off. I think that investors are worried that too much growth is coming from Microsoft (NASDAQ:MSFT) and that the company's exposure to the PC rather than mobile apps as well as its reliance on gaming as a driver might not play out. The stock looks cheap enough at 12.5X 2012 estimated earnings, but this valuation neglects to account for the fact that 60% of the market value is in cash net of debt and some other liabilities. That brings the adjusted PE down to 5X. With the purchase earlier this year of GSI Commerce, I had thought that there might be some scarcity value for the e-commerce enabler. The company appears to excel in the areas of security and taxation calculations.
Disclosure: I have no positions in any stocks mentioned, and no plans to initiate any positions within the next 72 hours.
Additional disclosure: I am long DRIV via the Top 20 Model Portfolio at Invest By Model.