I recently shared my views that the January Effect will likely work for the first time since 2006. If you agree with me that January could be strong for Small Caps, you can buy the ETF for the Russell 2000 (NYSEARCA:IWM). For stock-pickers, though, I think that there are lots of potential bargains worth investigating.
In the previous article, I mentioned that almost half of the stocks in the R2000 have declined by more than 25% from their respective 52-week highs, though the index itself has declined just 14%. In order to narrow the field a bit, I screened for the R2000 stocks down more than 30% from the 52-week high, reducing the list to just under 800 names. To reduce it further, I restricted it to stocks that have failed to rally in Q4 so far, thus lagging the overall index, which is up 16% and suggesting that tax-loss selling and window-dressing by professionals may be at work. I then reduced these 356 names by requiring them to have been profitable (in terms of EPS) over the past four quarters. This left the list at 179. If you would like an Excel spread sheet of the complete list, email me.
I eliminated a few more by requiring positive tangible book value and positive 2012 earnings (if there were estimates). This left 139 names, still far too many to include in a single article. Therefore, I decided to split the list into five different posts. In this article, I will cover the "dirty economy" - Industrial, Energy and Materials.
(Click chart to expand)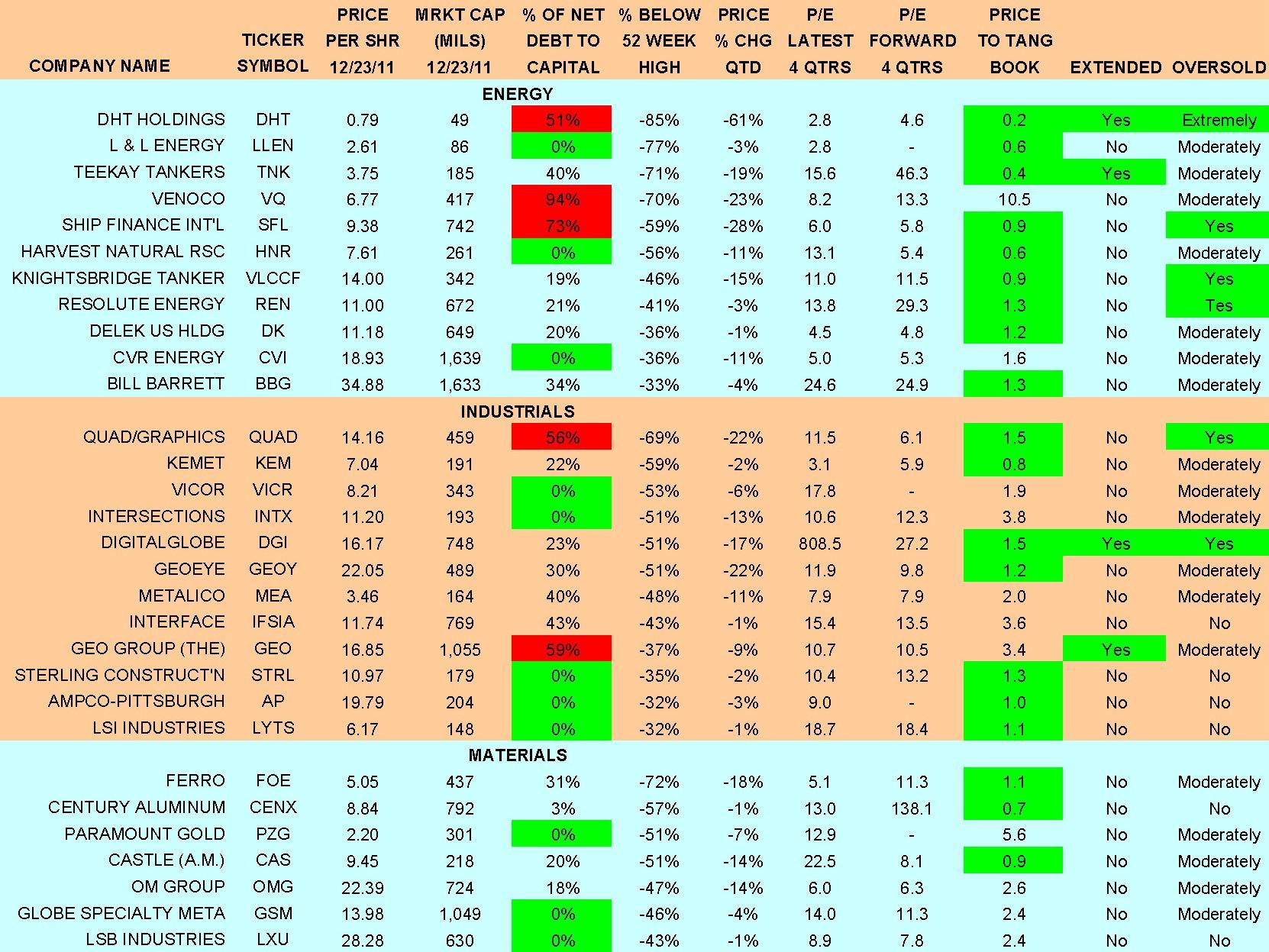 Before I go on, allow me to share that I do not closely follow most of these names. I am sharing this list not as a recommendation but rather as a starting point for you in terms of identifying potential opportunities. With that said, when I do closely follow a stock or have something of note to say, I will mention it.
I included the company name, ticker, price, market cap as well as the net debt to capital, highlighting it in green when there is more cash than debt and in red those that have more debt than equity. The names are sorted in the next column, which is the percentage below the 52-week high. I also included the price change quarter-to-date, the trailing PE as well as the forward PE (when available). Price-to-tangible book can be helpful for value investors, but TBV is no certain floor. I find it helpful when earnings metrics don't work due to near-term earnings being below the potential. I highlighted those below 1.5X.
Except for the last two columns, all of the data comes from Baseline. "Extended" is my own observation based upon the relationship of the short-term, intermediate-term and long-term moving averages over the past 13 weeks. If the stock is overextended, it is potentially more likely to bounce. "Oversold" reflects the old StockVal PMI indicator, which is based upon the distance between the moving averages (it's a complex formula). I believe that the ones that are oversold or extremely oversold could be more likely to bounce as well, but even the moderately oversold names stand out in what is now a slightly overbought market.
I am not too familiar with most of the companies in the Energy sector - many are related to shipping, including DHT Holdings (NYSE:DHT), which operates a fleet of double-hull tankers, Teekay Tankers (NYSE:TNK), Ship Finance (NYSE:SFL), and Knightsbridge Tanker (VLCCF). L&L Energy (NASDAQ:LLEN) mines coal in China. Venoco (NYSE:VQ) is an E&P company focused primarily in California, both on and off-shore. Harvest Natural Resources (NYSE:HNR) is an E&P company focused primarily on Venezuela as well as Indonesia, Gabon, Oman and China. Resolute Energy (NYSE:REN) generates about 88% of its sales from oil production in Utah (its main asset is here in the mature Greater Aneth Field in the Paradox Basin on the Navajo Reservation), Wyoming, North Dakota, and Texas. Delek Holdings (NYSE:DK) and CVR Energy (NYSE:CVI) are both refiners. Despite their sharp declines as the Brent/WTI spread collapsed from its highly inflated levels, they both remain positive so far in 2011. Finally, Bill Barrett (BBG) is an E&P company focused in the Rocky Mountains. It made two relatively large acquistions this summer totaling about $300mm.
In the Industrial sector, Quad/Graphics (NYSE:QUAD) is a late 2010 IPO that has gone straight down all year. The company prints magazines, catalogs and other commercial products. Kemet (NYSE:KEM) makes tantalum capacitors used in cell phones and other electronics, competing with both Vishay (NYSE:VSH) and AVX (NYSE:AVX), which is controlled by Kyocera (NYSE:KYO), and some other non-U.S companies. The company struggled in 2009 after making some poorly timed acquistions in 2007-2008 but emerged from the low of close to zero after restructuing the business and the capital structure. Vicor (NASDAQ:VICR) makes modular power components. Intersections (NASDAQ:INTX), which has an aggressive dividend payout (yield is 7.1% after a 33% hike earlier this year), markets identity managment solutions through marketing partners to individuals as well as directly. The company isn't widely followed.
DigitalGlobe (DGI), which I added to my Top 20 Model Portfolio earlier this year, and GeoEye (NASDAQ:GEOY) compete in a duopoly due to a ten-year contract with the government. Both companies operate satellites and provide high resolution images. GEOY is a bit cheaper, but I like DGI, which hired a new CEO from IHS (IHS), which is also based in the Denver area and has done an excellent job of leveraging its own specialized data. The stock of GEOY has been more volatile due to rumors of potential acquisition and an apparent failure to reach a deal only to see rumors get re-started recently as a private equity firm upped its stake to 2.4mm shares. DGI has a slight technology lead and seems to be a bit more innovative on the commercial business front. GEOY is somewhat capacity constrained for its highest resolution images, but it will have a launch in 2013. Both stocks trade at low EV/EBITDA multiples and would seemingly have a floor near TBV due to the uniqueness of the assets. The concerns seem to be about the potential for the government to re-think its commitment in light of funding issues, but this seems essential to national security and cheaper to access on an outsourced model.
Metalico (NYSEMKT:MEA) recycles scrap metal and fabricates lead metal products, all in the U.S. Interface (IFSIA) makes modular carpet primarily and other floorcovering products for the commercial, institutional and residential markets all over the world. This one matched its all-time high earlier this year and has surprisingly not bounced back despite the recent upturn of other stocks in the industry. 56% of sales are in the Americas - perhaps there is some concern over the 28% that goes to Europe. The stock is still much closer to the highs than the 2009 lows, and this looks like a correction rather than a down-trend, with the stock still comfortably above the lows of 2010. Despite some sharp cuts to earnings revisions, EPS are supposed to grow 21% this year and 28% in 2012 to an all-time high.
GEO Group (NYSE:GEO) is also producing record earnings. The company provides outsourced prison and mental health and treatment facilities all over the world. Sterling Construction (NASDAQ:STRL) builds roads and other commercial projects and has preserved its margins remarkably in a very tough industry. Lots of inside ownership too. Ampco-Pittsburgh (NYSE:AP) is a steel-maker. Finally, LSI Industries (NASDAQ:LYTS) is involved primarily in lighting installations (gasoline stations, commercial/industrial/retail, and LED digital sports video screens).
Moving to the Materials stocks, Ferro (NYSE:FOE) makes a variety of specialy chemicals and materials that go into a broad array of applications. Century Aluminum (NASDAQ:CENX) operates facilities in Iceland, Kentucky, West Virginia, (curtailed from 2009 until being restarted in Q3) and through a JV in South Carolina. Paramount Gold (NYSE:PGZ) explores for gold in Mexico.
I recently looked at A.M Castle (NYSE:CAS), which made a massive acquisition that gets the company more into energy. The distributor of specialty metals and also plastics bought a privately held company, Tube Supply, and issued $50mm in converts and $225mm 5-year notes at an effective yield in excess of 13% to finance the deal. Before the financing, the company had indicated that the deal would be accretive, but I am not sure that it contemplated such expensive borrowing costs. The stock plunged when the financing took place after having been relatively stable following the 11/10 deal announcement.
OM Group (NYSE:OMG) used to have a fantastic balance sheet, but the wad of cash was mainly overseas. It deployed it to buy a German company, and the stock then got crushed as metal prices plunged. The company is engaged in cobalt production but has diversified with the Eagle-Picher acquistion (battery production) and VAC (cobalt but also magnets). Global Specialty Metals (NASDAQ:GSM) makes silicon metal and silicon-based alloys. Finally, LSB Industries (NYSE:LXU) is engaged in climate control technology chemical production (nitrogen-based). Its chemical business soared this year after restarting production in one of its facilities, but recently it cautioned that sales into mining and industrial applications are slowing while the fertilizer outlook remains strong.
For all you bottom-fishers out there, I hope that this has been helpful. Please let me know if you have any thoughts on the names discussed in this article.
Disclosure: DGI is held in the Top 20 Model Portfolio at Invest By Model