"Another issue I have with this sort of thinking is probably best summarized by the word "Ick." Ick investing means taking a special analytical interest in stocks that inspire a first reaction of "ick." I tend to become interested in stocks that by their very names or circumstances inspire an unwillingness – and an "ick" accompanied by a wrinkle of the nose – on the part of most investors to delve any further. In all probability, such stocks will prove fertile ground for the rare neglected deep value situations that could provide significant returns with minimal risk, and minimal correlation with the broad market. Occasionally, well-known stocks fall into the "ick" category, and it is at those times that I become interested."

-Michael Burry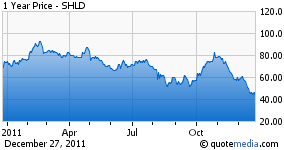 When a stock drops 20% in one day, such as what happened with Sears Holdings (NASDAQ:SHLD), interesting things happen in the puts. You know the poor guy who sold them is panicking because he never expected to lose so much money. So effectively there's a short squeeze in the puts as he and other (put) short sellers rush to buy and cut losses.
At the same time, in the underlying stock, there is the opposite phenomenon. Typically if a stock drops 20% in one day, short sellers were anticipating it, so the short interest is high ... at least 10%. So holders of 10% of the float have massive gains overnight on paper. Their natural tendency is to cover. When they do cover, they buy from weak longs. The strong longs don't budge, because in this case it's ESL Investments and Fairholme Fund. I believe that ESL Investment still has over a third of its portfolio in SHLD.
So I'm going to put my reputation and money on the line by saying that $4.50 is a fair price to be paid to sell January 2012 $37.50 puts. The speculator can have notional exposure of 5% and the put, if it expires worthless, will add about 500 basis points of performance in less than one month. The probability of eventual loss is probably less than 20% - leaving the probability of gain at 80%. I like the odds and the expectancy.
This one is similar to my Research In Motion (RIMM) trade. I don't think the person who bought the RIMM puts from me was someone betting against the stock. I think it was another put seller who was in pain. Market extremes happen when it's too painful in the short run to hold out for the long run. I want to take advantage of market extremes, so I tend to take advantage of other people's pain.