With all of 2012 on the horizon, it makes sense to buy stocks that could outperform the market, perhaps even double. 2011 was a very tough year for many stocks and investors, but it may have laid the groundwork for investors to buy cheap stocks at what might be historic lows.
Low-priced stocks that trade below $10 might be well-positioned for extraordinary gains in the coming year. Stocks that trade for just a few dollars per share are typically more volatile and can sometimes double much more rapidly than stocks that trade at higher levels. The stocks selected below trade in the single digits and many of them are trading near historic lows, which just might add to the rebound potential.
All of these companies have positive earnings estimates and low PE ratios. Furthermore, these stocks are trading at about half the price targets set by analysts. Most analysts set price targets based on where they believe the stock should be trading at in the next 12 months or so. If these stocks hit the price targets listed below, they would just about double in value in the coming year:
Delta Airlines (NYSE:DAL) shares are trading at $8.33. Delta is a major global airline. The 50-day moving average is $8.21 and the 200-day moving average is $8.74. The shares have traded in a range between $6.41 to $13.21 in the past 52 weeks. DAL is estimated to earn about $1.32 per share in 2011 and $2.28 in 2012. Airline stocks seem to trade more based on the price of oil than other factors. Due to this, many investors trade these stocks and buy when the shares drop over high oil prices and sell on any spikes when oil prices drop. Although plenty of investors refuse to own airline stocks as a buy and hold investment, some analysts see rewards for longer-term investors in DAL. Barclays Capital has set a $16 price target for DAL shares, and Maxim Group has a $13 target (see here):
(Click charts to expand)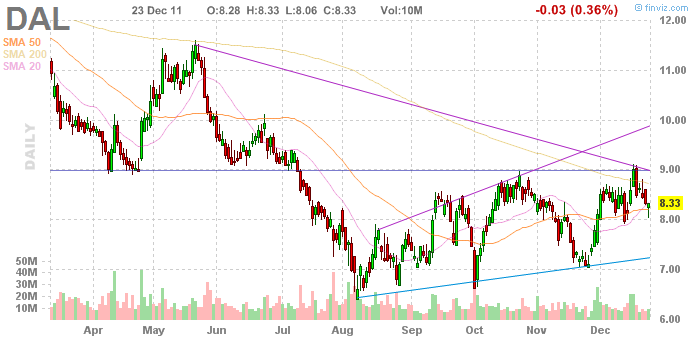 Genworth Financial, Inc. (NYSE:GNW) is trading at $6.46. Genworth provides a variety of insurance and financial products like annuities, long-term care, mortgage insurance, etc. These shares have a 52-week range of $4.80 and $14.77. The 50-day moving average is $6.29 and the 200-day moving average is $8.62. GNW has earnings estimates at 45 cents per share for 2011, and $1.26 for 2012. Genworth shares have remained under pressure due to continued mortgage losses however, the losses appear to be manageable going forward. The company plans to spin-off its Australian mortgage insurance division in 2012. With headwinds likely to remain for Genworth in 2012, over mortgage losses and a general bias against financial stocks, there probably will be plenty of opportunities to buy on dips. At least one analyst sees potential: Northland Securities has a "outperform" rating and an $11 price target on GNW shares, (see here):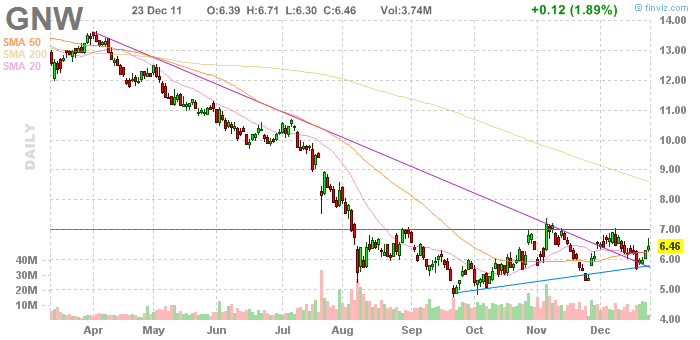 Cenveo, Inc., (NYSE:CVO) is trading around $3.40. CVO provides forms, envelopes, catalogs and other printed materials to corporate and other clients. Cenveo has been in business since 1993, and the headquarters is in Connecticut. The 50-day moving average is $3.28 and the 200-day moving average is $4.85. These shares have traded in a range between $2.64 to $6.85 in the last 52 weeks. Earnings estimates for CVO are for a profit of 52 cents per share in 2011 and 63 cents for 2012. Analysts at Zacks Investment Research recently upgraded CVO shares to a #1 rank with a "strong buy" rating. Furthermore, another analyst firm also upgraded Cenveo shares to a buy with a $12 long-term price target. Cenveo recently posted better-than-expected earnings. Third-quarter sales jumped 10% with revenue around $500 million for the quarter. Analysts were expecting earnings of about 12 cents per share, but the company easily beat those figures and posted an adjusted profit of 26 cents per share. Read more on the revenue increase and earnings beat. Finally, CVO shares appear poised for a short squeeze and the chart below shows the stock having a very bullish double bottom, which also indicates the stock is ready to move much higher.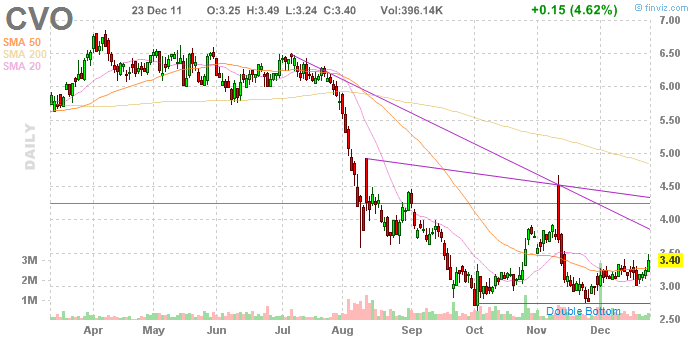 Micron Technology (NASDAQ:MU) is trading at $6.39. Micron is a leading maker of semiconductors. These shares have a 52-week range of $3.97 and $11.95. The 50-day moving average is $5.74 and the 200-day moving average is $7.64. Estimates for MU are for a loss of 13 cents per share in 2011, and a profit of 46 cents for 2012. Book value is $8.61 per share. Flooding in Thailand has disrupted the PC supply chain and those concerns have impacted tech stocks like Micron. Short-term business challenges like a flood can create solid buying opportunities for longer-term investors. The chart below shows that MU shares have started a new uptrend. Analysts at Stern Agee recently gave Micron shares a buy rating with an $11 price target.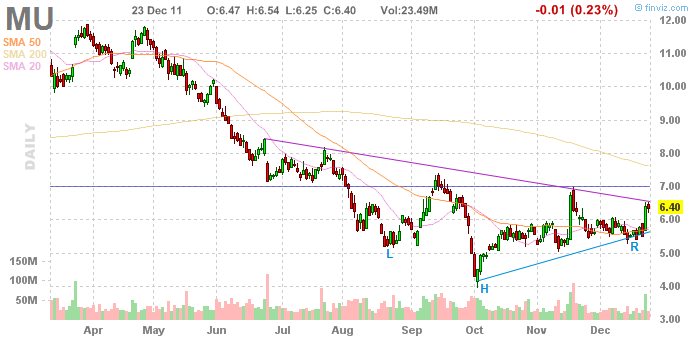 Data sourced from Yahoo Finance and Insidercow.com. The information and data is believed to be accurate, but no guarantees or representationsare made.

Disclosure: I am long BAC, CVO.
Disclaimer: Rougemont is not a registered investment advisor and does not provide specific investment advice. The information contained herein is for informational purposes only.