The "Dogs of the Dow" strategy is one of the simplest investment practices around. At the start of the year, investors simply buy an equal-weighted basket of the ten highest yielding stocks in the Dow Jones Industrial Average. The basket of ten stocks is then replaced each year with the new set of high yielders.
2011 was a phenomenal year for the Dogs of the Dow strategy. As shown below, the ten Dow stocks with the highest dividend yields at the start of 2011 are up an average of 12.83% year to date just in terms of price appreciation. (This doesn't include the additional return that the dividend payments have provided.) Nine of the ten Dogs are up for the year, with McDonald's (NYSE:MCD) registering the biggest gain at 30.99%. Du Pont (NYSE:DD) is the only Dog that is down in 2011 with a decline of 7.32%.
The 20 other Dow stocks are actually down an average of 3.81% in 2011, so the ten Dogs have outperformed the rest of the Dow by a whopping 16.64 percentage points.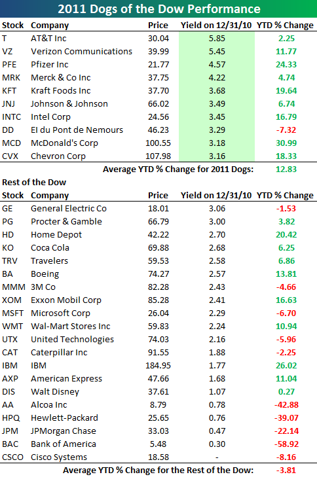 For those interested, below is the list of the 2012 Dogs of the Dow if the year ended Tuesday. As shown, General Electric (NYSE:GE) and Procter & Gamble (NYSE:PG) would be new to the list, replacing Chevron (NYSE:CVX) and McDonald's (MCD).