The E-Mini S&P 500 may find that the resistance area around $1266.00 may be a bit of a bump for the market to get through with the low volume and mixed sentiment. The US Consumer Confidence Index was up to 64.5 this month from 55.2 in November and analyst's expectations for 58.3. This was an eight month high for the upbeat sentiment showing increased certainty about the recovery in the US.
US labor statistics support growth, but the US housing has some mixed numbers. US housing is thought to have bottomed after last week's reports, but home prices have fallen by 3.4% according to the S&P/Case Schiller reports. The Richmond Federal Reserve commented that new factory orders and shipments were slightly up balancing any employment slump.
Crude oil was up considerably on Iran's threat to cut off shipping through the Strait of Hormuz due to possible sanctions by the European Union over its nuclear program. The potential disruption of crude oil supplies may affect the products from Saudi Arabia, Iran, United Arab Emirates, Kuwait and Iraq. This dispute has been lingering for some time as Iran had been criticized for potentially using their nuclear resources to build a bomb.
The upside potential for the E-Mini S&P 500 has been limited with the European debt crisis still looming. The euro FX has been supported at $1.3000, but for how long remains to be seen. There is still a trading strategy there to sell the euro FX, should the conditions worsen. The Italian bond sales seem to be the focus for the moment. The European Central Bank (ECB) had issued cheap loans in the hope to stimulate interest in the bond sales of the indebted countries. The Italian and Spanish bond sales may determine the possible direction for the euro FX.
The US dollar has been supported through this as the yields for the Italian bonds exceeded 7 % deemed non-sustainable. The Japanese are repatriating funds to support their yen after the tsunami and earthquake ravaged their country last March. In January, we also must view Standard & Poor's credit rating on the 15 eurozone countries that have been on credit watch negative. Greece again suffered another blow economically as the retail sales reports came in giving them a 20% drop in sales this Christmas. The austerity measures have given the Greeks budgets that allow little spending. Clothing and shoe sales were cut by 40%, while electrical products were down by 30%.
Wednesday, Italy plans to sell $11.5 billion euros of their short-term bills and Thursday perhaps selling $8.5 billion euros of the long-term debt. Should the Italian auction be poor, we may look for the euro FX to drop below $1.3000. If the euro FX drops, the indices may also follow.
On the stock side: JP Morgan Chase and Co. (NYSE:JPM) was down 1.61% to $33.03. Citigroup Inc. (NYSE:C) was down 2.08% to $26.88. Bank of America (NYSE:BAC) was down 2.50% to $5.46. Alcoa Inc. (NYSE:AA) was down 0.79% to $8.79. Boeing Co. (NYSE:BA) was up 0.59% to $74.41. Caterpillar Inc. (NYSE:CAT) was down 0.76% to $91.55. General Electric Co. (NYSE:GE) was down 1.32% to $17.99. Halliburton Co. (NYSE:HAL) was up 1.34% to $34.25. Hewlett Packard Co. (NYSE:HPQ) was down 0.43% to $25.77. SPDR Select Sector Fund - Financial (NYSEARCA:XLF) was down 0.68% to $13.06.
E-Mini S&P 500 Chart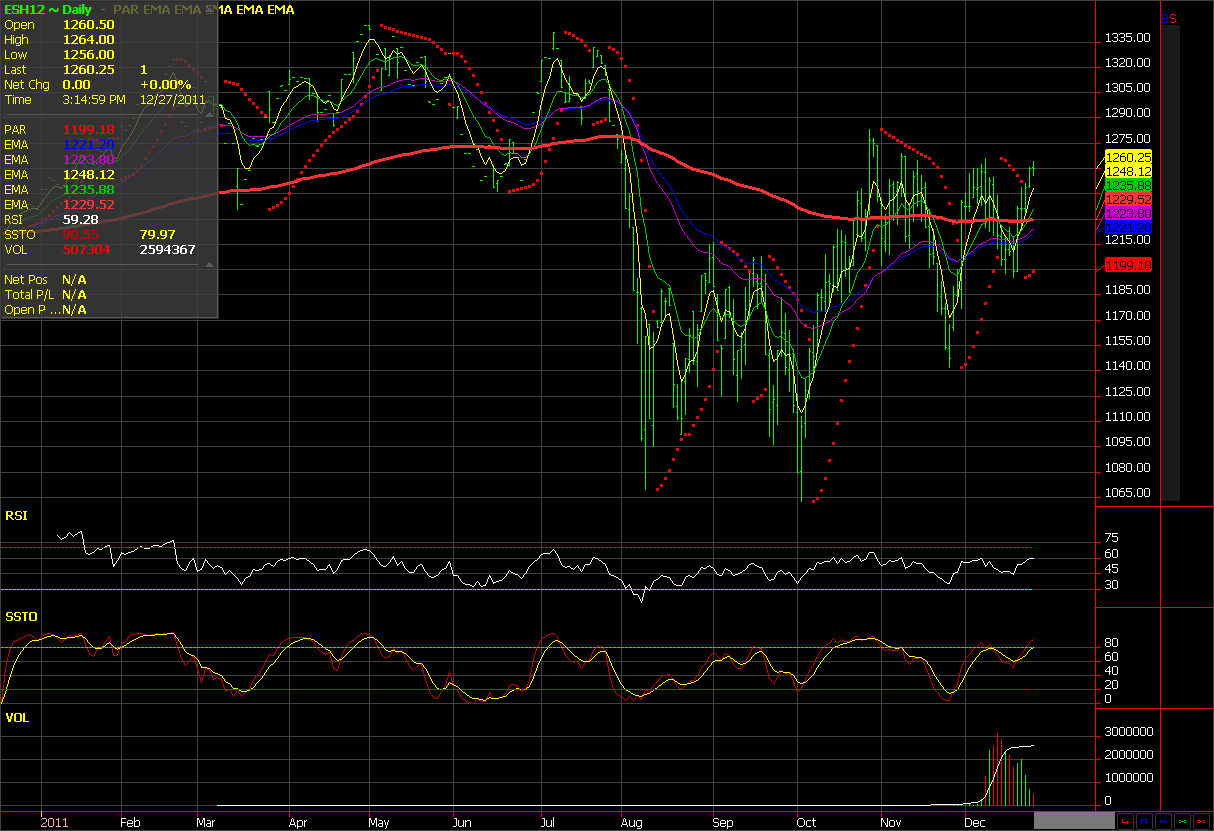 Wednesday, what to expect: We are technically in 3rd day buy mode on the Daily Chart unless the E-Mini S&P 500 penetrates $1199.00. Wednesday, we anticipate an inside to higher day. Tuesday's range was $1264.00 - $1256.00. The market settled at $1260.25. Our comfort zone or point of control for this market is $1259.25. Our anticipated potential range for Wednesday's trading is $1265.50 - $1252.50.
Disclosure: I have no positions in any stocks mentioned, and no plans to initiate any positions within the next 72 hours.