Soros Fund Management LLC is well-regarded as one of the most successful and high-profile hedge funds, largely due to its long record of performance. George Soros, the fund's high profile and politically influential founder, is considered one of the best living currency and equity investors, with a net worth estimated at over $14 billion.
Soros Fund Management must report its holdings, and made its 13F filing for the third quarter on November 14, 2011. Below is a chart listing the largest equity holdings within Soros Fund Management's most recent 13F. I have also provided the 1-month, 6-month and 2011-to-date share price performance rates for these equities.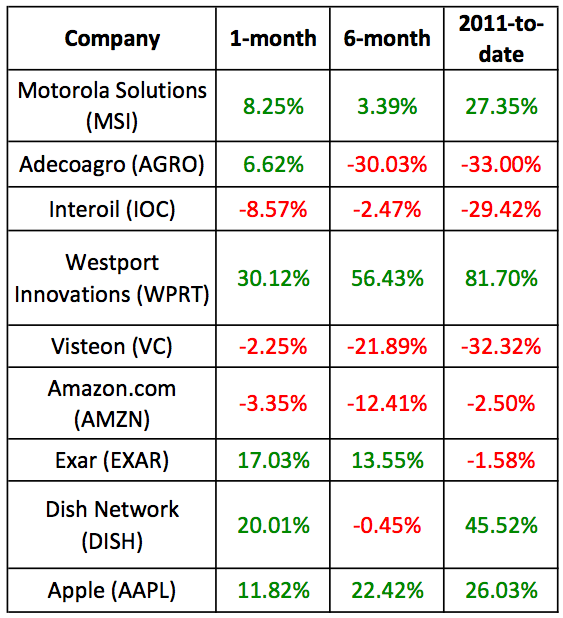 The best-performing listed equities through 2011 were Westport Innovations (NASDAQ:WPRT) and Dish Network (NASDAQ:DISH). These two equities were also the best-performing over the last month. Soros' commodity-based investments such as Adecoagro (NYSE:AGRO) and Interoil (NYSE:IOC) were among the fund's worst performing equities within 2011.
Soros' fund made many transactions during the second half 2011, including purchasing 934,200 shares of Motorola Solutions (NYSE:MSI), and now owns just under 6.6 million shares, valued at about $276 million at the end of the third quarter. MSI is the more traditional part of Motorola, having been split from the mobile half, Motorola Mobility (NYSE:MMI), last year. Google (NASDAQ:GOOG) is now attempting to acquire MMI.
Soros also purchased 193,271 shares of Amazon.com (NASDAQ:AMZN), bringing its position to 206,016, valued at $44.6 million at the end of September. The fund also added 12,622 shares of Apple (NASDAQ:AAPL), and owned 83,417 shares valued at $31.8 million at the end of the third quarter. Amazon and Apple continued to be the fastest-growing large retailers in the United States over the last year, and are both within Soros' top 10 equity positions.
The fund completely sold out of conglomerate Danaher Corp (NYSE:DHR), selling over 1.58 million shares valued at about $83.8 million at the end of September, and Thermo Fisher Scientific (NYSE:TMO), selling just over $60 million worth of the medical supply maker. Other Soros sell-outs include RF Micro Devices (RFMD), Petroleo Brasileiro (NYSE:PBR) and Stanley Black & Decker (NYSE:SWK).
The Soros fund also sold about 820 thousand shares of Ralph Lauren (NYSE:RL), and about 2.4 million shares of Dendreon (NASDAQ:DNDN), though the fund did continue to hold small positions in both companies.
New buys by the Soros Fund Management include Medicines Company (NASDAQ:MDCO), with the fund purchasing 1.7 million shares, valued at about $25.2 million at the end of the third quarter. Soros also bought 201,000 shares of Biogen Idec (NASDAQ:BIIB), valued at about $18.7 million and 394,668 shares of Sandisk (SNDK), valued at about $15.9 million at the end of the third quarter.
George Soros also announced, earlier this year, that he would no longer manage money for others, and only manage his family's money and that of his close friends.
Disclaimer: This article is intended to be informative and should not be construed as personalized advice as it does not take into account your specific situation or objectives.
Disclosure: I have no positions in any stocks mentioned, and no plans to initiate any positions within the next 72 hours.