Sears Holdings Plummets on Weak Sales, Store Closures
Sears Holding Corporation (NASDAQ:SHLD) plummeted 27.2% Tuesday, closing at $33.38, on news that the company would close up to 120 Kmart and Sears stores following weak holiday sales.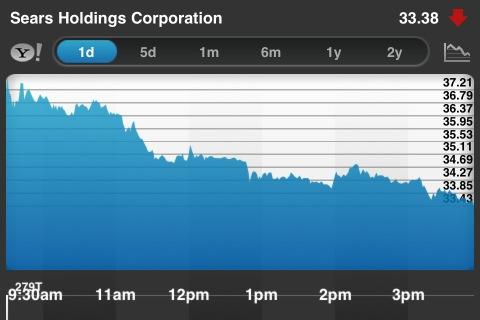 A Warning Flag from 6 years ago
After a drop of this magnitude, investors often look for warning flags that they might have missed. Perhaps one of the earliest warning flags for Sears Holdings might have been the disdainful attitude its chairman Edward Lampert displayed toward the upkeep of his company's retail stores in a Fortune article from early 2006 ("Edward Lampert: The Best Investor of His Generation"). That article described a strategy session Lampert held with two dozen senior Sears executives in 2005:
"What's the benefit of that?" he [Lampert] asked again and again. "What's the value?" He shot down a modest $2 million proposal to improve lighting in the stores. "Why invest in that?" He skewered a plan to sell DVDs at a discounted price to better compete with Target (NYSE:TGT) and Wal-Mart (NYSE:WMT). "It doesn't matter what Target and Wal-Mart do," he declared.
The article went on to note that when the Sears executives asked Lampert to share his future vision for the retailer, he didn't answer.
A More Recent Warning Flag
In a Seeking Alpha article published on December 18th ("Hedging Bruce Berkowitz's Top Fairholme Fund Holdings"), we include this paragraph noting that the high cost of hedging one holding in particular, SHLD:
Regarding the stock below with the highest hedging costs, Sears Holdings Corporation (SHLD), recall a previous article ("High Optimal Hedging Costs: A Red Flag?") where we speculated that high hedging costs could presage future underperformance.
At the time, the cost of hedging Sears Holdings against a greater-than-27% decline, using optimal puts, was 24.2% of position value -- by far the most expensive of Berkowitz's top holdings to hedge. As of Tuesday's close, it was too expensive to hedge Sears Holdings using a decline threshold of only 27%. The table below shows the current costs of hedging Sears holdings against greater-than-33% drop from its closing price.
Comparisons
For comparison purposes, I've also added the cost of hedging the Nasdaq 100-tracking ETF PowerShares QQQ Trust ETF (NASDAQ:QQQ), and retail competitors Walmart Stores, Inc., Target Corporation, and Costco Wholesale Corporation (NASDAQ:COST), using optimal puts. First, a reminder about what optimal puts are, plus a note about why I've used 33% as a decline threshold here. Then, a screen capture showing the current optimal puts to hedge Sears Holdings Corporation.
About Optimal Puts
Optimal puts are the ones that will give you the level of protection you want at the lowest possible cost. Portfolio Armor uses an algorithm developed by a finance Ph.D. to sort through and analyze all of the available puts for your position, scanning for the optimal ones.
Decline Thresholds
In this context, "threshold" is the maximum decline you are willing to risk. You can enter any percentage you like for a decline threshold when scanning for optimal puts (the higher the percentage though, the greater the chance you will find optimal puts for your position). Usually, I use 20% decline threshold when hedging equities, but Sears Holdings Corporation was too expensive to hedge using a 20% threshold (i.e., the cost of hedging them against a 20% decline was itself more than 20% of position value, so Portfolio Armor indicated there were no optimal contracts available for them). The smallest decline threshold against which it was possible to hedge Sears Holdings with optimal puts was 33%, so that's the threshold I've used for all the names in the table below.
The Optimal Puts to Hedge SHLD
Below is a screen capture showing the optimal put option contract to buy to hedge 100 shares of SHLD against a greater-than-33% drop between now and June 15, 2012. A note about these optimal put options and their cost: To be conservative, we calculated the cost based on the ask price of the optimal puts. In practice, an investor can often purchase puts for a lower price, i.e., some price between the bid and the ask (this is true of the costs in the table below as well).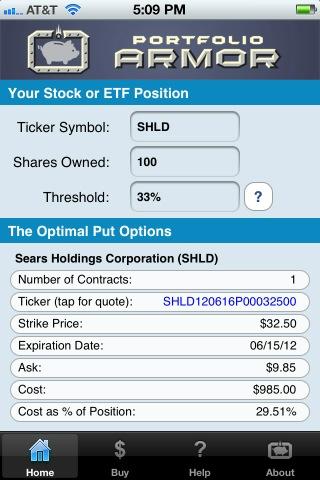 Hedging Costs As Of Tuesday's Close
Hedging costs are presented as percentages of position value and are as of Tuesday's close.
| | | |
| --- | --- | --- |
| Symbol | Name | Hedging Cost |
| WMT | Wal-Mart Stores, Inc. | 0.40%* |
| TGT | Target Corporation | 1.52%** |
| COST | Costco Wholesale Corporation | 0.80%** |
| SHLD | Sears Holdings Corporation | 29.5%* |
| QQQ | PowerShares QQQ Trust | 0.85%* |
**Based on optimal puts expiring in June, 2012
***Based on optimal puts expiring in July, 2012
Disclosure: I have no positions in any stocks mentioned, and no plans to initiate any positions within the next 72 hours.