Investors in closed-end funds (CEFs) are constantly faced with uncertainty due to a lack of transparency within the industry. CEFs do not make it easy for the investor to make the most informed investment decision in determining the real value being delivered by the CEFs. This has led to a number of investing decisions based solely on distribution yield, premium or discount to NAV and other metrics that may not lead to the best investment decision. In general, investments in CEFs are used as a source of income for the investor. Therefore, it would seem logical for the investor to determine if the CEF can sustain the amount of income it is distributing to the investor as income.
Many CEFs use a distribution policy based on their estimate of future investment income. Any shortfall in investment income may be solved by the CEF by using return of capital to make up the difference between their estimate and actual investment income. Basically, the CEF is using return of capital disguised as investment income to the investor. This strategy is not in the income investor's best interest as the CEF is taking advantage of the investor by decreasing the actual value of their investment. Some CEFs actually use this tactic as a promotional tool by increasing their distribution yield by returning capital to hook investors seeking a high yield investment. To support the individual investor against such tactics, I have compiled a list of popular CEFs to determine if they are earning the investment income to support their current distribution strategy.
This is simply doing more homework to determine if the net investment income from the CEF financials is equal to or more than the distribution rate being paid the investors. Since CEFs only release their financial reports on a semi-annual basis, this method is not the timeliest data in terms of having up-to-date information. However, it can serve as a metric that can help to determine the true value that the CEF is delivering to its investors. For example, if the CEF is not earning enough net investment income to support its distribution amount then it will need to return capital and/or cut its distribution amount in the future. This is what the CEF investor seeks to avoid as the return of capital and any distribution cut will eventually be reflecting as a decrease in market price of their investment in the CEF.
The table below displays the market data including the net investment income per share compared with the distribution per share from the most recent semi-annual report available for each CEF. This will determine if the CEF is earning enough investment income to cover the distribution rate. This has identified some interesting trends from this list. For example, all of the CEFs with a positive variance are trading at a premium to NAV while the CEFs with a shortfall of investment income to distribution rate are trading at a discount. Only two CEFs with investment shortfalls are trading at a premium to NAV: HIX and DNP.
The results from this analysis indicate there may be a correlation between the health of the CEF and the premium being paid for the higher quality of investment income exceeding distribution income. While the size of this sampling of CEFs does not meet the population sizing to be statistically significant, as an investor it can identify those CEFs facing potential distribution problems in the future. The best CEF will be earning enough investment income to pay the amount of distributions. Looking at the Putnam Premier Income (NYSE:PPT) in the table below shows a negative variance of ($0.09) per share for the 6-month period ending in March 2011. Since then, PPT cut its distribution rate from $0.051 to $0.043 in August 2011 and from $0.043 to $0.030 in November 2011. The investment income shortage led to two distribution cuts months following the semi-annual report.
From the table below, the best investments are those CEFs with excessive net investment income such as PIMCO Income Strategy (NYSE:PFL) and PIMCO Income Strategy II (NYSE:PFN) as the excess investment income will serve as a future safety net and will eventually be returned to investors probably as an increased distribution at year end. AWF, NCZ and FFC are worth investing in as their premium to NAV is not too excessive to earn a good return for a long-term investor. PHT and PTY are trading at a significant premium so I would hold off any new investments until they pull back to single-digit premiums to NAV. Lastly, all CEFs with a negative variance should be avoided as new investments at this time.
(Click chart to enlarge)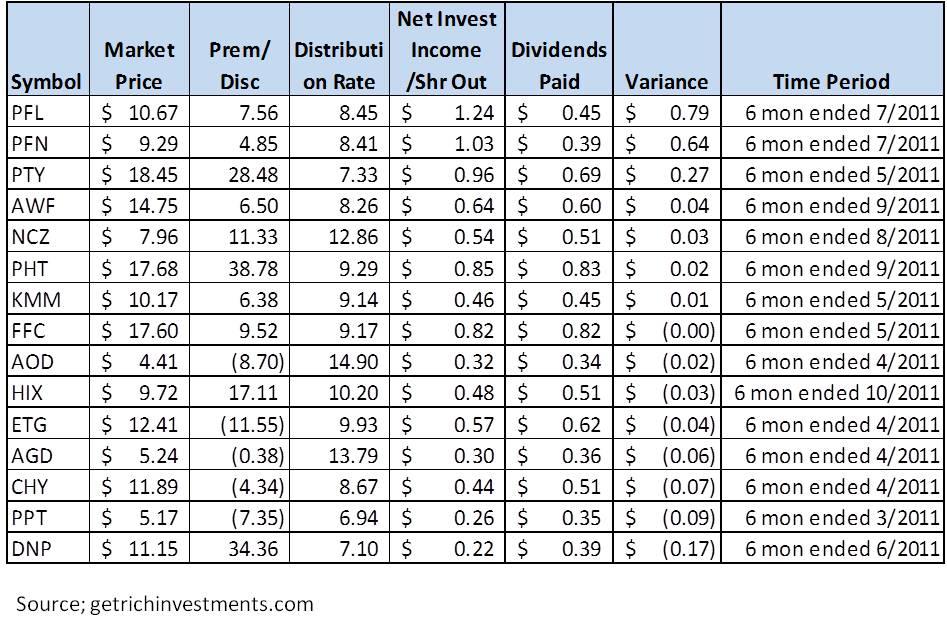 Disclosure: I have no positions in any stocks mentioned, and no plans to initiate any positions within the next 72 hours.