The month long window of opportunity to lock in recent stock market gains may soon be closing.
For the last few weeks, the stock market has appeared as though it is feeling a bit better. Despite wobbling mid-month, the stock market as measured by the S&P 500 Index is currently making its fifth run at trying to break through its 200-day moving average. With some signs of modest U.S. economic improvement and relative quiet from Europe, the stock market is giving warm holiday feelings that things might actually be looking up.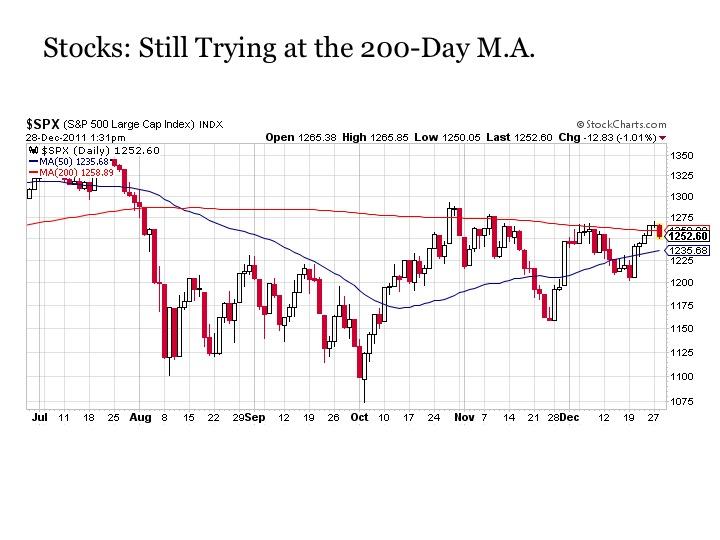 As discussed in my article on this topic at the beginning of the month, this recent strength has been supported by some notable improvement in the FINS, which represent the largest and most important sovereign debt markets in Europe outside of Germany. The following data by country highlights this improvement.
France
France 10-Year Government Bond Yield
August 31: 2.92%
November 8: 3.10%
November 30: 3.39%
December 28: 3.01%
Italy
Italian 10-Year Government Bond Yield
August 31: 5.14%
November 8: 6.77%
November 30: 7.02%
December 28: 7.00%
Netherlands
Netherlands 10-Year Government Bond Yield
August 31: 2.62%
November 8: 2.22%
November 30: 2.66%
December 28: 2.24%
Spain
Spain 10-Year Government Bond Yield
August 31: 5.04%
November 8: 5.63%
November 30: 6.23%
December 28: 5.15%
Sovereign debt yields in France, the Netherlands and Spain have all fallen sharply in the past month toward much more stable levels. This is definitely a positive development.
But Italy is the one country that continues to stick out like a sore thumb. Although 10-year government bond yields are down from their November peaks at 7.25%, they continue to linger at an unsustainably high 7%. What is more troubling is that this is occurring at a time of relative placidity in investment markets, as volume is very light and many institutions are in sleep mode for the holidays. If there was a time that the ECB should be able to give markets a shot of confidence and drive Italian debt yields back lower with the rest of the FINS, that time should be now.
The fact that Italian bond yields remain elevated is disconcerting for the stock market as we enter 2012, as time is quickly running out. This is due to the fact that Italy is facing several major rounds of sovereign debt refinancing in 2012 starting in January. If borrowing costs in Italy do not begin to get down soon, it only raises the already high potential for a failed debt auction. Such an outcome could ultimately spark the financial contagion effects of which so many continue to worry. Not just another Lehman moment, but perhaps even worse a Credit-Anstalt moment.
Thus, Italian government bond yields merit very close attention in the coming days as we enter the New Year. For if the situation does not improve, it may soon be followed by the seizure of liquidity markets and the potential for bank failures that may jolt the stock market to potentially much lower levels. For this reason, the time may be now during the quiet and friendly holiday trading week to evaluate current stock exposures and possibly lock in gains on selected positions to dial down risk ahead of any potential storm.
This post is for information purposes only. There are risks involved with investing including loss of principal. Gerring Wealth Management (GWM) makes no explicit or implicit guarantee with respect to performance or the outcome of any investment or projections made by GWM. There is no guarantee that the goals of the strategies discussed by GWM will be met.
Disclosure: I have no positions in any stocks mentioned, and no plans to initiate any positions within the next 72 hours.