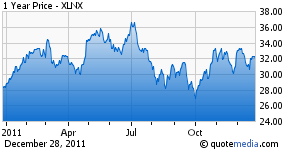 Earnings estimates for Xilinx Inc. (NASDAQ:XLNX) have declined significantly in the last seven days after the company recently downgraded its guidance for the third quarter of fiscal 2012.
Xilinx recently revised its sales guidance for the December quarter. The company now expects sales to decline by 9% – 12%, significantly lower than the previous guidance of a sales decline of 3% to 8% sequentially.
The new guidance implies sales to come between $488.6 million and $505.2 million compared to its previous estimate of $538.5 million and $510.8 million.
The decline in sales was primarily driven by a decrease in large customer business in the Communications end market.
Xilinx now expects gross margin to be approximately 65%, up from its previous estimate of 64%. This is a revision from previous guidance of approximately 64%.
With the second quarter earnings conference call, Xilinx stated that sales from Virtex-6 and Spartan-6 families will increase sequentially. Sales from Communications were projected to be down sequentially as decline in wireless sales would offset an increase from Wired Communications.
Xilinx had reduced its guidance for the September quarter as well. Most semiconductor companies have downgraded their guidance for the December quarter in view of the macroeconomic slowdown, with the exception of Broadcom Corporation (BRCM).
Earlier in the month, prime rival Altera Corporation (NASDAQ:ALTR) slashed its revenue guidance for the fourth quarter of 2011.
Altera now expects revenues in the fourth quarter to decline by 13% to 16% on a sequential basis, compared to its previous guidance of 7%–11%. The new guidance implies revenues in the range of $438.9 million–$454.6 million, significantly lower than the previous guidance of $465.0 million–$485.9 million.
In particular, the severe weakening of demand in Europe has majorly affected business for most semiconductor players.
Industry leader Texas Instrument (NYSE:TXN) also slashed its revenue guidance for the December quarter as demand was adversely impacted with most customers bringing down their high-level of inventories. The company stated that the reductions are due to broadly lower demand across a wide range of product markets, customers and end products, the only exception being wireless applications processors. In particular, the recessionary environment in Europe continues to impact the business, followed by Asia and the U.S.
Earnings estimates have already declined of late for Xilinx. With the downgrade in guidance, we expect a more severe decline hereafter.
We continue to maintain a Neutral recommendation on Xilinx. Our recommendation is supported by the Zacks No. 3 Rank, which translates into a short-term rating of Hold.