This is the third note in an ongoing series about American Tower Corporation (NYSE:AMT) (See first note here and second note here). In this segment I focus on AMT's growth strategy and their intention to convert into a REIT structure. Earlier parts of this series have covered the ongoing SEC investigation of AMT, recent enormous insiders sales, decreasing margins, tower obsolescence, and increasing leverage.
REIT Transformation…Why?
AMT is in the process of converting into a Real Estate Investment Trust (REIT). Management has spent a substantial amount of their time this year involved in this process. The stated goals of the REIT election are in order to lower the amount of AMT's federal income tax liability and to broaden the investor audience to include REIT investors.
Electing to be taxed as a REIT makes no sense for shareholders at this time for AMT for several reasons:
1.) AMT's substantial NOL carry forwards allow AMT to offset a substantial portion of their federal tax liability within the current corporate structure.
2.) AMT's growth strategy is to primarily acquire towers outside of the USA. Towers located outside of the USA are subject to taxation in the countries they are located and shareholders realize no benefit of the REIT structure. The company will hold their international operations in Taxable REIT Subsidiaries, (TRS) which as the name implies, are taxable. In fact, at their current growth trajectory, they may not even qualify as a REIT due to their high level or taxable subsidiaries. How are shareholders supposed to reconcile these two statements from AMT?
Statement A
Our planned extensive use of TRSs, in particular for our international operations, may cause us to fail to qualify as a REIT..…there may be limitations on our ability to accumulate earnings in our TRSs and the accumulation or reinvestment of significant earnings in our TRSs could result in adverse tax treatment. In particular, if the accumulation of cash in our TRSs causes the fair market value of our securities in our TRSs and certain other non--qualifying assets to exceed 25% of the fair market value of our assets, we would fail to qualify as a REIT.
Statement B
29% of Q3 tower revenue coming from international, nearly 80% leasing growth in that international segment and the pro forma for potential deals in the pipeline that over 50% of our towers for the end of this year would be outside the United States.

-James Taiclet, Q3 11 Earnings Conference Call
3.) Distributions paid from the REIT are taxed as ordinary income, which for most investors is higher than AMT's corporate rate when NOLs are utilized. Dividends paid are currently taxed at 15%, which is lower than the marginal tax rate of any income over $35,350. Again, the whole REIT structure simply does not add up.
Another reason AMT provides for making the REIT election is in order to attract "a new group of investors" to invest in the company. This statement in and of itself is a huge red flag. Why does the company need a new group of investors? Could it be because the existing investors are starting to ask hard questions about some of these issues in this series? Maybe.
As an investor, it is useful to ask oneself if the REIT structure does not benefit the shareholder, who does it benefit? A cynic might suggest that it benefits management by enabling them to spin their acquisition-led growth story to a new set of ears.
Acquisition-Led Growth Stories. (aka, Roll-Ups)
In my opinion and experience, acquisition-led growth stories (particularly ones funded with debt) should be treated with an extra layer of healthy skepticism. Generally speaking, the terms of far-flung acquisitions which look great on paper rarely pan out as anticipated. Financial statements of companies acquired in places like Ghana, Uganda, and India often can be deceiving, which can lead the acquirer to overpay. Additionally, planned synergies and economies of scale can be difficult to realize.
AMT is already feeling these types of growing pains, as the CFO explained in the most recent conference call:
I think our SG&A is north of 10% of revenue. And that's quite a bit above where we've been historically, and we've invested -- if you take a look on a year-over-year basis, about $22 million of additional SG&A this quarter. And well over half of that are for these types of events, either entering new markets or regionalization, putting systems in, kind of boring things, right? Like putting new general electric systems into Ghana and those types of events, which are very important obviously to us.

-Thomas Bartlett, AMT Q3 Conference call
A second reason for my skepticism is that historically a disproportionate number of companies with this type of growth strategy have been the victims of restatements, impairments, fraud, bankruptcy and other distressing outcomes. Tyco, Worldcom, Loewen Group, Westar Energy, US Office Products and many more have punctuated history with stories of acquisitions gone wrong. Successful acquisitions share common attributes, generally speaking, a successful buyer is able to buy the asset at a reasonable or low cost and quickly take costs out by realizing economies of scale.
According to AMT's filings, they are not abiding by these core tenants of successful acquisitions. Acquiring assets at the prices AMT has paid created large intangible assets.
Intangibles
Intangible assets have a very solid grounding in accounting. They are extremely useful to reflect the value of an asset which has been acquired by a company which will be realized in future periods (i.e. become tangible). The trouble with intangibles is that they are not homogenous, they can be difficult to value, and their value can change quickly and radically. Historically, they have be the source of much controversy and scandal when their carrying value diverges from the amount that is likely to be earned from them.
In addition to goodwill of $2,673,631, as of September 30, 2011, AMT reported the following breakdown of their intangible assets: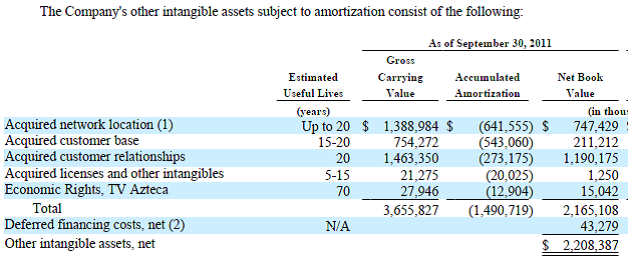 Source: AMT form 10-Q November 2nd, 2011 on EDGAR
Intangibles currently account for the bulk of AMT's assets, comprising a greater value than all of the towers, land, and leases they have combined. This is not necessarily a problem, but in my opinion there is plenty of reason to doubt if in fact the intangibles are worth what AMT's financial statements say they are.
Over 80% of AMT's Intangible assets are lumped into the category of "Customer Relationships" and "Acquired Network Location" for reporting purposes. Most of these assets are determined by AMT to have a useful life of up to 20 years (or as long as the underlying land lease). This type of accounting is not too distant from the "Mark to Market" (and its analog Mark-to-Model, and the fictitous Mark-to-Makebelieve) accounting used by financial firms and others such as Enron with such disastrous consequences over the past decade.
The reason is that the value of these types of assets rely heavily upon an estimate of future value made at the time of the transaction. This value is then amortized over the anticipated useful life of the asset. This calculation is similar to present value techniques utilized in Mark to Market accounting. The inputs are heavily influenced by management, and this historically has become the source of problems in other companies. The true value of the relationship is almost certain to be less than this estimate.
I question the reliability of AMT's estimate of the strength and value of these customer relationships and network locations. Currently, the wireless infrastructure is in its fourth generation during the 15 year life of AMT. I find it difficult to imagine how reliable any estimate of the value of these assets can be in such a dynamic industry over an extended period.
Thank Goodness For GAAP
Recent changes in GAAP accounting allow AMT to utilize these estimates to their advantage. Under the current rules, AMT does not need to test their intangibles for impairment as long as in their estimation the fair value of the asset is not less than the carrying value. Calculation of fair value is made as the sum of the estimated undiscounted future cash flows from the asset. AMT points to long-term contracts for utilization of their assets as justification for their value. In the absence of anything better to use, I agree that these contracts do provide a good place to start, but the likelihood of those contracts still being in force for 20 years must also be considered. This is the job of the investor.
Timing Mismatch
Making expensive acquisitions and creating large intangible assets allows AMT to show revenue growth immediately upon acquisition, and amortize the intangible over longer periods, most being 20 years. This mechanism works perfectly and accurately only when all of the expected revenues materialize exactly as planned. In a technology-driven, dynamic industry like telecommunications the likelihood of everything working perfectly is very low.
Nevertheless, the financial statements of AMT do conform with GAAP, but they do not need to reflect the likelihood of something going wrong. In my opinion, if the intangible assets of AMT were to be "risk-weighted" the balance sheet would look a lot different. In fact it might not exist at all, as AMT's intangibles are 1.5x its equity.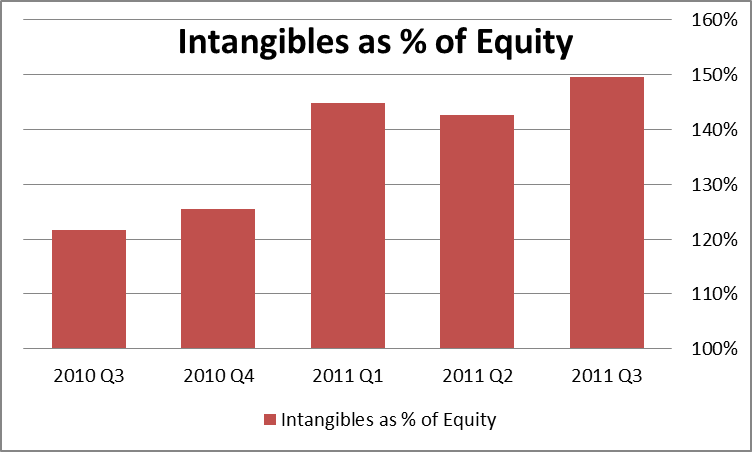 Source: company filings on EDGAR
Next in this series on American Tower - Taking a look at valuation.
Disclosure: I am short AMT.
Additional disclosure: I have net negative delta options positions based on AMT stock.