Some of the biggest mistakes I have made over my career trading options have been when I have let my options expire without rolling them over to a forward month(s) and also not averaging down when I saw the stock increase or decrease.
There will be some who might say that averaging down to lower your cost-basis or rolling the options over to a forward month is chasing losses. This may be the case when you have some doubts as to whether or not the stock will move in the desired direction. But when you have a conviction that a stock or ETF will eventually follow your original conclusion, then the decision to use these two available options are smart decisions to make.
Early in 2011, Cisco (CSCO) was trading at a little bit over $13.00/share. I was convinced that the stock would reach $18.00+ by the end of the year. I owned a lot of call options at the time, but the stock was doing absolutely nothing.
Eventually, I became impatient and sold my position for a loss. I am not even joking when I say that the same day after I sold, Cisco was upgraded. The stock moved up about $0.55 that day and continued to move up in the following weeks and has been on the rise ever since. Because my options were expiring within a few weeks when I did sell, I figured there would not be enough time left for the trade to work out. If I had only rolled those options forward and upped the strike price, I would have made a small fortune. I owned over 200 call options on the stock with a $15.00 strike price.
One position I am going to roll over soon is EMC Corp. (EMC). The stock was on a great run from October through early November, but it has retreated somewhat lately. I currently own call options with this stock. When EMC Corp. was trading as $21.00/share earlier this year, I bought $25.00 call option for very cheap. The stock eventually rallied to near $26.00/share. I did sell half of my position for a gain, but still own some out-of-the-money calls. I still believe this stock is going to be near $30.00/share at some point in 2012. EMC Corp. also owns 80% of all outstanding shares of VMWare (VMW), so in a way you are getting more bang for your buck here. I promised myself I would not make the same mistake I did with Cisco.
I am sure there are plenty of call option holders that own Alcoa (AA), Ford Motor Co. (F) that are getting impatient with these stocks. The way I see things is that when a stock is right near its 52-week low, this is a great time to average down and lower your cost-basis. There is a big difference, for instance, if you bought at the highs and continue to see the price fall. Yet, if you paid a reasonable price for the options to begin with and the stock is still languishing, and you still think the stock is going to make a move sooner rather than later, then you should roll those options forward. There is not a worse feeling than watching a stock move to where you thought it would, only to be out of the position.
Sure, there are times when you need to sell your position and cut your losses. I am not going to say to do this with every call or put option you own when it is not working out. However, panicking and becoming impatient will lead to bad decisions and blur your judgment on what the best course of action is going forward.
To highlight another major mistake I made recently, I would like to mention the Sears Holding (SHLD) fiasco. Earlier this year, I was convinced this stock would completely tumble. Every single time I go into a Sears store I may see two people in there. I am being serious. I will sometimes do this with retail stocks when I want to see how a company or store is doing before I decide to enter a position. Frequently, I will go into Verizon (VZ) to see if its customer service representatives try to sell me any Research In Motion (RIMM) Blackberry phones. They never do.
After looking at Sears' balance sheet and through my own due diligence, I just knew this stock was going to fall really hard, so I bought some put options. I could not fathom how the stock was trading in the $80.00+/share range. After a couple of months I made a modest profit, but nothing spectacular. I debated whether or not I should roll my put options with a lower strike price and to late 2011, with the anticipation that Sears would fall a lot more. I decided not to. It was a major mistake.
As it turned out, i definitely should have. Sears is now trading at $33.33/share. The 52-week range is $31.94 - $94.79.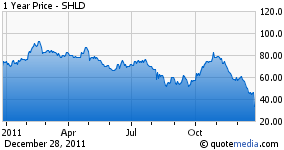 | | |
| --- | --- |
| 52wk high: | 94.7884 |
| 52wk low: | 31.94 |
| EPS: | -3.56 |
| PE: | N/A |
| Div Rate: | N/A |
| Yield: | N/A |
| Market Cap: | 3.56 B |
| Volume: | 4.99 M |
The example of Sears makes a good point: When you have the conviction on where a stock will be trading, do not let emotions, impatience, or outside influences decide how you should trade. Just because Sears did not fall as quickly as I originally thought, this still did not change the fact that I was correct that it would fall by a large amount, even if it may take longer. Everything I thought about Sears held true, as this article here shows very clearly.
I would like to go over a list of stocks that qualify as great buys right now, but that have also been stuck in a range for a while. If you own any call options on these stocks, try to remain patient. If your options are expiring soon or you may be on the mend about deciding what to do going forward, I would definitely consider rolling the options until mid-2012.
Aloca (AA)

EMC Corp (EMC)

Yingli Green Energy (YGE)

Trina Solar (TSL)

United Continental Holdings (UAL)

Ford Motor Co. (F)

Marvell Technology (MRVL)

Arcelor Mittal (MT)

Ciena Corporation (CIEN)

MGM Mirage (MGM)

Las Vegas Sands (LVS)

JP Morgan Chase (JPM)

Transocean (RIG)

Apache (APA)

United States Steel (X)
f you have any questions, please use the comment section or e-mail and I will try to respond as soon as possible.
Have a Happy New Year!
Disclosure: I am long EMC, AA, F, CSCO, MT, APA, RIG, YGE, TSL.