Is Dryships, Inc. (NASDAQ:DRYS) undervalued? This has been the burning question of all investors who've stumbled upon this company, perhaps allured by the eye-opening charts or seemingly undervalued financials. As I'm writing this, the current share price of DryShips, Inc. is $2.01. The current market capitalization of the company is $821 Million with 408.4 million shares outstanding. To consider this question, let us first analyze the facts.
DryShips, Inc. is no longer the dry bulk shipping pure play that it once was some half a decade ago. With a majority stake in Ocean Rig UDW Inc (NASDAQ:ORIG), and an evolving tanker sector coming online, DryShips has become something that resembles a diversified ship controller. The combined fleet of DryShips and Ocean Rig adds an 'off-balancing' characteristic with the price of oil; if oil goes up, Ocean Rig gains value while the oil-consuming shipping of DryShips goes down in value (although the tanker sector might help further offset this downside event).
Company management has seemingly become more of a liability to the company itself rather than being a symbol of reliability. CEO George Economou's orchestration of a failed acquisition in 2008 was the epitome of what some might consider as legalized robbery considering his vested interests in the private companies that received the cancellation costs paid by investors. As the company's stock dropped vertically, management's decision to dilute at lower prices have put many investors on guard. The fact that the company still continues to dilute is a bit of a mystery given the value of the company's stock in relation to its book value.
Yet DryShips is indeed undervalued by all traditional measures of the company.
| DryShips, Inc. | 3Q (9/30/11) |
| --- | --- |
| Market Capitalization (12/28/11) | $821 M |
| Total Current Assets | $708 M |
| Total Assets | $8,687 M |
| Total Equity | $3,960 M |
| Forward P/E (12/28/11) | 3.47 |
Let us further consider the daily operations:
| DryShips, Inc. | Q42011 | 2012 | 2013 |
| --- | --- | --- | --- |
| Charter Coverage % | 63% | 54% | 32% |
| Avgerage Charter Rate (per day) | $37,700 | $35,200 | $32,800 |
| Fixed Revenues | $80 M | $284 M | $175 M |
| Total Secured Debt Repayments | $49 M | $136 M | $131 M |
Entirely neglecting the tanker and rig revenues along with the spot market revenues for the dry bulk ships, we still see that the dry bulk charter revenues alone cover the secured debt repayments needed for both the dry bulk ships and the tankers. It's clear that the company was opportunistic when it came to fixing its charter rates after the Baltic Dry Index recovered slightly during the Great Recession. For the next 2 years at least, the company likely has little to worry about in terms of staying operational.
Even as of September of 2011, as rates continued to lull around the bottom, the time charter equivalent of running the dry bulk ships was $27,011/day on average compared to the daily expense rate of $5,844/day according to the company's figures.
Needing only an additional $340 million to finance its capital expenditures on new ships by the end of 2012, the company could pay for this out of pocket with cash on hand without tapping into its restricted cash, if it so desired.
With a fleet with an average age of 5.5 years, Dryships undoubtedly has one of the youngest fleets available. This too can give a little more credence to the company's net debt to capitalization rate of 42%, assuming a more modern fleet can be more resistant to impairment charges.
Even so, one of the main advantages of the company's spin-off & public listing of Ocean Rig was its ability extract value out of its subsidiary. Should the need also arise to quickly liquidate its holdings, access to the capital markets can allow for a rapid disinvestment that could raise severely needed capital.
Overall, DryShips appears to be in good financial shape despite being in an industry that has yet to truly recover. While its latest acquisitions can be considered aggressive considering the macro-economic picture, they were by no means overreaching.
However, the company's management appears to simultaneously be working against shareholders with ongoing dilution, questionable acquisition targets, and a history of perceived shadiness. To say the least, shareholder interests don't appear to be anywhere near the top priority. At the same time, it would be a fallacy to say that management was anything but smart when it comes to developing a relatively firm foundation for the company to be built upon once the recovery of the industry comes about.
Answering the question of whether or not DryShips is indeed undervalued might very well come down to your own appraisal of which part of the company matters more – fundamentals or the people running the show?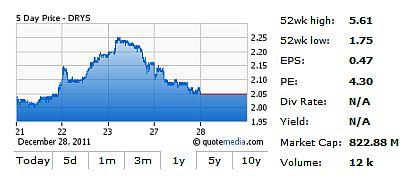 Disclosure: I am long DRYS.