In early November, I wrote that a turnaround finally seems to be materializing for Lender Processing Services (NYSE:LPS). Regulatory and legal issues have long been a severe overhang for LPS, so when the Nevada Attorney General announced on December 16 that it will sue LPS for consumer fraud, it seemed the entire story fell apart again in one fell swoop. LPS responded quickly to the suit:
"Lender Processing Services strongly disputes the allegations made in the complaint filed by the Nevada Attorney General yesterday evening. LPS has cooperated with the Attorney General's office for more than 14 months to resolve its inquiry in a manner which would benefit the citizens of Nevada.

Unfortunately, the company's efforts to engage in meaningful discussions with the Nevada Attorney General's office have been frustrated by the Nevada Attorney General's decision to outsource its investigation to Cohen Milstein Sellers & Toll PLLC, a plaintiff's law firm located in Washington, D.C., in apparent violation of Nevada law. The complaint highlights misconceptions about LPS and seeks to sensationalize a variety of false allegations in a misleading manner.

As the company has previously disclosed, it has discovered, during its own internal reviews, potential issues related to some of its past document execution practices. However, the company is not aware of any person who was wrongfully foreclosed upon as a result of a potential error in the processes used by its employees.

LPS will vigorously defend against the complaint filed by the Nevada Attorney General."
The stock market also responded quickly to the suit: The stock dropped 17% that day. LPS did not make new 52-week (and all-time) lows, but the stock has also barely made any progress in the subsequent two weeks.
Click to enlarge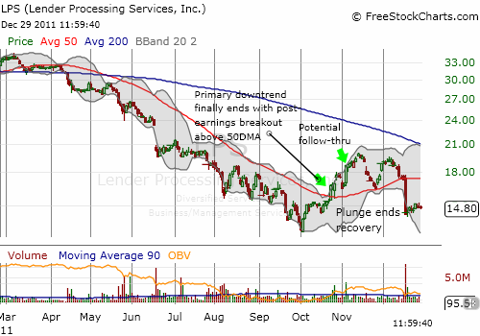 The latest plunge in LPS put an abrupt end to a nascent recovery in the stock.

Source: FreeStockCharts.com.
Since the big plunge, some large trader (or traders) may have decided that now is the time to buy LPS. On December 19th, 6,476 call options traded on the June $21 strike versus an open interest of just 10 call options. Open interest increased the next day to 6,416 call options. Open interest surged again on December 23 to 11,930 call options. This call buying has greatly distorted the put/call ratio for LPS (note that the Schaeffer's calculations appear incorrect based on the data I show below).
For additional context, here is a list of the largest blocks of open interest across all LPS options as of December 29 – note that these numbers have remained mainly static for the past two weeks.
Calls
March $18: 5,054
March $20: 4,298
March $25: 4,305
Puts
March $14: 5,219
March $17: 4,525
What makes this call option activity all the more interesting is that in the past year or more large blocks of put buying have signaled trouble ahead for LPS (for example, see "Rethinking Lender Processing Services Amidst New Allegations and Surging Put Activity"). I am now hoping this call-buying is a similarly strong signal for what is to come for the stock over next several months. Of course, there are many reasons for buying (or selling) calls, and it is certainly possible that these calls are being used to hedge existing bearish positions. However, I would expect such activity to involve strikes at lower prices and/or earlier expiration dates since the June 21 calls have a delta of only 0.21. Moreover, LPS has to increase by 50% to close out these calls at breakeven at expiration.
Finally, note that short interest in LPS continues to decline. The last date available happens to occur the day before the plunge in the stock. I will be eagerly awaiting the next update to see whether shorts have decided to climb back aboard since the announcement of the lawsuit.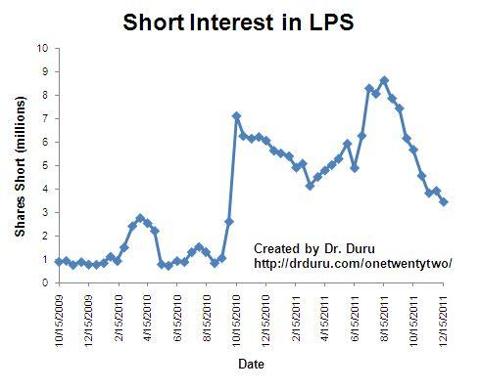 Short interest in LPS continues to decline.

Source: NASDAQ.com short interest.
Be careful out there!
Disclosure: I am long LPS.