On December 13, we noted a bearish head and shoulders pattern in silver and stated:
If SLV fails to retake the neckline, a decline toward 26.40 could be in the cards.
Here are the "BEFORE" and "AFTER" charts for SLV (click on image to enlarge):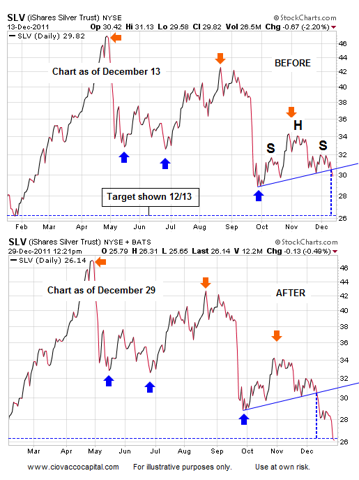 From a technical perspective, it is too early to make a read on silver, but if SLV can hold above 26.14 it may open the door for a bounce of some kind. From a fundamental perspective, the situation in Europe points toward more money printing, which may be supportive of silver prices. Recent data on credit growth in Europe came in well below expectations. From Reuters via Zero Hedge:
Loans to private sector firms in the eurozone fell in November while growth in lending to households slowed, European Central Bank data showed on Thursday, adding to the case for an interest rate cut. The drop in funding to companies increased fears that the region faces a looming credit crunch, an issue of growing concern for the ECB as the worsening sovereign crisis makes firms and households increasingly wary about taking on debt, weighing on the economic outlook.

In an attempt to kick-start loan activity, the 17-country bloc's central bank conducted last week its first-ever three-year funding operation, which saw banks take up almost half a trillion euros.

In November, loans to the private sector grew at a rate of 1.7% year on year, Thursday's data showed, coming in well below analysts' expectations of 2.6% and the 2.7% growth seen in October.

"They are a very soft set of numbers, Societe Generale economist James Nixon said. "If banks were to start to seriously shrink their balance sheets, that would be quite a significant negative for economic activity. The good news is we don't see that - yet."

The flow of loans to firms dropped by 7 billion euros after growing by a similar amount in October. The flow of mortgage loans rose by 8 billion euros after an 18 billion drop in October. The annual growth rate of mortgage loans remained at 3%.

Eurozone M3 money supply - a more general measure of cash in the economy - grew at an annual 2% in November, down from 2.6 in October and below expectations of 2.5%. Decreasing to 2.5%, the three-month moving average of M3 growth remains well below the ECB's reference rate of 4.5%, above which the bank sees dangers to medium-term price stability. Economists said the figures made it more likely the ECB would look to offer the struggling economy more support by cutting interest rates further from their current record low of 1%.

"The sharp slowdown in eurozone money supply growth in November reinforces belief that underlying eurozone inflationary pressures are easing and that the ECB has ample scope to cut interest rates again in the early months of 2012," IHS Global Insight economist Howard Archer said in a note to investors.
As we noted on December 19, the ECB's "back-door bazooka" does not offer a solution to solvency problems in Europe, but does allow the central bank to flood the financial system with cash. Thus, it makes sense to keep an open mind about higher prices in both silver and gold (NYSEARCA:GLD).
Disclosure: I have no positions in any stocks mentioned, and no plans to initiate any positions within the next 72 hours.