As 2011 draws to a close, investors may be wondering whether the S&P 500 can eek out a small gain for the year. However, dividend investors don't have to wonder. The iShares Trust Dow Jones Select Dividend ETF (NYSEARCA:DVY) is currently up nearly 8% year-to-date. As it stands now, the S&P 500 is slightly in negative territory for the year. The chart below illustrates the outperformance of the dividend ETF versus the SPDR S&P 500 ETF (NYSEARCA:SPY) not including dividends.
(Click charts to expand)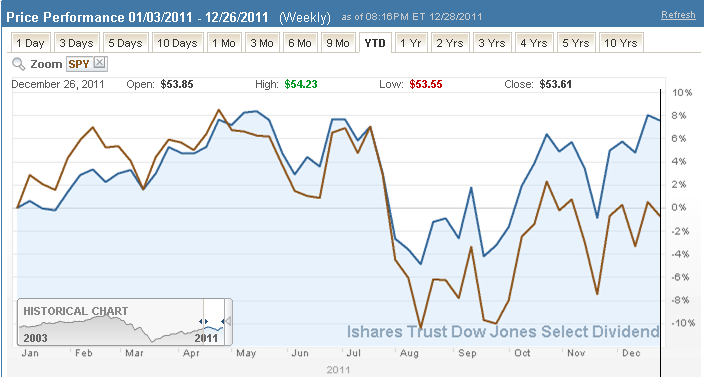 The story of 2011 can be summed up in one word, volatility. But dividend investors fared the volatile year much better. There is no reason 2012 will be any different. With clouds on the horizon in Europe, political discourse at home, and extremely low interest rates that have investors clamoring for yield, dividends can be an investor's best friend. With that said, here are five strong dividend stocks to beat back market volatility.
Intel Corp. (NASDAQ:INTC)
Selling chips for servers and PC's isn't as sexy as making tablets and mobile computing devices (although Intel makes chips for those too), but Intel generates a tremendous amount of cash doing just that. One of the "old tech" titans, Intel is one of a few technology companies that pay a substantial dividend. The stock is relatively cheap too. I wrote favorably about Intel several weeks ago; "Time To Take Advantage Of Intel's Dividend." Intel trades at about 10.5 times earnings and has a price-to-earnings growth ratio of less than one. The company pays a solid dividend, yielding 3.42%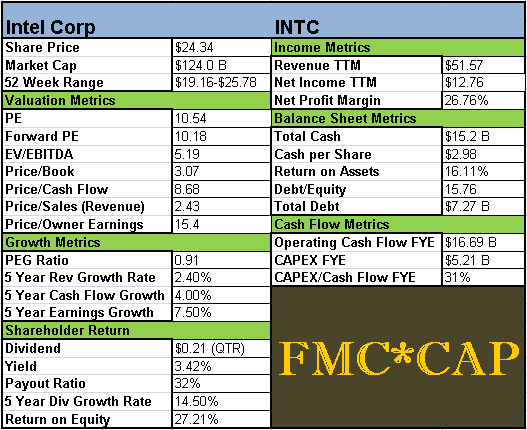 Verizon Communications (NYSE:VZ)
Verizon is technically an old-style, wire-line telephone company. However, its most valuable asset is its stake in Verizon Wireless. Verizon owns more than half of the nation's leading wireless carrier, the rest owned by Vodafone (NASDAQ:VOD). Verizon Wireless is expected to pay its two parents a substantial dividend in 2012. This year's introduction of the iPhone by Verizon Wireless has kept many customers from defecting to rival AT&T (NYSE:T). Verizon Wireless has the best network in the U.S. and AT&T's failed T-Mobile bid has set it back farther in upgrading its network. Verizon trades at an EV/EBITDA of just 3.85. Cash flow has grown consistently over the last five years. Verizon pays a great dividend, yielding 5%.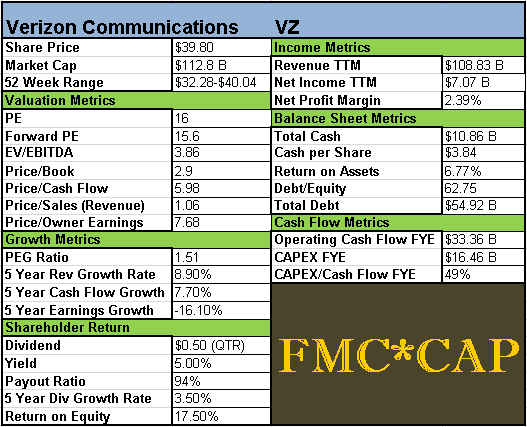 McDonald's Corp. (NYSE:MCD)
McDonald's, the Dow Jones Industrial Average's best performing stock this year, is up 34% since I first wrote favorably about the company at the beginning of 2011. McDonald's is still a buy for long-term investors. The company has found success selling high-margin coffee and specialty drinks in addition to the typical menu of hamburgers and french fries. Although many believe that McDonald's can't grow any bigger than it is, the truth is that the company has a huge growth runway in China and other parts of Asia. This will be a continued focus for McDonald's in the coming years. In addition, McDonald's is revamping its U.S. and European stores, giving them a much more upscale look. McDonald's trades at a well-deserved premium to some of its peers. McDonald's has a P/E of 19.5 and a forward P/E of 17.4. McDonald's has increased earnings at an annualized rate of 17.7% over the last five years. The company has consistently raised its dividend and yields 2.78%.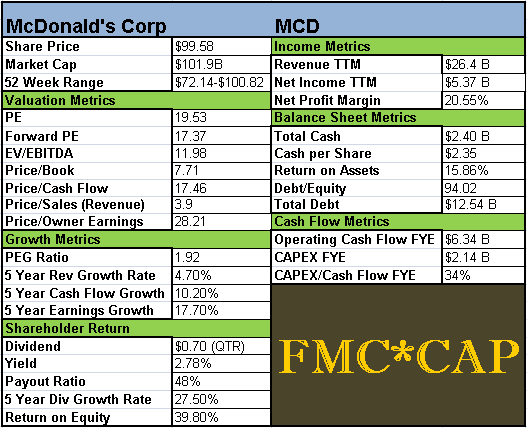 Waste Management (NYSE:WM)
Waste Management shares have been driven down on lower trash volumes and fears of an economic slowdown. The company is the leading provider of garbage and recycling services in the United States. Trash volumes tend to fluctuate with economic activity. Shares could get a boost if the U.S. continues to recover at a decent pace in 2012. On the back of shares selling off in 2011, Waste Management yields a solid 4.2%. This high dividend has helped put a floor under the price of its shares. The shares trade at a P/E ratio of less than 16 and a forward P/E ratio of less than 14. With no exposure to the European economy, that worry is taken off the table with Waste Management.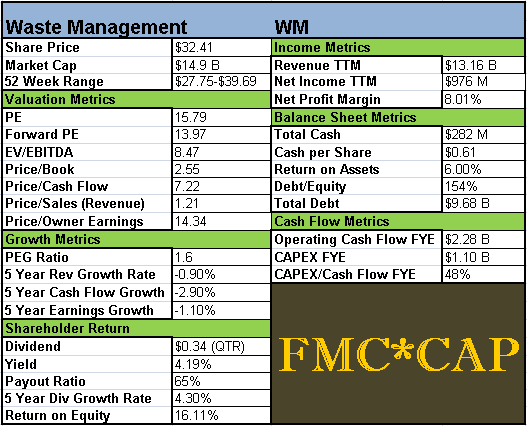 Pfizer Inc. (NYSE:PFE)
With the exception of Utilities, Pharmaceuticals may offer the most protection from volatility. Pfizer is the largest of all the pharmaceutical manufacturers. With the well-known patent expiration of Lipitor behind it, Pfizer is focusing on its future. Like all of the large pharmaceutical companies, Pfizer has had an anemic pipeline of new drugs. In response, Pfizer has been buying smaller competitors, beefing up its lineup of drugs. The company is a cash king. Pfizer trades at a P/E of 15, but trades at less than 11 times cash flow. The company returns a lot of that cash to its shareholders through a juicy dividend yield of more than 4%. If the company decides to spin off or sell some parts of the company next year, shareholders could get an extra reward.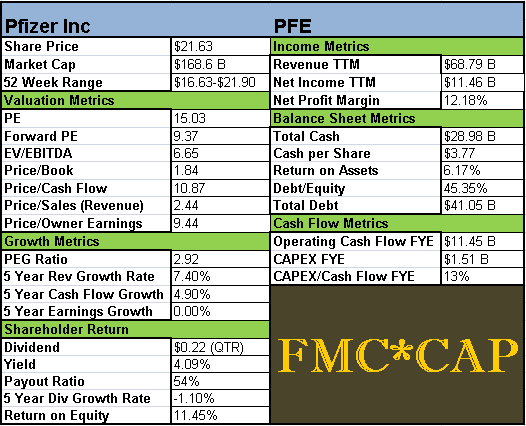 Several of these stocks are trading near their 52-week highs. Investors may want to catch some of these names on a market sell-off. I don't expect the volatility to subside anytime soon, so there will likely be opportunity to pick up some of these names at a small discount to current prices. This portfolio yields 3.9% and has a beta of 0.67 (meaning the portfolio is less volatile than the overall stock market).
2012 is likely to offer much of the same as 2011, with strong swings in the market. Investors wanting to smooth out some of the volatility and generate dividend yield may want to consider building a portfolio with some of these great companies.