There are not too many $180 billion companies that are able to offer a high dividend yield and potential to grow earnings enough to sustain respectable capital appreciation. The funny thing is that companies like this tend to either get ignored or take some heat for being too complacent.
Consider the New York Times article about the worst CEOs of 2011. This article mentions Johnson & Johnson (NYSE:JNJ) CEO William Weldon as being too complacent in his handling of the company. What the article doesn't mention is that Johnson & Johnson is one of the oldest companies traded on the exchange. It is also omitted that JNJ has provided excellent shareholder returns for decades, and the dividend yield at 3.5% is almost irresistible. Instead, comparisons to Tony Hayward and product recalls are highlighted. While it is up to the New York Times to determine who they will place on the worst CEO's list, figuring out the true value of the stock is the work of all investors. Here are some reasons why Johnson & Johnson is still a bargain.
Cash To Debt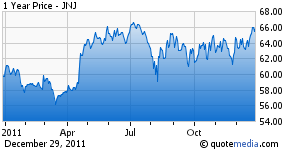 Some of the largest companies in the world are often running operations with mountains of debt on their books. Many have more debt than they have capital reserves. Even these companies are able to be awarded high valuations simply because they have proven themselves to be consistently profitable.
However, if a company of considerable size has more cash than debt, then this is something really noteworthy. That is exactly the case when at Johnson & Johnson. JNJ has nearly $31 billion in total cash while only holding a little over $18 billion in debt. That is very attractive for such a large company. That extra cash allows JNJ to be flexible with investments in research and development, advertising, or even share buybacks.
Multitude Of Products
An important factor to consider when purchasing stocks is thinking about what the companies actually make. Many companies have one base product and perhaps a few accessories or side products to offer consumers. That is not the case with Johnson & Johnson. This mega company creates everything from Listerine Whitening Strips to Acuvue Oasys contacts. Having a multitude of consumer and health products in general is a great way for JNJ to be protected in the event that sales slump or products are recalled. Stocks of conglomerate companies that produce so many well known and loved products deserve a high valuation.
High Dividend
Although already mentioned above, the high dividend yield is very important. This is what allows large companies like Johnson & Johnson to reward loyal shareholders for sticking with them for the long run. At 3.5%, the yield on this dividend alone is enough to keep up with average inflation without any capital appreciation. Johnson & Johnson's strong record of growth likely points to at least some level of capital appreciation, but even without it investors can still benefit. Having these dividends reinvested could build up quite a respectable position for any investor.
Low Risk
JNJ is certainly a low risk investment. With a beta score of just 0.55, the company does not have many violent swings in one direction or the other. This makes it the perfect stock for those looking for some stability in a turbulent market. That list should include just about anyone who is interested in retiring in the near future.
Johnson & Johnson is the perfect play to make at a moment like this because of the stream of bad press that has been released. This kind of thing is bound to happen with any large company, and it can often be seen as a buying opportunity. While some investors are headed for the hills after product recalls, the savvy investor can step in and purchase shares on the cheap. That is exactly what anyone who has a long term investing mindset should do right now.
Disclosure: I have no positions in any stocks mentioned, and no plans to initiate any positions within the next 72 hours.