In my previous article I referred to the largest individual shareholder of Collectors Universe, Richard K. Duncan, as "a crappy seller." In the comments section of the article, SA user dbtunr pointed out that, given the trading restrictions Duncan is under as an insider, he felt Duncan's trading was actually pretty well done. After taking a closer look at Duncan's selling (relative to the price range within each of his trading windows), I now agree with dbtunr's point and am writing this article to take a closer look at Duncan's trading. I will also cover recent selling by the company's CEO, Michael J. McConnell.
A Close Look at Richard K. Duncan's Selling
As stated above, my original assertion that Duncan is "a crappy seller" turned out not to be 100% right. As the beneficial owner of "10% or more" of Collectors Universe, he is restricted to the same trading window that other company insiders would be restricted to. The following table shows Duncan's trading windows, the price range during that window, the average price at which Duncan sold his shares and how many shares he sold during that particular window. It also shows what percentage of his remaining stake was sold during each trading period.

I point to two basic facts as the reason Duncan's selling does not indicate trouble ahead to me:
Duncan still owns 1,012,554 shares and still has a significant amount of risk on the table.
Of the five trading periods during which Duncan sold shares, it was the most recent two in which he sold the smallest percentages of his stake.
A Close Look at Recent Selling by CEO Michael J. McConnell
Michael McConnell, the CEO of Collectors Universe, has steadily sold shares owned through his family's trust. While this doesn't immediately concern me, I do find it interesting that he waited until the final day of his trading window to unload the largest chunk of shares, 18,000 of them. Perhaps he was (smartly) holding out to see if the price would recover further from the move lower a couple weeks ago.
McConnell set up the McConnell Family Trust, which first appears in SEC filings in late 2008 when the trust held 33,349 shares of Collectors Universe. Sometime between 7/19/10 and 9/13/10 he transferred the almost 187,000 remaining shares that he personally owned to this family trust. Since that time the number of shares held by that trust has declined from a high of almost 220,000 shares to just over 85,000 shares. Since McConnell was awarded an additional 30,000 (restricted) shares in that time, we know that the trust has sold just under 160,000 shares in total.
Why might McConnell be selling these shares? "Because he can" seems to be as reasonable an answer as any. McConnell received just over 100,000 restricted shares on 7/31/09. Just for still being employed by Collectors Universe on 7/31/10, 25% of those shares become vested. Another 25% became vested when the company met an income goal outlined by the Compensation Committee and the remaining 50% vest in equal installments on 6/30/11 and 6/30/12, provided that McConnell is still employed by the company.
I believe that these shares vesting and selling by the McConnell Family Trust are closely related, and this kind of selling doesn't seem like any kind of red flag to me. In the final trading window of this calendar year the McConnell Family Trust sold 20,000 shares with another 1,000 distributed to someone/some organization as a gift. Last year during that same window the trust sold over 52,000 shares. It appears that twice the number of shares vested last year than did this year and none of this feels like selling that should concern me as a shareholder.
As much as I'd like to see McConnell leaving vested shares on the table as an indication that he expects their value to increase, I take no issue with the guy cashing out when his incentive-based stock options vest.
Conclusion
As I have asserted in previous articles, regular selling by Richard K. Duncan does not concern me since it only makes sense that after riding HUGE gains in a company with such an un-sexy business model, the guy would want to take some risk off the table. He sold the smallest percentages of his stake in the two most recent trading periods, which is the opposite of what I'd expect to see from an investor who sees trouble ahead.
While the details are different, the same goes for the trades of CEO Michael J. McConnell. This pattern of selling shares soon after vesting doesn't suggest to me any kind of trouble on the horizon.
The bottom line is that, even after these recent insider trades are factored in, insider ownership (as of 12/29/11) by the key officers, board members and Richard K. Duncan looks like this: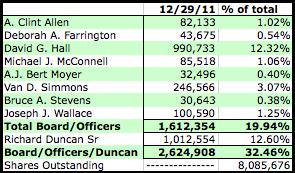 A cut to the dividend would have a significant negative impact on the share price and these insiders definitely know it. If these insiders didn't have so much on the line I would be more concerned by this basic fact, but it certainly should offer some comfort to investors that these insiders own over 32% of the company. Worst come to worst, we will be able to sell shares a full 2 trading days before the trading window opens for any of these insiders. I offer this merely as a consolation, since my stake in the company would surely also take a hit if this were indeed the case. That said, in case you haven't already picked up on this from my previous articles, I don't believe the dividend is in jeopardy, at least for now.
Disclosure: I am long CLCT. I may initiate further long positions in CLCT within the next 72 hours.