Using our own proprietary screen, we try to find stocks with good fundamentals that the market may be currently undervaluing. One of our recent discoveries, Lincoln Educational Services (NASDAQ:LINC), has seen its stock take a beating since August due to its revised revenue estimates and its slashing its dividend by an astounding 72%. We want to dig deeper into the company to determine if this is a short-term incident or if it is a sign of times to come.
Underlying Business
LINC, according to its own 10-K is:
a leading provider of diversified career-oriented post-secondary education as measured by total enrollment. As of December 31, 2010, we operated 45 campuses in 17 states. We offer recent high school graduates and working adults degree and diploma programs in five areas of study: health sciences, automotive technology, skilled trades, business and information technology and hospitality services.
In simpler terms, LINC is a for-profit college teaching adults applicable skills in fields such as nursing, mechanics, IT, etc. LINC offers three different programs: certificate/diploma programs, associate degrees, and bachelor's degree. The programs can run as short as 22 weeks for some diplomas and up to 284 weeks for some bachelor's degrees. Tuition ranges from $8,500 for some diplomas to $74,000 for some bachelor's.
From the 10-K, we see that LINC's enrollment breaks down in the following way:
Health Sciences: 40%
Automotive: 30%
Skilled Trades: 11%
Business & Information Technology: 10%
Hospitality Services: 9%
As we can see, the largest portion of LINC's enrollment comes from the growing field of health sciences. This bodes well for LINC as the health industry is expected to grow by 3.8 million jobs from 2008 until 2018. As the elderly population grows, health sciences should become and even bigger portion of LINC's total enrollment.
LINC has invested heavily in itself and has expanded its facilities across the country. The company leases most of its campuses but has acquired schools, increasing its own balance sheet of campuses. The company operates 45 different campuses mostly in the northeast but also in Florida, and Texas.
Industry
The for-profit college industry has some bigger companies within it, Apollo Group (NASDAQ:APOL) [University of Phoenix] and Kaplan, but is generally a segmented industry. The industry is heavily regulated under the Higher Education Act of 1965 and more specifically Title IV. Title IV manages the issuance of federal aid to students going to post-secondary education and is in charge of some of the more famous grants and scholarships (Pell Grants, Work-Study, etc.).
With Title IV, LINC must follow very specific rules in order to retain its ability to continue receiving federal money. One such rule is that for-profit colleges must now post net cost calculators on their websites.
Another example, and probably the most important for LINC and its competitors is the 90/10 Rule. According to the 90/10 rule, 10% of for-profit college revenue must come from non-federal sources in order for the colleges to remain eligible for federal aid. Federal aid is a huge portion of for-profit college revenue. Congress has taken an interest in the 90/10 rule and has considered changing the rules in ways such as making military aid count toward federal aid.
LINC has taken steps to reduce the risk of falling below the 90/10 rule. According to LINC's most recent 10-Q, in which it saw the student population drop by 28.9%, the company notes:
The decrease in average student population was due to adjustments in our business model to be better aligned with the Department of Education's increased emphasis on student outcomes and our efforts to comply with the 90/10 rule and cohort default rates. As part of these measures we implemented a more selective student enrollment policy to ensure that we enroll students that demonstrate a strong ability to achieve successful student outcomes, including higher graduation rates, repayment rates and lower student debt levels. We also restructured certain programs and altered program offerings at some of our campuses which resulted in lower financial aid funding availability and higher student cash contributions. These changes, coupled with the current economic conditions, which we believe are resulting in an increase in the number of potential students who are hesitant to take on debt, have resulted in a significant decline in student starts at these campuses. We believe these changes will lead to improvement...
LINC has changed its business model to meet the increased rules on 90/10 and to try and lower cohort default rates. According to the Department of Education, cohort default rates indicate the number of students who default on specific federal loans during a federal fiscal year. For-profit colleges have been hit particularly hard by the increased default rate. By trying to decrease the cohort default rate, LINC may be sacrificing current revenue for increased profit in the future.
Valuation
Across a number of valuation metrics, LINC appears to be undervalued on both an absolute and comparative measure.
Let's start this off by looking at the basic valuation measures for any stock: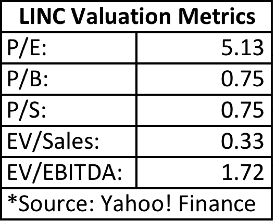 As we can see, LINC is almost disturbingly cheap but has some caveats. All of the numbers above are TTM numbers and do not look into the future for LINC. LINC just had a terrible 3rd quarter, referenced above, and saw its student population decline by almost 30%. Though the trailing P/E is just 5.13, Forward P/E is 14.74. The market is pricing in LINC not recovering from its current downward trend and projecting EPS at just 33% of TTM EPS. This pricing may be harsh but let's now compare LINC with its own peers.

As we can see, APOL (University of Phoenix) and ESI (ITT Tech) are valued much differently than smaller competitors Career Education Corporation (NASDAQ:CECO) and LINC. While ROA and ROE for LINC are not nearly as high as APOL and ESI, LINC's management has been active in attempting to cut overhead to increase margins. LINC's management incentives should be in line with shareholders as LINC has seen large insider purchases.
Upside Potential and Catalysts
LINC expected a tough year early in 2011 but apparently the market did not. The stock is down almost 50% this year and has traded in a range of $6.55-$19.89. The stock was extremely volatile in the months of July and August but has remained relatively stable during the following months.
What upside do we see in LINC? We actually do not see much upside with LINC. While the valuation numbers look good, LINC has been cash flow negative for four out of the past five quarters. The total cash balance of the company has been on the decline for the past five quarters. With a declining customer base, though LINC expects modest rises in 2012, the company's cash flow issues will only worsen.
Potential catalysts of LINC include positive outcomes to the debates going on in Congress over budgetary measures, which will directly affect the federal aid paid out to colleges. If the rules are not changed, or changed slightly, LINC could rebound as uncertainty wanes.
Another potential catalyst is that management continues its cost cutting while student enrollment increases above expectations. LINC's new focus is on stronger students who use more external financing to meet their tuition needs. If more students enroll, and the new students are less likely to decline while also more likely to finish the degree, LINC could see growth in earnings that the market is currently underestimating.
Conclusion
We believe that LINC is just another reason why qualitative research should always accompany quantitative research. When looking solely at the numbers, LINC appears to be a phenomenal buy and may turn out that way in the future. When we look at LINC qualitatively, however, we see a company with a (currently) declining consumer base, margins and returns that are being destroyed by the competition, no real moat to keep the other for-profit schools from stealing students, and a company extremely reliant on an unreliable Congress for guidance. For now, we are going to stay away from the company but would look to buy if price drops even more.
Disclosure: I have no positions in any stocks mentioned, and no plans to initiate any positions within the next 72 hours.