This article reviews the 2011 performance or equity returns for seven clothing manufacturers, with one day remaining in the year. These apparel makers all performed exceedingly well in 2010 and during the start of 2011, but several have stumbled significantly and/or remained range-bound since then.
Many of these apparel makers have ebbed and flowed with the price of cotton. Commodity volatility through the last three quarters and generally poor demand for mid-tier products has weighed heavily on many apparel makers. Several of these companies house strong brands that may be more capable of surviving continued consumer weakness as well as provide the manufacturer with the ability to pass any continued commodity price increases onto the consumer.
Below, I have listed the three-month, six-month and 2011-to-date share performance returns for seven apparel makers. Following that, I have also provided descriptions of their businesses.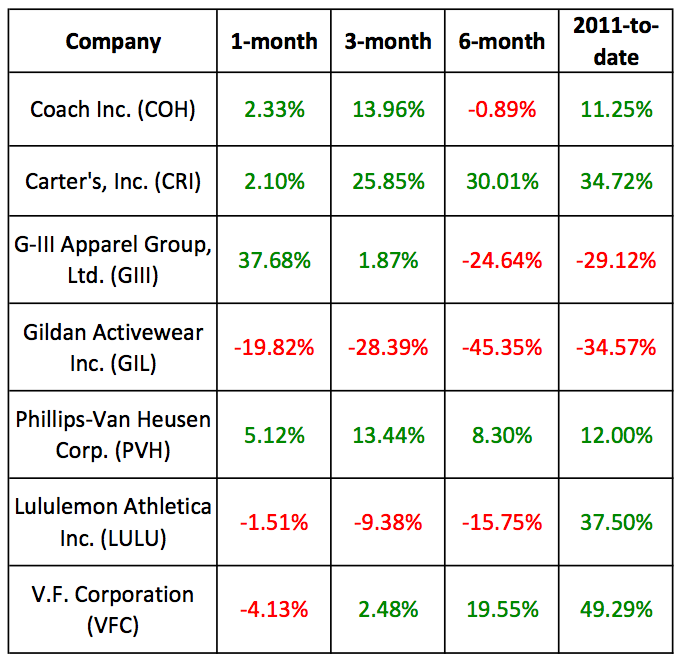 Coach (COH) is a well-known producer of apparel accessories and footwear. The company is primarily known for its handbags, shoes, jewelry, watches, wallets, cases and other apparel and accessories. Coach is generally regarded as a true luxury brand, where it can easily be passing on commodity price increases and other inflationary pressure to its customers.
Carter's (NYSE:CRI) owns several children's wear brands including its namesake brand OshKosh. The children's clothing that it markets is more of a necessity than a luxury, though brand recognition is strong. Children's clothing has become an increasingly competitive marketplace, where even a strong brand may have difficulty passing on significant price increases without hurting market share. Nonetheless, the business model benefits from purchases primarily occurring out of need and not desire.
G-III Apparel Group (NASDAQ:GIII) designs, manufactures and imports apparel (primarily outerwear and sportswear). G-III owns several brands, such as Andrew Marc, but also owns licenses to produce branded fashion apparel under well-known names such as Calvin Klein, Sean John, Kenneth Cole, Cole Haan and Tommy Hilfiger, among others. Several of these are also licensed or owned by PVH, below. The company also holds sports licenses with the National Football League, National Basketball Association, Major League Baseball and the National Hockey League. It additionally operates over 100 Wilsons Leather outlet stores.
Gildan Activewear (NYSE:GIL) is a Canadian apparel maker that primarily sells t-shirts, underwear, socks and active wear to wholesale screen printers, embroiderers and retailers. The products are often used for uniforms or clothing that is further branded by its merchant customers. Gildan's products are considered high quality and are sold broadly, but its brand name is not terribly well recognized within the United States. Gildan's business model is often sensitive to cotton prices and lower end consumer demand.
Philips-Van Heusen (NYSE:PVH) owns numerous licenses and brands, including Van Heusen, Calvin Klein, IZOD, Bass, Sean John, Donald J. Trump, Kenneth Cole New York, Kenneth Cole Reaction, DKNY, Tommy Hilfiger and Michael Kors brands, among others. Several of these brands are also licensed to G-III, above. On the strength of these brands, PVH offers numerous mid-tier priced casual and dress apparel options, most of which have already survived considerable price increases. The company also recently officially changed, or shortened, its name to PVH, just like its ticker symbol.
Lululemon Athletica (NASDAQ:LULU) is a Canadian apparel maker that makes fitness pants, shorts, tops and jackets for healthy lifestyle activities, such as yoga, running and general fitness. The company operates stores that sell their apparel and accessories for yoga, pilates and related new-age fitness practices. The brand grew considerably over the last few years, developing a loyal and high-income customer base that appreciates the brand's quality and dedication to a healthier lifestyle. Many might consider LULU to be the apparel equivalent to Whole Foods (WFM) within supermarkets, with a similar customer profile that is willing to pay more for products more tailored to lifestyle decisions. LULU, like GIL, depreciated in the second half of 2011, but LULU is still up over 37% in 2011.
V.F. Corporation (NYSE:VFC) owns numerous strong brands, including Vans, The North Face, Nautica, 7 For All Mankind and JanSport, among others and acquired Timberland for about $2.2 billion during 2011. Most of these brands are priced within the mid-tier and up and have strong names within their segments, most of which have survived prior price increases. VFC is the best performing listed company through 2011, and may also have some of the best prospects for strength going into the next several cold months due to brands such as The North Face and the recently acquired Timberland lines.
Disclaimer: This article is intended to be informative and should not be construed as personalized advice as it does not take into account your specific situation or objectives.
Disclosure: I have no positions in any stocks mentioned, and no plans to initiate any positions within the next 72 hours.