On May 1, Syngenta (NYSE:SYT) ADRs suddenly jumped by 16% on rumors that Monsanto (NYSE:MON) has approached Syngenta about a takeover. On May 8, the stock was back to its all-time high after Syngenta's board officially confirmed that it has received a proposal from Monsanto to acquire the company for a price of CHF449 per share. This corresponds to $97 per Syngenta ADR and values the company at approximately $45B at current exchange rates. Monsanto itself has a market cap of $58B.
Merging Two Market Leaders?
Monsanto is the global market leader in seeds and ranks no. 5 among the agrochemical companies. Syngenta on the other hand is the largest agrochemical company and holds the no. 3 position in seeds. It goes without saying that a potential merger of the two would generate by far the largest crop protection and seed company with a combined turnover of approximately $30B - almost three times the size of the closest competitors Bayer (OTC:BYRQY) and DuPont (NYSE:DD).
FY 2014 Agrochemical and Seed Sales in $M
| | | | |
| --- | --- | --- | --- |
| | 2014 Agrochemicals Revenue [$M] | | 2014 Seed Revenue [$M] |
| Syngenta | 11,381 | Monsanto* | 10,740 |
| Bayer | 10,257 | DuPont | 7,913 |
| BASF | 7,243 | Syngenta | 3,155 |
| Dow Chemical | 5,686 | Vilmorin+ | 1,995 |
| Monsanto* | 5,115 | Dow Chemical | 1,604 |
| DuPont | 3,391 | KWS+ | 1,567 |
Source: company reports, *Monsanto FY ends Aug, 31st, +Vilmorin & KWS FY ends June, 30th. Not included Syngenta's "Lawn and Garden" and Bayer's "Environmental Sciences" businesses.
The seed and the agrochemical industry are both relatively consolidated and in each the six leading players combine a market share of more than 60%. Consequently a potential Monsanto/Syngenta merger would automatically lead to anti-trust issues.
On paper, both companies are a perfect match and their portfolios complement each other ideally. Monsanto has become the leading seed company, after revolutionizing agriculture in many parts of the world with the successful development and introduction of gene-modified crops. Syngenta has grown to become the no. 1 agrochemical company, steeling the crown from Bayer Cropscience.
In its FY14 (which ended on August 31), Monsanto reported revenues of $10,740M in its Seeds and Genomics segment and $5,115M in Agricultural Productivity which is mainly the crop protection business. The combined EBIT stood at $3,952M, $2,607M from Seeds and $1,345M from agrochemicals. For the fiscal year, Monsanto reported a net income of $2,740M.
Monsanto
Revenue by Segment

2014
$M

Corn

6,401

Soybean

2,102

Cotton

665

Vegetable

867

Others

705

Total Seeds and traits

10,740

Agricultural Productivity

5,115

Total Revenue

15,855
Source: Company website.
Despite the significant turnover with agrochemicals, the sales are based on mainly one product, the non-selective herbicide glyphosate, marketed under the "Roundup" brand name. Already in the '90s, Monsanto decided to focus on biotechnology and to step away from further developing its agrochemical segment. Consequently, the group stopped research on new pesticides, sticking to the existing glyphosate business (in Australia, New Zealand and parts of Asia, the business was divested) and the other smaller products which are still part of Monsanto's portfolio.
Glyphosate still is by far the single most important agrochemical by volume and value, but the business has become very volatile. After the expiration of Monsanto's patent, several generic players entered the market and generated competition. Monsanto focused on a premium strategy, aiming at the upper segment of the market which worked relatively well, also because the demand for glyphosate was still continuously growing. Monsanto continued to increase its capacity, but a significant number of Chinese players started to build glyphosate plants which led to a supply glut and a price collapse in the years 2010 and 2011.
Monsanto then hit the brakes, cut costs and started to manage glyphosate as a commodity business, using it as a cash cow. Although the product can still generate attractive margins in the right market environment, glyphosate has become a highly volatile business, and ultimately the price on the world market is determined by Chinese production and exports.
It cannot be denied that Monsanto's profit from Agricultural productivity in the past two years has been high, a situation which will not necessarily persist. In FY07, Monsanto reported an EBIT of $470M for the segment which exploded in FY08 to an all-time high of $1,691M. Then, earnings declined to end up with a negative EBIT of -$25M in FY10, followed by a stepwise recovery which brought the EBIT back to $1,345M in FY14. So far, the first six months of FY15 have been the first period of declining earnings since five years.
Monsanto's Agricultural Productivity EBIT 2007-14 in billion US dollars (FY ending August 31)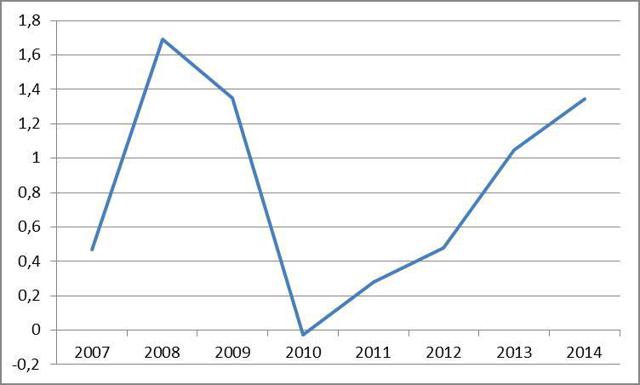 Source: Company reports.
Given the dependence on glyphosate, a largely diversified crop protection portfolio based on more and modern active ingredients which are at least partly still patent protected, this seems to be a good fit.
This broad portfolio is exactly what Syngenta has to offer. The company is the market leader in crop protection with revenues of $11,381M in 2014. Syngenta's portfolio comprises the full range of pesticides: herbicides, fungicides, and insecticides. Further more, the group has a stronger global presence than Monsanto, including Asia and the developing countries. Syngenta's largest markets are Europe and Latin America; North America is only the third biggest region.
In 2014 Syngenta reported revenues of $15,134, an EBIT of $2,105M and a net income of $1,622M. Syngenta does not disclose earnings figures for the seed and the agrochemical segments any more, but it did until 2011 before the implementation of its integrated product strategy. Crop Protection has traditionally been Syngenta's most profitable business, in 2011 it accounted for an EBIT of $1,906M, seeds only for $273M.
Syngenta
Revenue by Segment

2014
$M

Selective herbicides

3,084

Non-selective herbicides

1,445

Fungicides

3,518

Insecticides

2,066

Seedcare

1,115

Other

154

Total Crop Protection

11,381

Corn and soybean seeds

1,665

Diverse field crops

827

Vegetables

663

Total Seeds

3,155

Lawn and Garden

693

Total Revenue

15,134
Source: Company website.
The Crop Protection portfolio comprises a number of unique and big products, many of them still proprietary. In addition, Syngenta has one of the most attractive pipelines in the industry which is expected to fuel future growth.
One area which seems to be pre-determined for a fruitful cooperation is the seed treatment business. Syngenta Seedcare which comprises the group's fungicides and insecticides for seed application is one of the two world's leading seed treatment businesses (besides Bayer Cropscience's). Seed treatments have become the fastest growing sector in the agrochemical industry. The combination of the world's largest seed company with leading seed treatment products should add significant value to the joint businesses.
Antitrust Issues
It is obvious that a Monsanto-Syngenta merger would not be approved without some divestitures. The primary area of concern is surely the corn and soybean seed market, the two most important field crops where Monsanto is the market leader, followed by DuPont Pioneer.
This situation most likely calls for a complete sale of Syngenta's corn and soybean seeds business which represents more than 50% of Syngenta seed revenue. This is something Monsanto could surely get over with, as Syngenta's seed business is less profitable than its crop protection segment and ultimately only a minor earnings contributor for the group.
Given Monsanto's small agrochemical portfolio and its focus on glyphosate, the overlap in the agrochemical segment is only limited hence regulatory requirements should be more easily met.
Syngenta has its own glyphosate business under the brand name "Touchdown" which is part of the product line of non-selective herbicides. The non-selective herbicides (which also include the active ingredient paraquat, the "Gramoxone" product range) accounted for $1,445M of Syngenta's Crop Protection revenue in the last year. Syngenta's glyphosate sales have been declining during the past years as part of the company's strategy to step back from the margin-dilutive business. The sale of Syngenta's glyphosate business, at least in some regions, is another likely request regulators might have, but another one which a joint Monsanto-Syngenta could easily fulfill.
All-in-all, it is very likely that the remaining parts of Syngenta - after the necessary divestitures in order to comply with anti-trust considerations - will have a higher margin than the Syngenta of today.
Takeover Rationale
As outlined before, Monsanto is surely not trying to buy Syngenta because of its seed business. Besides the obvious synergy effect which a merger would bring, this leaves Syngenta Crop Protection as the primary target which can also be interpreted as a shift in strategy for Monsanto.
Monsanto had voluntarily decided to abandon R&D in agrochemicals and to concentrate on biotechnology and seeds many years ago. So far, this strategy has paid off well as the growth of the seed industry has outpaced the agrochemical sector over the past decade, and also the profitability increased as higher yielding seeds and more traits made seeds more and more expensive.
Nevertheless, there are some signs that this growth is slowing down and that profitability might have reached its peak in the seed sector. As a result of the low corn prices, the corn acreage in the U.S. is declining, and farmers are expected to plant more soybeans in the 2015 planting season. Soybean seeds are cheaper which means less revenue and profit for Monsanto. In addition, farmers will reduce crop input costs wherever possible, and some are moving away from Monsanto's premium seeds to lower cost alternatives.
In addition, the competition on the seed market is increasing, and with the introduction of the next generation of herbicide tolerant crops which are tolerant against glyphosate as well as other burndown herbicides, new technologies will become available. Dow Agrosciences' Enlist technology, a combination of glyphosate/2,4-D resistance will be on the market before of Monsanto's next generation of glyphosate/dicamba resistant seeds.
Monsanto has set itself ambitious targets and promised shareholders to double EPS within the next five years. In FY14, the group reported EPS of $5.22 and guided towards $5.75-6.00 in FY2015. As expected, already the first sixth months of FY15 (which ended February 28) have been challenging, because of the shift from corn to soybean acreages and headwinds from the strong dollar.
Monsanto saw revenues decline by 10% in the first half of FY15 due to weaker corn seed and traits sales (-14%) as well as a decrease of sales in Agricultural productivity. The EBIT was reduced by 15% and diluted EPS stood at $3.41, down from $3.83 one year earlier (-11%). The ongoing share buyback program has actually prevented a more severe EPS decline as the weighted average number of diluted shares outstanding was reduced from 531.6 million to 488.8 million at the end of the second quarter of 2015.
Syngenta could help Monsanto to actually reach its goal to double EPS. It would add diversification to the portfolio, reduce Monsanto's dependence from the seed business and further relativize the weight of the volatile glyphosate business. Last but not least, I assume that it would bring a significant net EPS contribution within two or three years.
Of course the current adverse trends in the agricultural sector also have a negative impact on Syngenta's performance, particularly since the company is traditionally corn focused. Therefore, Syngenta's valuation has come down, and it might be the right time for Monsanto to make this move.
Assuming a price of $45B for Syngenta of which 45% are offered in cash, the acquisition would be anything but cheap, but it should be manageable for Monsanto. Interest rates are at historical lows and both Monsanto as well as Syngenta generate healthy cash flows and redirecting some of the cash from Monsanto's share buyback to fund the acquisition of Syngenta might be money well invested in the long run. The required divestitures to gain regulatory approval will fund part of the acquisition, and in addition, Syngenta's Lawn and Garden business could be sold to raise cash.
Conclusion
Monsanto and Syngenta seem to be a good match: One is leading in seeds, the other one is the no. 1 agrochemical company. Given the rather limited overlap of their portfolios, the regulatory approval of a merger does not seem as far-fetched as one could think, provided that some businesses are sold. In the current market environment in the agricultural sector, a major acquisition like the takeover of Syngenta seems to be one of the few options Monsanto has to actually meet its own goal and to double EPS until 2019.
Disclaimer: Opinions expressed herein by the author are not an investment recommendation, any material in this article should be considered general information, and not relied on as a formal investment recommendation. Before making any investment decisions, investors should also use other sources of information, draw their own conclusions, and consider seeking advice from a broker or financial advisor.
Disclosure: The author is long SYT.
The author wrote this article themselves, and it expresses their own opinions. The author is not receiving compensation for it (other than from Seeking Alpha). The author has no business relationship with any company whose stock is mentioned in this article.