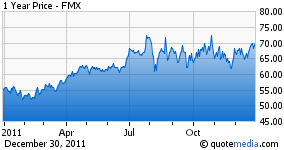 Like most other emerging markets, 2011 was a disappointing year for Mexico. Despite a drop of worse than 20% in the Bolsa, consumer products concern FEMSA (NYSE:FMX) had a quite a strong year. While FEMSA's stock is no longer a bargain, patient investors may yet see further growth in the company's core OXXO franchise as well as new growth initiatives and capital redeployments that could build meaningful long-term value.
The Future In C-Stores
Although FEMSA's interests in Coca-Cola FEMSA (NYSE:KOF) and Heineken are nothing to ignore, the company's OXXO convenience store franchise is really the story right now. With over 9,000 stores and about 5% share of Mexico's food and convenience retail market, OXXO is the dominant C-store franchise in Mexico and one of the most profitable retailers in the region – surpassing the likes of WalMex (OTCQX:WMMVY), Cencosud, and CBD (NYSE:CBD).
As solid as OXXO has been, the best may be yet to come. FEMSA is still seeing nearly double-digit same-store growth, despite the violence that has disrupted business in Northern Mexico. At the same time, the company is adding more grocery offerings, rolling out fast food, and looking to expand into new markets like Colombia and Brazil. While this will put OXXO into more competition with restaurant operators like Arcos Dorados (NYSE:ARCO) and Yum Brands (NYSE:YUM), as well as C-store legend 7-Eleven, it is a logical extension of the brand.
More Work Ahead In Beverages?
FEMSA owns about half of Coca-Cola FEMSA, the 2nd-largest bottler of Coca-Cola (NYSE:KO) in the world. Although this business has some vulnerability to higher sugar prices and competitive efforts from Pepsi (NYSE:PEP) it is a great (and profitable) lower-growth business. Although there's no discord that I know off between the two partners, FEMSA management has openly discussed buying out Coca-Cola's interests – a very logical and intelligent use of capital assuming reasonable terms.
Likewise, FEMSA may yet have more work to do with its beer business. FEMSA swapped its brewery and beer business (which was #2 in Mexico and #4 in Brazil at the time) for a 20% stake in Heineken. For now, this is a marriage of more than convenience – Heineken has expanded the distribution of FEMSA's old brands and FEMSA has taken advantage of the partnership through its OXXO stores. Even still, while there is the possibility that Heineken may get a bid from SAB Miller (OTCPK:SBMRY) or Anheuser-Busch InBev (NYSE:BUD) as global brewery consolidation continues, FEMSA would likely prefer to liquidate and monetize at least some of this stake.
Success At What Price?
Although FEMSA has often suffered from a conglomerate discount that undervalued its constituent pieces, that really no longer seems to be the case. That makes the stock a little more vulnerable to worries about economic growth in Mexico and issues like the shareholder and management structure of the company. These are not dealbreakers per se; rather, they just become more relevant at this valuation.
Investors who want potentially undervalued plays on the Latin American consumer need to look to Brazil and names like CBD or Hypermarcas (OTCPK:HYPMY). At today's prices, FEMSA is more or less fully valued, even allowing for pretty healthy assumptions on forward growth. There's nothing inherently wrong with owning a stock that fairly discounts future growth, but investors considering this name should realize that the easy money is off the table already.
Disclosure: I am long FMX, OTCPK:SBMRY.