Private equity is a type of investment that takes an equity stake in a non-publicly traded company. These companies are consistently among the venture capital or angel investments a company receives. Private equity investments are critical in providing working capital to a company for new product development, to nurture expansion, or for the restructuring of a company's operations. Many private equity firms are heavily involved in distressed investments, which are made numerous by recessions, like the one in 2008.
A private equity company's portfolio generally consist of a number of investments that initially start with a few years of negative cash flows. After a number of years, as the investment makes its way through the new product life cycle or restructuring, a series of strong positive cash flows are expected and the investment is then sold at a premium. During the crisis and shortly thereafter private equity firms scooped up many distressed buys. Those turnaround opportunities just now may be beginning to see positive cash flows. Check out the chart below showing the relationship between private equity and the S&P 500 (NYSEARCA:SPY).
(Click charts to enlarge)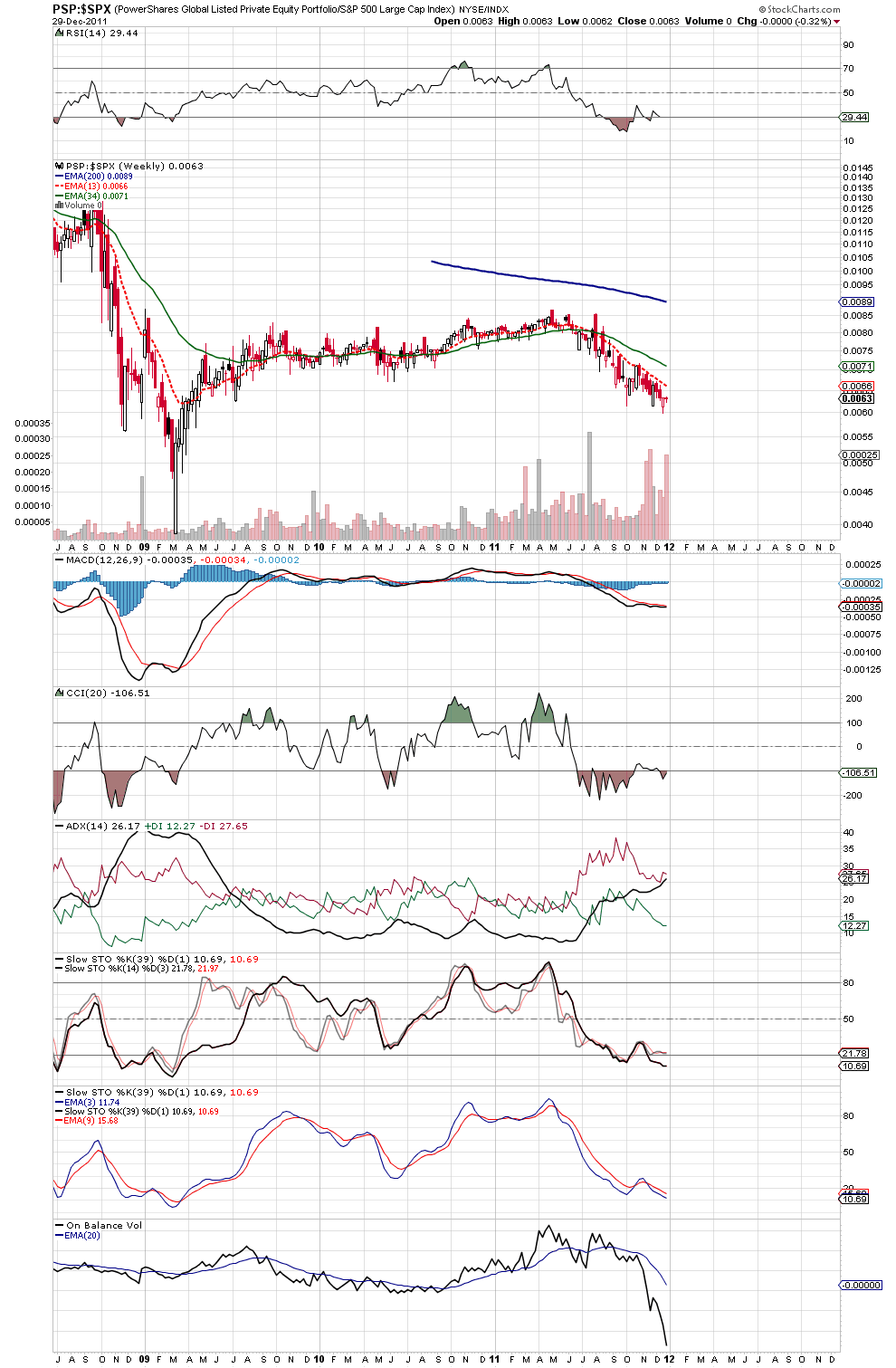 Look at the balance volume and the huge down volume spikes recently. This seriously cannot be a good sign of the US economy's health. Private equity is severely under-performing. Since private equity usually leads the way out of recessions because of its ability to buy into stressed companies, turn them around, and profit from hard times it seems to me that this downturn cannot be over yet. If anything should lead the way it should be private equity. It does seem like this relationship is nearing a bottom though. The huge down volume is definitely not attributable to shorts piling into the sector, but the blame probably should be put on the last round of sellers in a final capitulation. The panic of 2008 is over and this sector is witnessing despondency on the way to the point of maximum financial opportunity. Soon we're likely to see a higher low but it will be disguised and investors will miss out on the bottom because of the depression that has set in over the industry. It seems to me that one more leg down would force a great investing opportunity.
If not long term there should at least be an intermediate-term bottom soon corresponding to an upturn in the business cycle. Historically low interest rates and alarming increases in the money supply will eventually make funding extremely low and likely for an extended period of time. Corporate bond yields are already back to below pre-crisis levels as seen in the graph below of the US Corporate 7-10 year effective yield.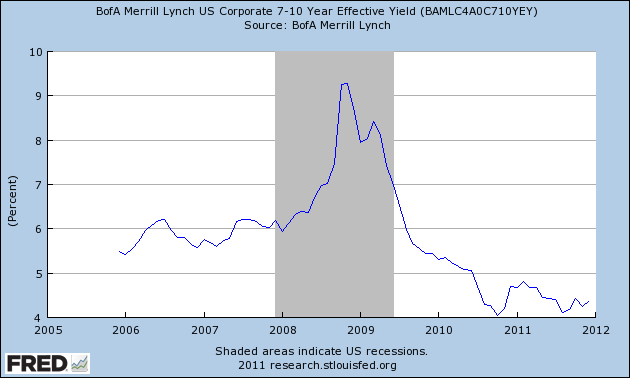 The combination of distressed investments turning around and easy funding for new ventures will lead to another bubble in one sector or another, even if its does end up being gold mining. Who stands to benefit from a bubble? Private equity. Corporations are also insanely rich with cash at the moment. Sooner or later they're going to find some place to put that cash to work making mergers, acquisitions, and other investments in the future. Take a look at the chart of corporate checkable deposits (cash).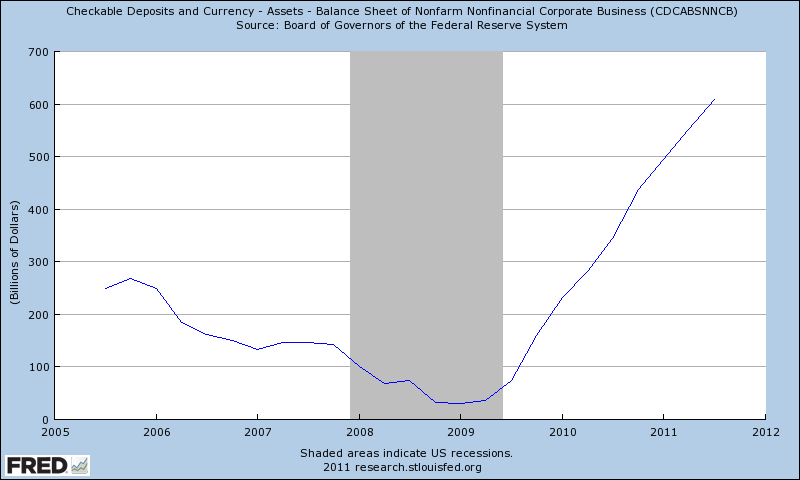 When the global economy stabilizes and the terrifying uncertainty abates the seas will calm and an investment rush like the kind we've never witnessed will be unleashed. It may not bubble in the US like it has in the past but somewhere on the globe will be growing quickly. The global private equity firms stand to benefit greatly. These are represented well by the PowerShares Global Listed Private Equity portfolio ETF (PSP). It includes companies like BlackRock (BLK), Apollo Management (APO), and American Capital (ACAS). When they begin leading the way the economy is starting to come around quickly rather than continuing to muddle through and another cyclical bull market should be well under way.
What will be the catalyst? That's anyone's guess. A solution in Europe? A US housing market recovery? An easing of the China bubble? Or a cure to Western entitlement woes? I'm not privy to that answer. However, I do know that once stability returns the private equity industry will flourish.
Disclosure: I have no positions in any stocks mentioned, and no plans to initiate any positions within the next 72 hours.