By Stephen D. Simpson, CFA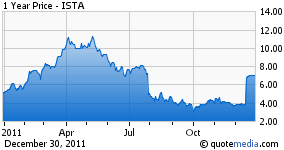 While Valeant Pharmaceuticals (NYSE:VRX) may be building a reputation as something of an opportunistic low-ball bidder in the pharmaceutical space, ISTA Pharmaceuticals (ISTA) should appreciate the fact that it has brought back a little enthusiasm to a name that has been witnessing a rough 2011. With the pressure now on ISTA management to lay out a case that Valeant's bid undervalues the company, a higher or rival bid should not be ruled out and ISTA investors may be close to monetizing this position.
Some Notable Shortfalls in 2011
ISTA has had to contend with at least two significant setbacks this year. The company had hoped that trial data on Remura would be sufficient to allow the company to compete in the prescription dry eye market - a market that Allergan (NYSE:AGN) has to itself with its $600 million-plus drug Restasis. Unfortunately, the results were inadequate and the company is now going to try to salvage something of this drug by launching it in the $350 million OTC market – a market largely dominated by Allergan and Novartis (NYSE:NVS).
Making matters worse, sales of Bromday and Bepreve have led to some disappointments. Although management had tried to explain away early disappointments by maintaining full-year guidance and looking to a big second-half, the third quarter results pretty much negated that idea.
Bromday And Bepreve Aren't Doomed
While the sales of these two drugs may have disappointed investors in 2011, the story is not over for either of them. True, Bepreve has been slow to gain share in the allergy market (it is prescribed to treat allergy-related itchy eyes) and has about 5% share of new scripts – putting it well behind Novartis's Pataday/Patanol and on par with privately-held Bausch & Lomb's Alrex. Nevertheless, the product has been slowly building and gaining some share and additional formulation launches could help the franchise.
The story with Bromday may well be even stranger. While this company has managed the patent expiry of Xibrom pretty well (and somewhat neutralized the threat of Mylan Labs (NASDAQ:MYL) as a result), it seems that the company's sales have been hampered by having only one size offering of the drug (while the company marketed two sizes of Xibrom). That's a fixable problem and ISTA did release a "Twin Pack" for Bromday in September.
It's also worth noting that both of these addressable markets tend to be promotion-sensitive and ISTA may find it cost-effective to spend more on sales and marketing to drive better sales and prescription share growth.
An Underappreciated Pipeline
To be fair, ISTA's pipeline is not the strongest in specialty pharma, but it seems as though the Street has been giving it almost zero credit. Prolensa (a low-concentration version of Bromday) could be invaluable in extending patent exclusivity of this franchise beyond 2013, while T-pred and bepotastine both have some longer-term potential.
Bepotastine in particular could be a real winner if it shows a strong efficacy and clean side-effect profile in allergic rhinitis, but the company will likely need to consider partnering with a larger company to maximize it. Odds say that this is a long shot, but given that Allegra was once worth about $2 billion a year in sales to Sanofi (NYSE:SNY), it's worth the effort to put it through trials.
Leveraging The Scarcity Value
With so few companies involved in the prescription eye care business, and so much of the market dominated by Novartis and Allergan, it is not a surprise to see ISTA get a bid. It was, in fact, part of my original buy thesis on the company. Even if Valeant is not willing to pony up with a better offer, a company like Abbott (NYSE:ABT), Johnson & Johnson (NYSE:JNJ) or Sanofi may be. In many respects this is a company with good products and insufficient marketing resources and it would offer a fairly low-risk buy for many other pharmaceutical companies.
If Valeant walks away, there are still cogent reasons to own ISTA. Obviously management must execute better and maximize the value of Bromday and Bipreve. Likewise, management will have to lay out a convincing plan for improving sales and developing that pipeline to maintain or improve its current valuation. If they do so, it is not hard to see a scenario where this stock trades above $10 a share. It is probably unreasonable to expect ISTA to extract all of that from a bidder, but ISTA shareholders may yet want to sit tight in the hopes of a better bid.
Disclosure: I am long ISTA.