When the ECB is expanding its balance sheet relative to the Fed's balance sheet, the blue line falls (see chart below). Under those conditions, the red line shows the euro tends to be weak vs. the U.S. dollar. Chart from Forex.com.
Click on images to enlarge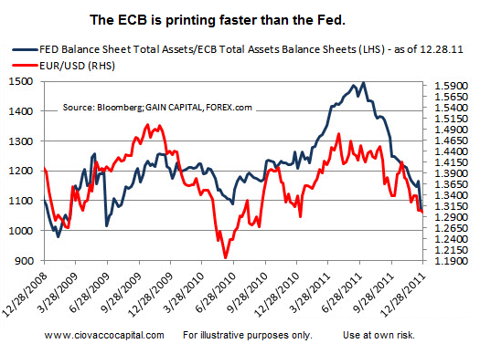 Obviously, if the Fed announces another round of QE, the blue line's bearish trend can be reversed quickly, which would exert downward pressure on the greenback. We noted on December 29 some reasons to remain open to a euro bounce and some levels to watch.
It sure looks like the ECB is trying to cap the yield on an Italian 10-year at 7%; see the "resistance" in the green box below. The ECB has flooded the European banking system with newly printed euros via their three-year loan program. We may become buyers of gold (NYSEARCA:GLD) and silver (NYSEARCA:SLV) in the coming weeks/months based on the explosive growth of the ECB's balance sheet - click here for a Wall Street Journal chart dating back to 2002. It is possible a gentelman's agreement is in place with banks using the back-door bazooka to "assist" in the effort to suppress rising interest rates for over-indebted nations.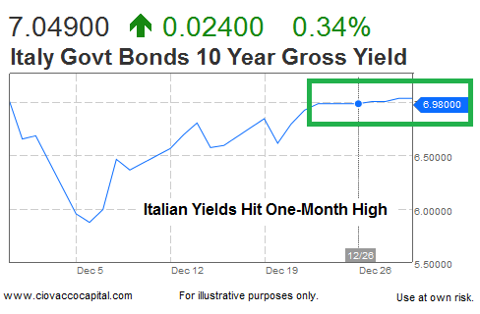 Yields are sitting at one-month highs, which hardly looks like a bond market that is convinced the situation in Europe is under control. It is interesting when a firm as well entrenched as PIMCO uses terms like "toxic" to describe European debt. From Bloomberg:
European government bonds with the exception of German securities are today's "toxic debt" as the region struggles to contain fiscal turmoil, according to Pacific Investment Management Co.'s Tony Crescenzi. The European Central Bank isn't likely to follow the example of the Federal Reserve in purchasing government bonds to keep interest rates low, said Crescenzi, executive vice president at Newport Beach, California-based Pimco, in an interview today on Bloomberg Radio with Sara Eisen. The euro is likely to remain weaker, according to Crescenzi.
Disclosure: I am long UUP.