Like other 'traditional' computing-related companies, Dell (DELL) is cheap in conventional metrics such as P/E at ~7x. Growth is declining, but not to the extent that current valuations would justify.
Dell is relatively unique in terms of its cash pile and its commitment to buybacks, this could lead to EPS growth even if the top line is anemic; the current management forecast is 1% revenue growth for the year.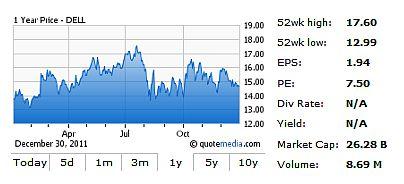 A back of the envelope approach to valuation is that with a market cap of $26.2B currently, assuming 50% of the $14B is used for buybacks in the coming years (reasonable based on historics) you are then left with a $19.2B market cap after backing out the cash, which on $4-5B of free cashflow is about a 4-5x free cashflow multiple. Clearly, there are risks to Dell's business going forward and other names in the sector are cheap too (e.g. HP (NYSE:HPQ), which also has an aggressive buyback plan in place). But in the most recent quarter, although revenue was -2% and 0% for the first nine months of the fiscal year, operating income grew 9% and EPS grew 17%.
Another way to think about Dell's valuation is that FedEx (NYSE:FDX) and General Mills (NYSE:GIS) have a similar market cap to Dell currently, but have generated less earnings and cash flow for the most recent year, although General Mills has had higher 5 year EPS growth.
| | | | | | |
| --- | --- | --- | --- | --- | --- |
| Company | Market Cap | Net Income | Free Cashflow | Historic 5Y Revenue Growth | Historic 5Y EPS Growth |
| Dell | $26.3B | $2.6B | $3.5B | 2% | -2% |
| General Mills | $26.0B | $1.8B | $0.9B | 5% | 13% |
| FedEx | $26.3B | $1.5B | $0.6B | 4% | -4% |
Next year will be challenging for Dell and there is a chance that the acquisition spree will continue, but there is so much pessimism in the share price that it appears oversold, and to some extent can control its EPS destiny with share repurchases given its cashflow.
Positives
Buy backs using $14B cash pile could lead to surprisingly strong EPS growth - The back of the envelope math on valuation is as follows: Of the $14B in cash, clearly some will be used on acquisitions as it has been in the past. But if 50% is used for buybacks in the coming years, say 120M shares a year as has been the case for the past 12 months (a cost of ~$1.8B at $15/share), and you achieve 7-9% EPS growth with flat net income.
Robust cash generation of about $4.5B a year – Dell's free cashflow substantially exceeds its net income since depreciation and amortization are lower than capital expenditures, working capital is a source of cash as the business grows and the company appears relatively conservative in recognizing profit from warranties.
Extra week in Q4 – Because of the way the fiscal year works, Dell will have an extra week in Q4, of course not material for the long term, but could give an optical boost to the quarter of about 3%.
Risks
Organic growth lacking ­- Dell's revenue growth has been flat for the year overall and declined 2% in Q3. However, it has acquired a number of companies at a cost of $2.7B so far this year that have contributed roughly 0.5% to that growth. Most recently: Compellent Technologies, SecureWorks, Force10 and DFS Canada. Also, this year is consistent with prior years; in 2009 Dell acquired Perot Systems for $3.9B.
On the positive side, Dell is choosing to exit a third party storage contract, I believe with EMC (EMC). That is slowing growth about 1.5%, but is positive for profitability.
Working capital would unwind with sales declines – Dell manages working capital very efficiently, paying its suppliers roughly a month after its customers pay them. This is obviously a benefit as the business grows as working capital correspondingly increases and is a source of cash, but in the event of revenue declines, this cash benefit would decline too. Working capital is about a $3.4B benefit currently, so the company would lose approximately $170M of cash with each 5% decline in sales. This is material, but unlikely to derail the investment case in its own right.
Margin improvements not quite as good as it seems - Revenue growth is weak, but margins have improved. This is not quite as robust as it appears. This year, $140M of SEC fines have rolled off from last year and Dell has received $70M in one-off payments from a vendor. However, operating income is up over $1.4B for the first 9 months inclusive of these items. And so it's still a relatively high quality result, apparently from exiting various lower margin product lines such as third party products to focus on higher margins in house products.
What Would Make Me Change My Mind On Dell
Acquisitions exceeding $2B in 2012

Buybacks falling below 40M shares per quarter

Revenue declines of over 5% sequentially
Disclosure: I am long DELL.