At the end of 2010, the Australian dollar closed at an all-time high against the U.S. dollar; the Aussie gained 14% and yielded 4.75% (for more details see "The Australian Dollar Ends the Year with A Flourish"). At the end of 2011, the Aussie closed almost exactly where it ended 2010. This time, the currency yields 4.25%, and it is DOWN from new all-time highs at 1.10650 versus the U.S. dollar (set August 1st).
images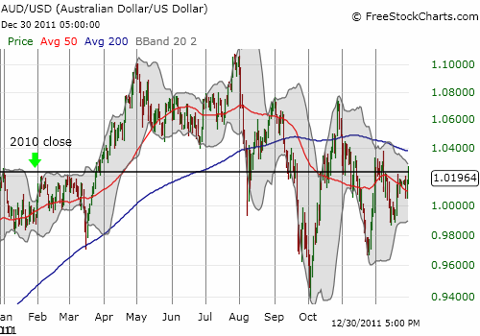 A volatile year ends with a flat result
2011 is also now the second year in a row where the Australian dollar has performed similarly to the S&P 500 (SPY). In 2010, the S&P 500 gained 13% and ended with a yield of 1.9%. The S%P 500 ended 2011 flat with a yield of 1.96%. The on-going close correlation between the Australian dollar and the S&P 500 is part of a larger trend in closer correlations amongst certain risk assets. The New York Times describes these trends in "When Investors Rush In, and Out, Together." (December 31, 2011). Unlike the Australian dollar, the S&P 500′s gyrations around flatline have been a clear story of first half versus the second half of the year. The flatline twice served as solid support for the S&P 500 until finally giving way in the August swoon. This line of support served as solid resistance for the remainder of the year.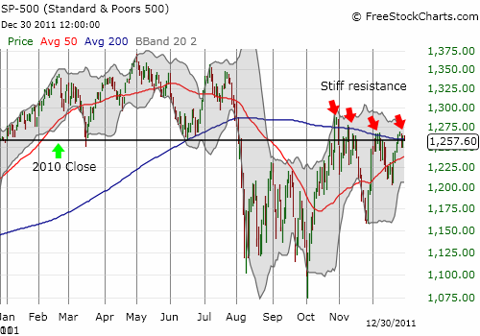 The S&P 500 has had a seesaw of a year
The difference in dividends continues to support my strong preference for Australian dollars over U.S. stocks, especially if strong correlations persist. In contrast, the ETF for Australian stocks, the iShares MSCI Australian Index Fund ETF (EWA) lost 15.7% for 2011. At $21.44 it is trading close to the QE2 reference price of $21.06. As such, EWA triggered a fresh buy signal last week for the "commodity crash" portfolio (I announced the trade in my twitter feed with the #120trade hashtag).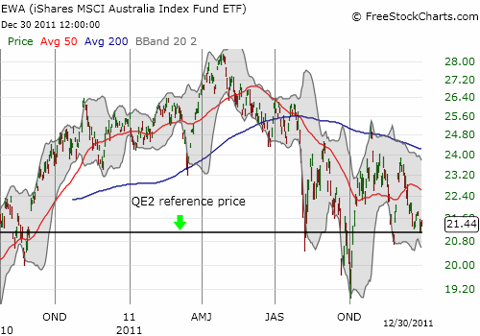 Australian stocks are once again trading at pre-QE2 prices
Source of charts: FreeStockCharts.com
For more on the commodity crash portfolio see "Profiting from Physical Assets in a Resource-Constrained World - Rules and Picks." The last post in this series is "2012 Will Begin With Several Candidate Trades For The Commodity Crash Playbook."
If 2012 provides positive returns to risk assets, I see much more upside for Australia than for the U.S. U.S. investors can buy Australian dollars through the Rydex Currency Shares Australian Dollar Trust (FXA).