By Joseph Hogue CFA
As 2012 looms, the situation in Latin America is different from that of China. Even Brazil, the regional powerhouse, does not have the economic resources for a massive stimulus program. So will the new year bring disaster or continued growth?
Fortunately, Latin America does have a strong and growing consumer class, something China is still lacking. According to the government of Brazil, upwards of 40 million people have been able to move out of the lower income classes over the past 20 years.
Though the region may still be dependent on export sales to developing and emerging economies, strong economic fundamentals and growing internal demand will help the region withstand global growth weakness.
This time may not be different, but neither is it entirely the same.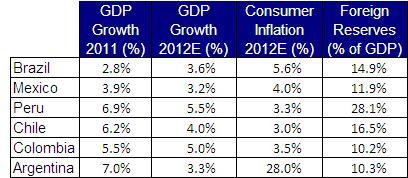 Despite the lack of reserves of the magnitude seen in China, the region still has enough economic flexibility to withstand a deepening of the global risk story with foreign reserves often well in excess of 10% of GDP.
Inflation in most countries has slowed to within central bank targets, allowing for a reduction in interest rates to prop up economic growth in the face of slowing external demand.
Venezuela and Argentina are the exceptions to sound economic fundamentals and outlook. Venezuela remains the realm of speculative investment and government decree in Argentina is quickly following the same path.
Although headline risk out of Europe will continue to overshadow positive economic growth, equity and currency markets within the region should bounce back fairly quickly and resume their upward trend.
The region has a relatively quiet political schedule, though political risk is always something to be priced into LatAm investment.
Mexico and Venezuela will see presidential elections next year, while Chile will hold municipal elections later in the year.
Strikes at mining operations in Peru and Chile have intensified over the past few months but have been handled well by their respective governments.
Investors should continue to invest on strong fundamentals while hedging short-term risks with dollar-denominated bonds or with short positions in weaker names.
The real risk to the Latin American growth story is that of a hard landing in China. Though increasing loan demand and a rising consumer class are generating internal growth, the region is still predominantly driven by exports of energy and metals.
With around $3 trillion in foreign reserves, most believe that China will be able to sustain a modest pace of economic growth. Nevertheless, investors should focus their exposure in sectors satisfying consumer demand and internal growth — such as financials, consumer goods and telecom.
Country by country:
Brazil: Despite a sharp decline in industrial production and GDP growth in the latter half of 2011, growth should pick up incrementally in 2012.
Argentina: The Argentine government seems to be borrowing from the Venezuelan playbook as of late and investors would do well to continue the analogy in 2012 and beyond.
Chile: Even though Chile has a strong economy, the equity market suffered one of the largest losses in the region, with a 24% loss since January. What will next year bring?
Colombia: Colombia will most likely see the region's second-highest GDP growth next year as strong domestic demand and credit expansion drive the economy.
Mexico: Mexico continues to be the most U.S.-dependent economy in Latin America and will probably lag the rest of the region because of the relationship.
Peru: Peru is by far the smallest economy within the investable region and much more affected by commodity prices — particularly copper, gold and crude oil.
Disclosure: Long AND.