Small, biotechnology and drug companies offer high risk/high reward opportunities. One company I like now is ViroPharma Inc. (VPHM). ViroPharma is a biopharmaceutical company that develops novel solutions for patients that have few, if any, treatment options. The treatments may be for rare diseases and the drugs that are developed are often called orphan drugs. ViroPharma has a pipeline of treatments for C1 esterase inhibitor deficiency, Friedrich's Ataxia, and adrenal insufficiency; and recurrent C. difficile infection (CDI). The company's commercial products address diseases including hereditary angioedema (HAE), seizures and C. difficile-associated diarrhea (CDAD).
image

Long term, health care reform legislation may negatively impact pharmaceutical industry profitability. This conclusion is not, in my opinion, a foregone conclusion. One reason is that pharmaceuticals may prove to be a more cost effective method for treating disease than other methods currently available, Another reason is that demographics argues against the decreased use of drugs. With some 32 million people expected to gain health insurance coverage under the pending reform measures and with baby-boomers entering the age when they are most prone health issues, drugs will experience an expansion of use. These trends bode well, I think, for a company such as ViroPharma that specializes in orphan drugs and rare diseases. It is not cost efficient for Big Pharma to pursue small markets.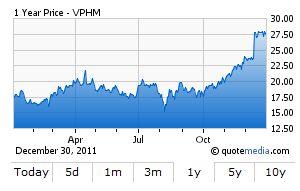 In the near term, ViroPharma does not share in the industry-wide risk of patent expirations impacting revenues. This company's risk is due to the lack of product diversity. At present, the company markets and sells Cinryze in the United States for routine prophylaxis against angioedema attacks in adolescent and adult patients with hereditary angioedema. It also markets and sells Vancocin HCI capsules, the oral capsule formulation of vancomycin hydrochloride, in the U.S.
The drug Vancocin HCI competes with a treatment marketed by Optimer Pharmaceuticals (NASDAQ:OPTR), a much smaller company. Vancocin is not patent-protected.
ViroPharma is broadening its product line through acquisitions and is acquiring regulatory approval of its drugs outside the U.S. The company acquired the Swedish company DuoCort Pharma following European approval of Plenadren for the treatment of adrenal insufficiency in adults. The European Commission has granted orphan drug status to Plenadren. ViroPharma expects Plenadren to generate $50 million in sales.
The company launched an epilepsy drug called Buccolam, in the United Kingdom. The drug is approved for the treatment of prolonged, acute, convulsive seizures in infants, toddlers, children and adolescents, aged 3 months to 18 years. The European Commission has granted centralized marketing rights to ViroPharma for Buccolam which also is not patent-protected. The company acquired Buccolam upon its acquisition of Auralis Limited.
In another development, ViroPharma entered into a global licensing deal with Halozyme Therapeutics (NASDAQ:HALO) for using Halozyme's rHuPH20 (recombinant human hyaluronidase) for the development of a subcutaneous formulation of Cinryze.
ViroParma is also in the process of acquiring Meritage Pharma, a closely held company that is focused on developing oral budesonide suspension (OBS) as a treatment for eosinophilic esophagitis (EoE), a chronic inflammatory disorder of the esophagus.
From a financial standpoint, ViroPharma is well positioned to take advantage of these new developments. The company has a strong balance sheet as evidenced by cash and short term investments of $460.4 million and $151.5 million in long term debt. The Quick ratio is 6.3X and the current ratio is 7.0X. EPS for 3Q11 declined to $0.35 from the year ago quarter EPS of $0.45. However, on a TTM basis, EPS increased to $1.89 versus $1.20. Sales for the quarter increased to $143.0 million as compared to $117.8 million. Revenues for the TTM rocketed to $647.4 million from $405.2 million in the equivalent year ago period.
Sales have been growing at the rates of 28.4%, 29.1% and 27.1% over the TTM, 3-year and 5-year periods, respectively. Gross income has grown 26.4%, 24.7% and 27.0%, also over the TTM, 3-year and 5-year periods, respectively. The net income growth rate exploded to 61.1% for the last twelve months. In contract net income grew at the rate of 10.9% over the past three years and 2.0% over the past 5 years.
The company's returns have expanded significantly recently. ROA, ROE and ROIC are all above their five year averages. On a price earnings basis, the company is selling at a premium to the market. However, I think it is undervalued on the basis of enterprise value to EBITDA. The price to book value ratio, at 2.3X, is still in the "value" range. The stock price has appreciated about 56% over the past twelve months. I have a target price range of $33 - $35.
Disclosure: I have no positions in any stocks mentioned, and no plans to initiate any positions within the next 72 hours.