Qorvo's (NASDAQ:QRVO) growth is being driven by strength in sales of mobile devices. The company just reported a great fiscal Q4, beating estimates for both revenue and earnings. More of Qorvo's RF products are needed in 4G devices as compared to 3G. Qorvo stands to benefit going forward as the market for RF is expected to grow at a compound CAGR of 10% to 15% over the next few years. This should increase the demand for Qorvo's RF products.
Smartphone manufacturers are moving away from surface acoustic wave (SAW) filters and are demanding more bulk acoustic wave (BAW) filters. The use of BAW filters is desirable to solve carrier aggregation and the interference challenges of higher band count. Qorvo stands to benefit from this since it offers premium BAW filters.
Qorvo is also benefitting from the cost synergies associated with the merger of RF Micro Devices and TriQuint Semiconductor. The merger will allow Qorvo to reduce costs and thus increase its gross margin. Another benefit that I see from the merger is a combination of each company's expertise. That will allow Qorvo to more effectively develop new advanced products.
Qorvo's growth is exceeding the industry's growth. Here is how Qorvo stacks up to its competitors in terms of consensus estimates for revenue growth.
 

Qorvo

Avago (NASDAQ:AVGO)

NXP Semiconductor

(NASDAQ:NXPI)

Expected 2015

Revenue Growth

69.6%

57%

10.8%

Expected 2016

Revenue Growth

12.8%

8.8%

8.6%
Data Source: Consensus Estimates
Avago and NXPI are also strong players in the broad-line semiconductor industry. I am bullish on all three of these companies. Qorvo, Avago, and NXPI are all likely to get their piece of the pie in this space and thrive going forward. However, I just wanted to show how Qorvo's growth stands out in its industry. Growth for 4G in China has picked up, which should help drive revenue growth for Qorvo.
Undervalued as Compared to Competitors
Qorvo is trading at 12.6X next year's expected EPS, while Avago and NXPI are trading higher at 13.6X and 15.8X respectively. I think that the market is underestimating the synergies of the merger and the growth opportunity for Qorvo going forward. The CEO, Robert Bruggeworth, pointed out in the FQ4 conference call that Qorvo has numerous small parts in mobile devices. So, when people do teardowns on these devices many of Qorvo's parts are missed because of their small size. For example, some of Qorvo's filters are as small as a grain of rice. Therefore, many parts are not properly identified during a teardown, which can lead to an underestimation of Qorvo's true representation per device. Bruggeworth stated that 30% to 40% of parts are not identified during a teardown. Therefore, I think that Qorvo's unidentified products have led to the lower valuation in the stock.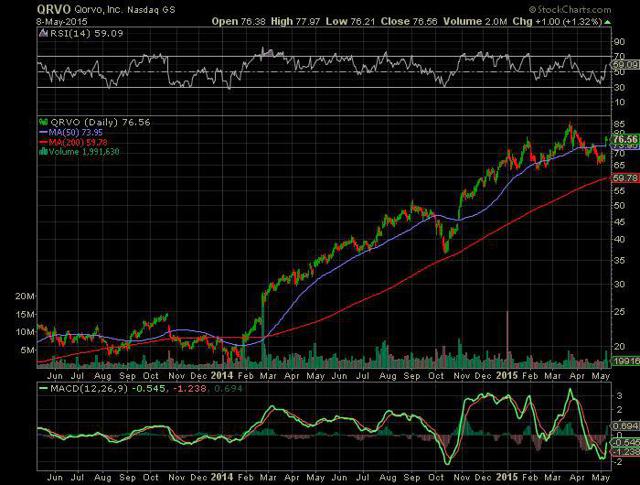 Strong Fundamentals
Qorvo has a strong balance sheet as it carries zero debt and ended FQ4 with $300 million in total cash. With 4.6X more current assets than current liabilities, handling short-term obligations is a non-issue for Qorvo. The company also has positive free cash flow which allows Qorvo to buy back shares, thus making existing shares less diluted and more valuable for shareholders.
In addition to the strong revenue growth that I mentioned earlier, Qorvo is expected to achieve above-average earnings growth over the long-term according to consensus estimates. Although earnings growth for the current fiscal year is estimated to be low at 4.4%, earnings for next fiscal year are expected to grow 22%. Earnings growth is expected to average between 16% and 17% annually over the next five years. Thus far, Qorvo has exceeded its earnings estimates by double digits since the merger. So, this year's low estimates are likely to be exceeded as the company continues to benefit from strong mobile sales.
The Risks
Qorvo does have a high exposure to Apple (NASDAQ:AAPL). However, this is currently a good thing as Apple's iPhone 6 is experiencing robust sales. If for some reason Apple products decline in popularity, Qorvo will have to be nimble and sell to other companies to maintain and grow its market share. I don't think that Apple's products will decline in popularity any time soon. If that does happen, Qorvo can focus on supplying the most popular device producers at any given time.
The company will also have to keep up with new technology that is more advanced than 4G. The next technology after 4G will be 5G. 5G might be about five years away from making it into the mainstream. Qorvo will need to be ready with effective solutions for this improved technology to remain on the cutting edge of the industry.
Conclusion
Qorvo's attractive valuation and strong long-term revenue and earnings growth is likely to drive the stock to outperform the S&P 500 over the next few years. The company's growth will be driven largely by the demand for its components used in mobile devices for 4G capabilities.
Disclosure: The author has no positions in any stocks mentioned, and no plans to initiate any positions within the next 72 hours.
The author wrote this article themselves, and it expresses their own opinions. The author is not receiving compensation for it (other than from Seeking Alpha). The author has no business relationship with any company whose stock is mentioned in this article.