Most of us have heard that the necessities in life are food, clothing and shelter and some may argue that investing in necessities is a sensible place to start. This article reviews the 2011 equity performance of seven clothing manufacturers. Several other apparel manufacturers exist, but these seven represent numerous segments and price-options.
Beyond being a necessity, most of the better recognized clothing makers are brands that consumers use to show others their social status, wealth, income and lifestyle. An investor might define a luxury good as one for which demand increases as income rises. With a luxury brand's demand rising relative to income, luxury brands are often not valued relative to the necessity that they serve, but instead to the social message they convey. Additionally, some product-types can have several tiers of luxury options, even where no option is prohibitively expensive.
Several apparel manufacturers are deemed the makers of desirable brands, most commonly due characteristics such as superior quality, performance or design. As conspicuous consumption of a product increases, its acceptance as a luxury option also increases, as does knowledge of its cost. Several brands are therefore deemed luxury goods because possession of them signifies the consumer's purchasing power and their perceived associated social status and/or lifestyle.
Goods purchased by conspicuous consumers to so boast may not actually possess superior attributes beyond the ability to display the wealth of the owner. This is most commonly the case where the brand's primary characteristic is related to a particular design that is purely cosmetic, as opposed to a characteristic that improves the function of the product. Premium brands can more easily weather the storm of increased production and distribution costs.
Below are the 1-month, 3-month, 6-month and 2011 performance rates for seven well-known apparel brands. I have also provided descriptions of their businesses.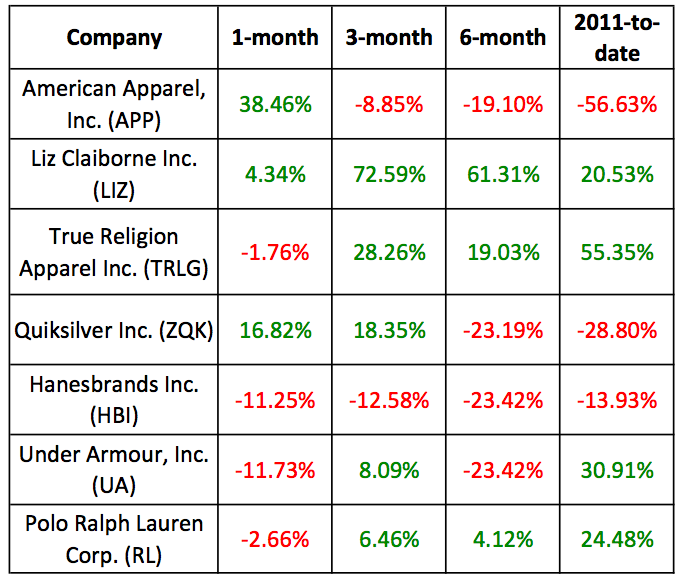 American Apparel (APP) offers fashion apparel and primarily t-shirts, denim, sweaters, jackets and clothing accessories. The company was hit hard by both the increase in cotton costs and a series of sexual harassment lawsuits against the company and its CEO-founder. Many also believe that APP grew too much going into the financial crisis, now has too many retail stores and should go through a period of contraction. The brand is above average priced for the mostly plain cotton apparel products it offers. Though the company appreciated over 38% in December, it is down over 56% in 2011 is currently trading well below a dollar per share.

Liz Claiborne (LIZ) offers numerous fashion and business apparel brand options. It also owns brands that include Juicy Couture, Kate Spade, Lucky Brand, and DKNY Jeans, among others, but did recently sell the Liz Claiborne brand name to J.C. Penney (JCP). Most of the brands LIZ offers exist as a mid-tier brand, often known for their design but not necessarily as a true luxury brand. These brands are likely capable of pulling off price increases without significantly altering demand.

True Religion (TRLG) primarily sells high-end 1970s inspired jeans for women. The company's commitment to the fit and style of its core product solidified the brand's popularity among higher-end female consumers and provided the position as a leader in premium denim and casual sportswear. As a true luxury option within the jeans segment, True Religions should be able to pass commodity costs onto their consumers and possibly do so without considerable price increases to the core jean product-line.

Quicksilver (ZQK) is a brand that built itself through offering apparel products for surfing and related casual and beach lifestyle activities. The brand is primarily marketed to younger consumers that enjoy surfing, skateboarding and other alternative sports. The company also offers products under other brand names, such as Roxy and DC Shoes.
Hanesbrands (HBI) is the well-known maker of Hanes T-shirts and underwear, but also owns several other brands such as Champion and Platex. While not luxurious, the brands HBI offers are well known and often market leaders. For example, the company is the U.S. market leader in T-shirts, fleece, socks, men's underwear, sheer hosiery and kids' underwear, and second in the sale of both bras and panties. As a staple brand, HBI should be capable of implementing price increases as needed and is likely to benefit from some consumers opting out of selecting higher cost alternatives. Hanes mostly produces cotton apparel, making business sensitive to cotton price increases.

Under Armour (UA) is a fairly new brand that has established itself as a higher-end producer of athletic apparel and accessories. The company made its name by developing products made from synthetic fabrics designed to regulate body temperature and enhance performance regardless of weather conditions. These products have grown tremendously in popularity as individuals have found that the brand offers athletic apparel and accessories that can legitimately affect and improve performance. Additionally, the brand has become recognized as a higher-end brand option for both athletic and casual attire. Under Armour produces a greater than average percentage of its products from synthetic materials, and should be more sensitive to changes in oil prices and less sensitive to cotton prices.

Ralph Lauren (RL) is by far the largest apparel maker of the seven discussed here. The company offers products under various segmented Ralph Lauren brands, and other brand names such as Polo, Chaps and Club Monaco. Most of RL's brands occupy mid to upper-tier apparel options, where the company attempts to emulate idealized styles from the fashion choices made by high society during the first half of the last century. The company is now heavily associated with the lifestyle that its founder initially imitated and now re-defines. As Ralph Lauren offers higher-end brands, these brands are highly capable of passing on price increases to consumers, provided those consumers are still going shopping.

Disclaimer: This article is intended to be informative and should not be construed as personalized advice as it does not take into account your specific situation or objectives.
Disclosure: I have no positions in any stocks mentioned, and no plans to initiate any positions within the next 72 hours.