LITTLE HISTORY OF GOLD PRICES AND THE IMPORTANCE OF INDIA
Up until the late summer spike in gold prices to just over $1900/ounce, this has been the 10th successive annual rise in the price of gold. Since 1970, the geographic shift of gold demand has accelerated from the U.S. and Europe to India and Eastern Asia. Developing personal bonds between friends and family is a way of life and often expressed in terms of gold buying (gifts) in countries such as China, Tawain, India and Turkey. India is the strongest gold nation in the world today, importing close to 850 tons per year, at its peak.
There is an historical correlation that when the Indian Monsoon is healthy, as it was during both 2010 and this past summer, gold prices go higher. Indian rural farmers love to give gold as gifts and two festivals in particular (Spring---Askshaya Trithiya; and in the Fall--Diwali) are opportunities for them to give gold to loved ones.
Historically, following the Indian Monsoon and harvest , gold and/or silver prices tend to rise into December. So why then have gold prices fallen so sharply? There are many so-called gold experts who keep touting that the precious metal is not anything close to a bubble and that prices will eventually challenge $2,000-$3,000 an ounce within the next year or two. But they fail to realize the impacts of greed and fear that are so often prevalent in many markets.
A great book to understand about investor psychology, ( going all the way back to the Tulip mania in Holland in the 1800's, to the invention of money in the 1700's), is Charles MacKay's, "Extraordinary Delusions and the Madness of Crowds."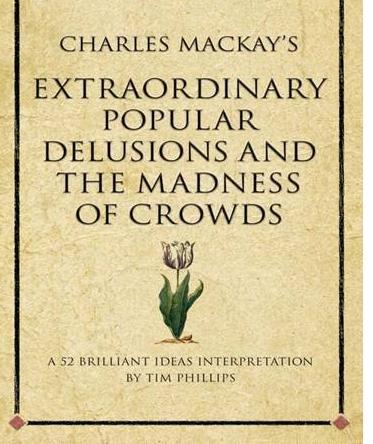 WILL THE INDIAN MONSOON BE GOOD IN 2012?
We are a long way off from seeing the influence of the 2012 monsoon on India sugar, grain and cotton production, but nevertheless, here is a preview of what might be expected.
The chart below shows various computer model sea surface temperature forecasts in the Equatorial Pacific, between Peru and Australia. The cooler than normal temperatures have been responsible for La Nina and has helped the Indian agricultural economy recover from the 2009 drought; with bountiful crops the last two seasons. This normally would favor aggressive gold/silver buying by Indian citizens. However, prices have rallied too far and choked off demand. As this graph shows, sea surface temperatures are forecasted to rise come the summer, 2012. This may result in a more "normal" Indian Monsoon next year. If sea surface temperatures go warmer than normal (as some models suggest) and El Nino was to form, this could have a negative effect on the Indian Monsoon next summer--something right now, we DO NOT anticipate.
El Nino's are known to result in lower Indian crops and hence, less buying of gold and silver from the millions of rural farmers and other citizens.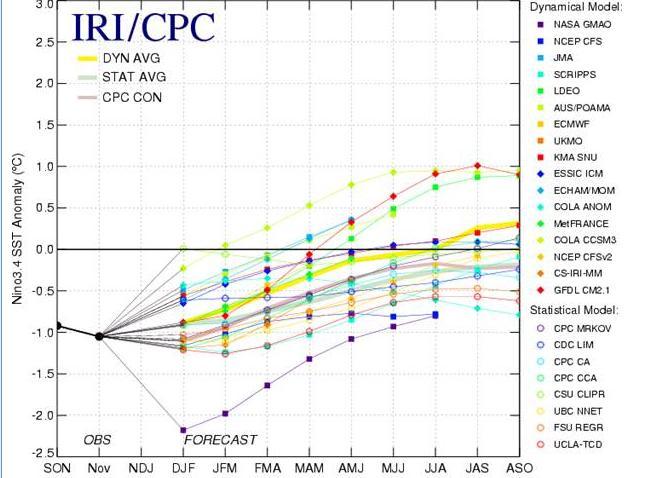 SOURCE: IRI/CPC
OTHER BEARISH REASONS FOR GOLD AND AN INVERSE ETF
I continue to differ with many gold analysts' views and remain a bit bearish the precious metal since Fall, even in the face of the good Indian Monsoon. Other than the "Madness of Crowd" hysteria, over-bought nature of the market, every news service and its dog is touting gold as the best safe haven, another reason to maintain a cautious bearish view in gold is because jewellery demand appears to be continuing a trend downward. This was observed during the 3rd quarter (see graph) and will likely continue.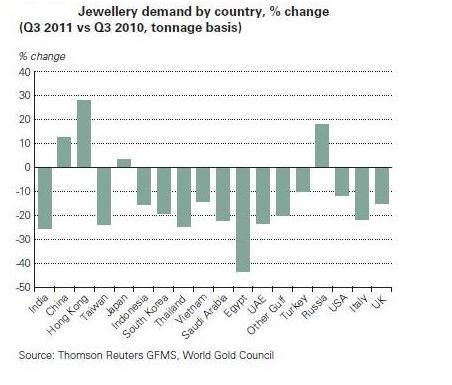 The deteriorating Euro area sovereign issue has been a main reason for gold's price demise too, as banks had to sell off some of their more profitable assets to raise cash, but there are other reasons. ETF holdings were 58% above year earlier levels and the Central Banks around the world have loaded up on gold. Often, the Central Banks are on the wrong side of many markets. Platinum too is historically higher priced than gold, as is still more than $150 below the price of gold.
The question becomes, what is fair value? Much of gold's stellar climb of the last few years, was not only brought on by a big increase in world demand, but "investor greed" looking for easy money in an era when trading stocks has been nerve racking and often unpredictable. Come spring, it is possible that the bleeding in gold may come to an end, particularly if India buyers come back into the market. However, I feel that gold prices are still a bit too expensive in the world market. This is because of momentum indicators and the common mistake that too many novice investors make -- buying near the highs and 'hoping' for higher prices. History proves, more often than not, that 'hoping' never works in stock and commodity trading.
SHORT GOLD ETF'S
While certainly not the "weather play" that I am very often accustomed to forecasting in the energy, grain and soft commodity markets, I continue to believe that gold may have another 10% down in coming months. Then, come spring and summer, there will be "some impact" in the gold market from what transpires with the Indian Monsoon.
Here is a list of some of the short gold ETF's, which still may have some downside ahead of the Indian Monsoon.
Short Gold ETF – Traded on the (LSE) London Stock Exchange the SBUL short gold ETF trades inversely to the current gold price.
DB Gold Short ETN (NYSEARCA:DGZ) – The DGZ is an ETN traded on the NYSE that is also priced inversely to the gold price so if gold goes down 1%, DGZ will go up 1%.
DB Gold Double Short ETN (NYSEARCA:DZZ) – Similar to the DGZ, except that it is leveraged 100%, and thus trades at double the inverse of gold. This gold short ETN can be thus be very profitable if you're on the right side of the trade.
ProShares UltraShort Gold ETF (NYSEARCA:GLL) - This double short gold ETF also trades at twice the inverse of current gold prices, only it is an ETF (vs. ETN).
Disclosure: I have no positions in any stocks mentioned, and no plans to initiate any positions within the next 72 hours.