In December I wrote a post on an Indian pharmaceutical company, Dr. Reddy's Laboratories (NYSE:RDY), noting that it had been an outperformer against two widely traded Indian ETFs, the PowerShares India Portfolio (NYSEARCA:PIN) and the WisdomTree India Earnings Fund (NYSEARCA:EPI).
One commenter asked for my opinion about these ETFs in addition to another Indian fund, the iShares S&P India Nifty 50 Index Fund (NASDAQ:INDY). All three of these ETFs have delivered disappointing results over the past year or two, but there's a new ETF, the India Consumer ETF (NYSEARCA:INCO) that might be worth a look. First, let's look at the performance of these three India ETFs over the past two years.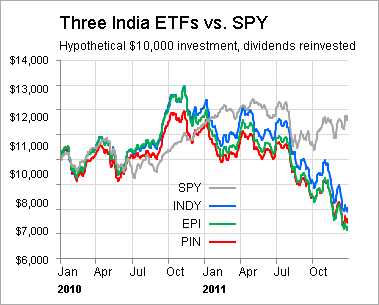 Not only are the results disappointing, they're nearly equally disappointing. There's a lot of correlation here. Why? One reason is that the US dollar has been gaining on the Indian rupee – up nearly 18% this year alone, with most of that gain in the last half of the year. That makes Indian stocks cheaper in US dollar terms.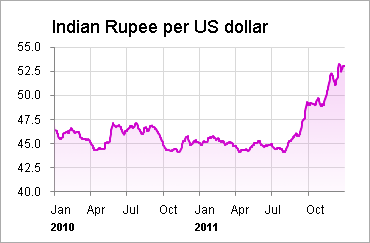 Second, while each fund has a different approach to how it assigns weightings to stocks, the allocations appear to be remarkably similar – at least right now. Here's a chart showing major holdings for each of these three ETFs.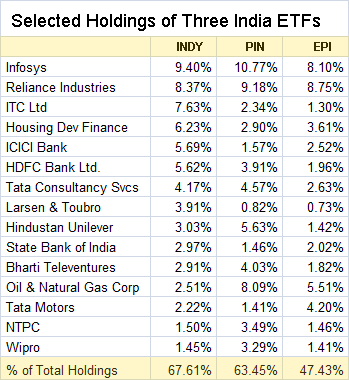 Taking a look at some of these stocks shows why these funds have lagged. Here are charts for some of these companies that account for between 25% and 30% of these ETFs. The prices reflect trading in India converted to US dollars or their US-traded ADR counterparts, if available.
Stocks like Tata Motors (NYSE:TTM), Infosys (NASDAQ:INFY), Housing Development Finance (NYSE:HDB), and Oil & Natural Gas lost all of their 2010 gains, and in some cases are lower than they were two years ago.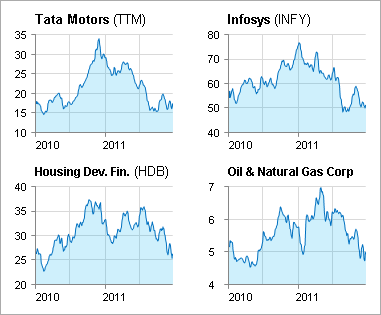 And shares of Reliance Industries, Wipro (NYSE:WIT), ICICI Bank (NYSE:IBN), and NTPC are a lot lower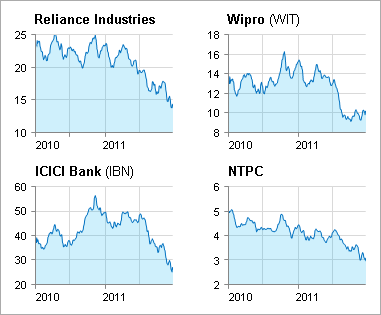 Are there any Indian stocks which have significantly outperformed their peers? Take look at Hindustan Unilever and ITC, Ltd., two of the country's leading consumer companies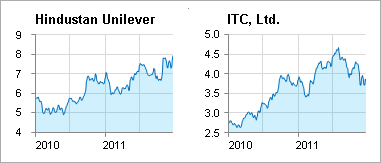 Now that's what we like to see. Stocks that actually go up! Unfortunately, ETFs like PIN, EPI, and INDY don't have a lot of exposure to these Indian consumer stocks.
Focusing on India's consumer sector.
The EGShares India Consumer ETF (INCO) tracks stocks in the country's consumer sector, with holdings that include consumer staples and consumer discretionary companies.
Here are this fund's top holdings – compared to how those stocks are weighted in the other three ETFs.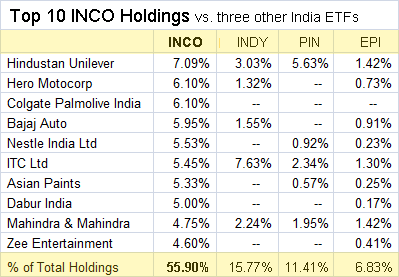 Note that Hindustan Unilever is at the top of the list, with ITC Ltd. also in the fund's top ten holdings. Here's how a few of the other top holdings have fared over the past couple of years. These include Hero Motorcorp, Colgate Palmolive India, Bajaj Auto, and Nestle India.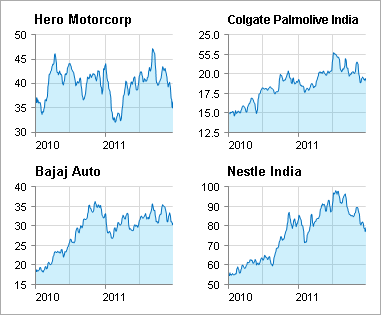 Except for Hero Motorcorp, these consumer-focused stocks have actually done quite well – even adjusting for a stronger US dollar.
A potential long/short pair?
So how has the INCO ETF performed over a similar timeframe? Unfortunately, I can't tell you because the fund only launched a few months ago. Given that it's a new ETF, liquidity is thin. The volume is only 125,000 shares. That's not average volume. It's the total volume since the ETFs inception date.
If you'd bought these shares back when the fund was launched in August, you'd be down about 22%, but the other three ETFs are actually down a bit more. Buying a newly created ETF has its risks, but it could be worth establishing a position in INCO if you believe that India's consumer stocks will continue to perform well.
And if you're really aggressive, you might consider shorting PIN. EPI, or INDY against that position. If the trend shown in the stock charts above holds into the next year, that could deliver excellent returns.
Or consider just buying INCO. If you do, using limit orders is essential. With a new ETF like this one – with zero volume on 40% of trading days since inception – your trade could be the only one all day.
Disclosure: I am long RDY.