2011 was a year of considerably diverging equity performance for Canadian oil and gas companies traded within the United States. Several Canadian petroleum companies appreciated in the double digits, some while also providing above-average dividends. Others depreciated by a comparable level.
Canada is the largest foreign supplier of energy to the United States. Canadian-based companies pay their dividends in Canadian currency, which is natural resource-backed. Over the last two quarters, the Canadian dollar weakened versus the U.S. dollar, as various commodities reduced in price. Still, the Canadian dollar has been strong against the dollar since the 2008 meltdown, as have its natural resources such as petroleum, metals and many other basic materials.
2011 was an extremely volatile year for Canadian oil & gas, along with oil commodity prices. 2011 started with appreciating oil prices on account of instability within the Arab world, much of which is still not completely resolved. But oil spiked downward in the late Spring and Summer as global growth concerns emerged. Many Canadian oil & gas equities followed oil's price fluctuations.
The second half of 2011 was also far more volatile for the equities. These companies are not only influenced by oil and gas commodity prices, but also by currency fluctuations. European and Asian concerns have led investors to leave various currency, commodity and equity investments to the perceived safety of U.S. dollars. This has helped cause the recent weakness in Canadian currency, oil, gold and other commodities.
Basic materials and natural resources were some of the worst performing investments through the second half of 2011-- both in commodity and equity form-- and Canadian dollars are largely backed by gold and oil prices, among the other natural resources within Canada.
Below is a recent performance table for seven Canadian oil and gas equities that trade within the United States (listed in alphabetical order): Baytex Energy Corp. (BTE), Cenovus Energy Inc. (CVE), Enbridge Inc. (ENB), Enerplus Corporation (ERF), Pengrowth Energy, Corporation (PGH), Provident Energy Ltd. (PVX) and Penn West Petroleum Ltd. (PWE). I have included their 1-month, 3-month, 6-month and full 2011 performance rates, as well as their present yields.
Click to enlarge: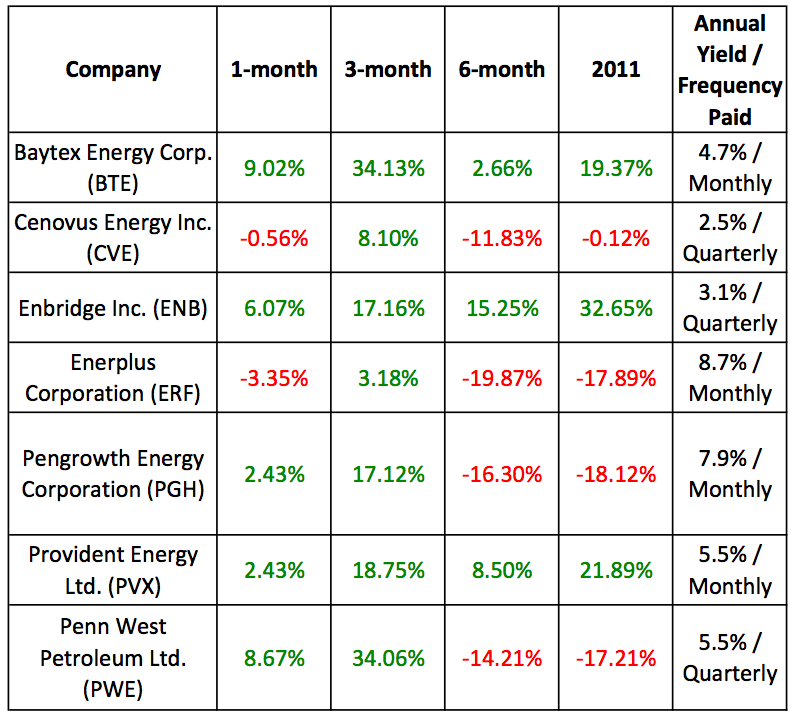 And below is a 2011 full-year comparison chart:
Click to enlarge:

Click to enlarge:
Most Canadian oil and gas companies were formerly Royalty Trusts ("CanRoys"). These trusts were similar in design to U.S. MLPs, in that they avoided corporate taxes by passing most of their income to shareholders. Canada eliminated these trusts and most of them converted into corporations. It is unclear whether these businesses will again need to further restructure themselves or their yields, but Penn West's dividend frequency change was likely influenced by this corporate change.
Most Canadian oil & gas companies have also not adjusted their dividends since West Texas Intermediate oil was at or near around $80 per barrel. It is likely no coincidence that so many of these companies reached their 2011 recent lows at the same time that WTI oil breached $80, and that several have subsequently closely followed oil back upwards.
It is likely that these Canadian oil & gas equities will continue to follow commodity prices within 2012. Moreover, present dividend policies appear safe, provided oil does not go and stay below $80 for an extended period, which is well below its approximate $99 per barrel price at the end of 2011.
Disclaimer: This article is intended to be informative and should not be construed as personalized advice as it does not take into account your specific situation or objectives.
Disclosure: I am long PGH.