After Oracle (NYSE:ORCL) released rather abysmal second quarter results for fiscal year 2012 on December 20th, investors fled the software giant due to signs of a slowdown in the company's growth. Shareholders were burned for about 14% of the value of their stock holdings just in time for Christmas.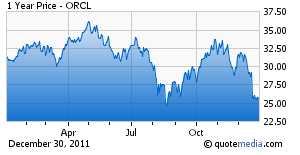 While a ~14% drop might seem a bit steep given only one bad quarter, the numbers did indeed look questionable. Oracle's hardware division was possibly the biggest disappointment for the company (again). Not only did their sales of Exalytics and other systems fail to bring in more revenue than that of Q2 2011 (3-months ended, a year ago), but the biggest relative contractions were found in raw sales rather than support, indicating much weaker demand than expected from client firms.
Given the prudent nature of company management in this shaky economic recovery, these results aren't too surprising. Companies continue to hold record piles of cash in reserve, and seem reluctant to boost growth-related expenditures without a more clear sign of a broader recovery. Oracle's sales data seems to reflect broader economic sentiment perfectly when you consider how it has changed in the last 12 months.
Going into April of 2011, as the stock market began one of the biggest short-term runs in its history and brought optimism to the markets, we saw Oracle deliver a record breaking quarter (Q4 2011) as firms stepped up their purchases in data systems anticipating a quick economic recovery. The stock chased the incredible performance which took ORCL to new all-time highs (36.50 at the top).
Hindsight is 20/20 as we know, and we only realized that we jumped the gun on the big recovery later into the summer as sovereign debt issues returned to the media spotlight and dragged stocks around the globe lower following the S&P downgrade. Oracle took it in the chin, and generally fell much more than the indices on red days despite a quick relief rally during last earnings season.
As a result of recent fears over Europe and a global slowdown, we saw particularly weak sales figures this quarter as companies braced for slow business. As stated before, the weakness in sales revenue instead of services revenue was particularly apparent. The most notable example in the data can be found with Q2 2012 relative to Q2 2011 (3-months ended), where hardware sales revenue dropped a whopping 14% relative to the miniscule 2% drop in hardware support. The same trend was seen in software: new software licenses generated only 2% more revenue than the same period last year while software support and license updates expanded revenue by 9%. Those year on year results hardly resemble that of a growth stock.
While Oracle may have had just one particularly bad quarter, the signs seem to indicate that last quarter might have been the start of something new. Fundamentally, Oracle is in a slightly different position than that of April. Even if the company retains its immense market share, there really isn't as much room for the IT firms to run as we thought. Can the stock's growth continue to justify the small dividend and higher-than-usual European exposure? Will the company's size begin to limit its growth prospects? It depends.
Oracle, as you might know, does a lot of their business in Europe. To be more precise, about 31% of their revenue comes from the EMEA region (the vast majority of which is from the Eurozone). Due to recent fears of recession/stagnation in the Eurozone, ORCL has already been crushed by investors with every emerging crisis with European sovereign debt. Since growth prospects have been fundamentally damaged there, this greatly increases the importance of IT sales/service demand in the US and Asia. Both remain very questionable.
If we do know anything for the next year, we will most likely see Oracle continue to depend on its acquisition strategy to gain market share down the road and we will likely see conservative company guidance unless the economy begins a broader rally. Due to this, I think Oracle's stock may begin to undergo a personality change as we go into 2012 -- from a high beta growth stock to a more stable value stock.
Despite all the skepticism I've provided about Oracle's strategy and fading growth (especially in hardware sales), there is major opportunity in the realm of cloud computing for the company given a proper string of acquisitions that it may make in 2012. If investors grow sour enough on the stock (especially upon some financial breakdown in Europe), we might see enough pain in the stock to strongly justify a purchase in a value play. I'd also be willing to get excited over the company's stock again if it can make more meaningful progress into cloud computing since that field has so much room to run, but until then, the stock could very well remain in limbo unless something changes.
Disclosure: I have no positions in any stocks mentioned, and no plans to initiate any positions within the next 72 hours.