It was the lightest-volume week of the year last week, and one of the least eventful as well. That doesn't mean it wasn't an important one though, in that where the market left off last week is usually where – and how – it will start the New Year. Of course, that doesn't necessarily tell is what's in store…bullishness or bearishness? We did make some progress toward an answer though.
We'll look at the upside and downside below, right after digging a little deeper into the recent and upcoming economic numbers.
Economic Calendar
Not a lot of data was posted last week, but we got a few biggies. One of them was on the consumer confidence front – the Conference Board's key sentiment figure jumped from 55.2 to 64.5 in December, which was the best reading in months.
On the unemployment front, new claims rose from 366K to 381K, but it's still under the key 400K level and trending lower. Continuing claims also edged slightly higher, from 3.567 million to 3.601 million (though that data is a week behind the new claims number). Overall, we're still seeing modest progress.
And as far as real estate/construction goes, we're still seeing a mixed bag. Home prices are still sinking, per the 3.4% dip in the Case-Shiller Index, though pending home sales surged by 7.3%, hitting a nineteen-month peak.
The rest is below.
Economic Calendar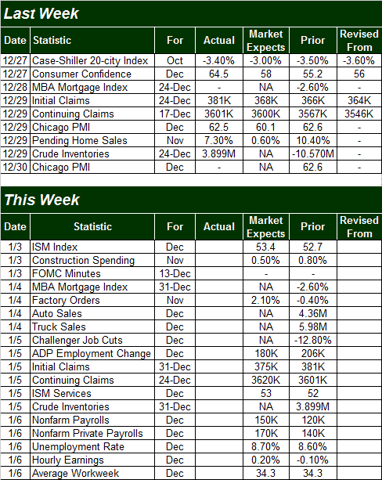 The big items coming this week are:
* Wednesday: Factory Orders – They should be up 2.1% for December, reigniting a stalled productivity effort.
* Thursday: New and continuing unemployment claims – the modest downtrend should be sustained.
* Friday: Payrolls-added and the unemployment rate – Jobs are expected to be created at a faster pace than we saw in November (+150K overall for December), though the unemployment rate is expected to move a hair higher, from 8.6% to 8.7%. It's possible because of the way the unemployment rate is calculated using the eligible pool of potential workers…a number that can change every month because these people can change their minds every month.
S&P 500
Last week's 7.73 point loss (-0.61%) for the S&P 500 (SPX) (NYSEARCA:SPY) isn't that big of a deal. It was also the lowest volume week of the year, largely because there were so few players, and nobody really cared one way or another. In other words, it wasn't a majority opinion. It did help us in one regard though, it helped form the make-or-break ceiling between 1268 and 1280.
The lower boundary for that resistance zone is basically where the SPX has topped out three times since early November (red, dashed) and where the 200-day line moving average (green) is, while the latter is where the upper 20-day Bollinger band is waiting (brown). That upper band line actually hasn't been tested since late October, but given how well it's capped – or at least contained – rallies for several months now, we have to expect it to be a ceiling now. If it doesn't end up acting as a ceiling though, then two months' worth of pent-up bullishness could be unleashed in a hurry. [Yes, this was the same basic assessment we made last week; now we're one week closer to seeing it happen.]
On the downside, two floors have had time to firm up. The first one is the 1240 area, roughly where the 20-day and 50-day moving average lines are. Below that, the lower 20-day Bollinger band (brown) and the 100-day average line (gray) have converged at 1207. Even a retest of that lower support area could leave the bigger uptrend intact, though we don't want to have to test that theory.
Anything in between those named floor and ceilings, the market remains in limbo. Take a look.
SPX & VIX Daily Chart
As for the CBOE Volatility Index (VIX) (NYSEARCA:VXX) (NYSEARCA:VXZ), it's still in a downtrend that's generally mirroring the S&P 500's broad uptrend. But, there's reason to be tentative about the VIX's pullback…the downtrend we've seen for the last three months is the most we've seen the VIX fall in a long, long time. That – paired with the fact that it seems to be pushing up and off its lower Bollinger band – could be an omen that it's looking to move upward, which is bad for stocks.
But hey – the VIX may have just put its downtrend on hold last week while most folks were on vacation.
Either way, the 25 area (where the VIX's 200-day and 20-day moving averages are) will need to hold the VIX down the next time it's tested if the bigger-picture rally for the market is to stay in motion.
All that being said, there's another perspective we want to take not just for the S&P 500, but for all the major indices (which is the market as a whole).
We have to zoom out back to July to do it, but all the indices are at the tip of wedge shapes. The technical patterns are also known as sideways triangles and narrowing triangles. The implication is that something has to give soon, and in the case of the Dow Jones Industrial Average (NYSEARCA:DIA), it has… the upper edge of its triangle pattern has already given way. Granted, the Dow is still dancing with resistance at 12, 284, but it along with both the NASDAQ (COMP) (NASDAQ:QQQ) and the SPX have been in consolidation mode for a little too long to not expect fireworks soon.
And, the shape of things is saying the undertow is slightly bullish – bullish enough to expect a bullish outcome slightly more than looking for a bearish outcome. But, all the indices still need to leap their other technical hurdles for the triangle 'squeeze' to matter. Take a look.
Dow Industrials, S&P 500, & NASDAQ – Daily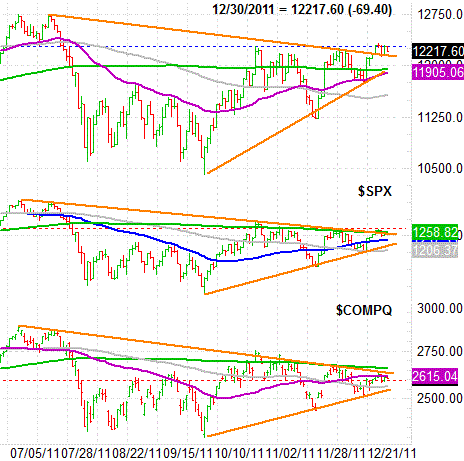 We're getting there though.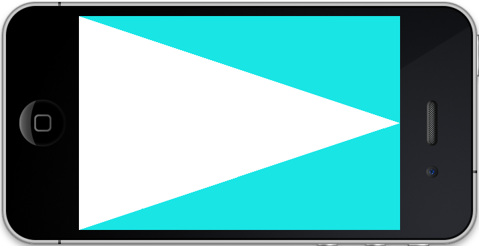 Disclosure: I have no positions in any stocks mentioned, and no plans to initiate any positions within the next 72 hours.