Mortgage REIT Overview
Mortgage REITs take advantage of a tax status to invest in mortgage related real estate assets. REITs can invest in both physical real estate assets and real-estate related securities like mortgage backed securities ("MBS"). REITs electing the take advantage of the tax status must distribute 90% of taxable income as dividends. The primary advantage of using the REIT tax designation is that these companies do not pay state or federal corporate taxes on dividends paid to investors. Instead, the taxes are paid by the REIT equity holders (investors). Below is a table comparing the largest mortgage REITs.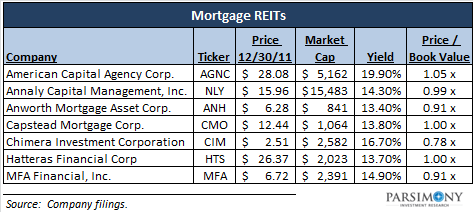 mREITs Outperformed in 2011
Generally speaking, the mortgage REIT asset class outperformed the S&P in 2011. Income investors that understood and were willing to accept the risks inherent in the industry were handsomely rewarded.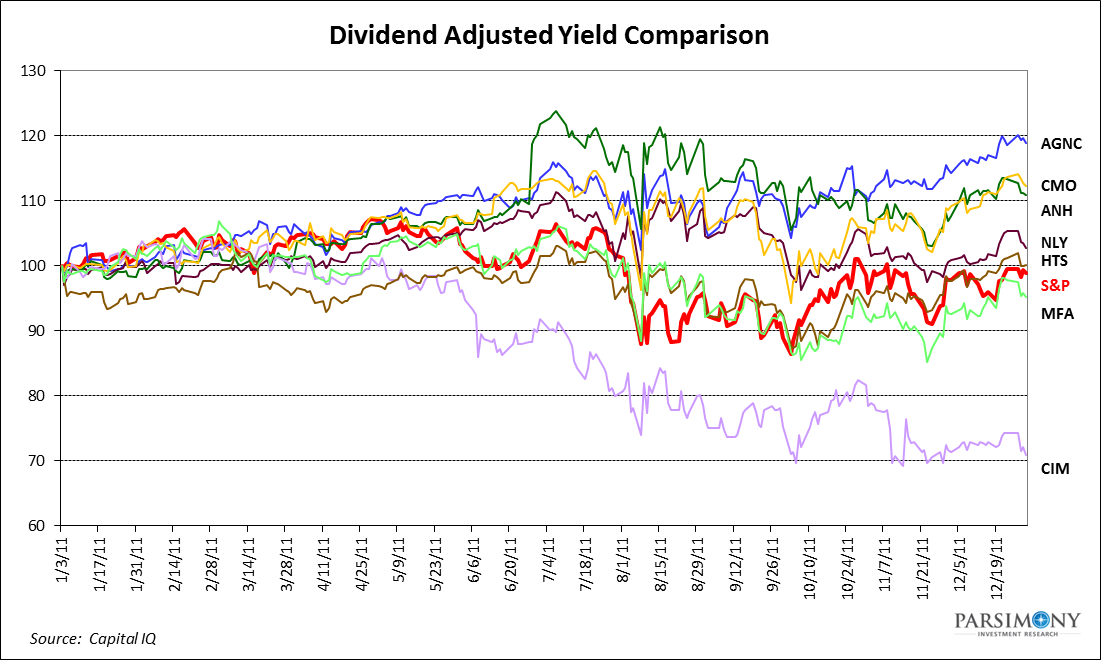 However, as shown in the chart above, there were definitely winners and losers within the asset class. Agency-focused REITs, lead by American Capital Agency (NASDAQ:AGNC), were the clear winners. Meanwhile, non-agency-focused REITs, like MFA Financial (NYSE:MFA) and Chimera (NYSE:CIM) underperformed.
In the uncertain market environment that was 2011, investors clearly gravitated toward REITs that focused on less risky agency mortgages, which are guaranteed by government sponsored entities (implying limited credit risk). AGNC and Annaly Capital Management (NYSE:NLY) were the two most actively traded agency mREITs. Conversely, non-agency securities do not carry a similar implied guarantee, making them inherently more risky due to the higher relative credit risk.
Uncertainty Remains
Mortgage REITs have had a halo of uncertainty since September when the Securities and Exchange Commission sent shockwaves through the mortgage REIT market seeking comment regarding the treatment of asset-backed issuers and mortgage REITs.
The SEC document provides background on the history of mortgage REIT regulations, raises questions on the industry's legal and tax status and, most importantly for investors, casts a light on the use of leverage throughout the industry.
The SEC is questioning whether mortgage real estate investment trusts should be regulated as investment companies and therefore subject to the Investment Act of 1940. These REITs have been exempted from the Investment Act for some 50 years under a certain statute originally intended for mortgage banks only.
The big concern for mortgage REITs is they will lose their ability to employ high levels of leverage if they are subject to the Investment Act. Mortgage REITs have high dividend yields partly because the managers use high leverage, which can boost returns.
Agency Mortgage REITs Should Continue to Outperform in 2012
We believe that due to the structural headwinds in the U.S. economy, the Federal Reserve will keep things on hold for an exceptionally long period of time. That said, we believe that current valuations are attractive for agency-focused mortgage REITs.
In general, we think interest rates will remain low for the foreseeable future (next 12-24 months). As such, we believe REITs (particularly agency-focused REITs) offer investors an extremely compelling risk/reward profile and strong dividend yields. However, we caution investors to watch interest rates, prepayment rates, and leverage levels very closely if invested in the space.
Also, as we've highlighted in recent articles, non-agency mREITs (especially CIM) should continue to be avoided due to the added risks in the non-agency market.