An analysis of Eldorado's (NYSE:EGO) bid to acquire European Goldfields
Source: Presentation to European Goldfields shareholders
In a deal valuing European Goldfields (OTC:EGFDF) at C$2.5B, Eldorado submitted a mixed cash/stock bid for the Yukon based gold company that many suspect will go through. Eldorado Gold will give 0.85 of its shares for each European Goldfields' share as well as $0.0001 per share , representing a 10% premium over the current price. The deal will expand Eldorado Gold's proven and probable reserves by almost 10 million ounces, a 35% increase over current levels. It will also expand their operations into Greece, Turkey and Romania. Although off the beaten path, these regions are often underexplored by major mining companies because of the geopolitical risk they carry. This leaves opportunities for mid-size gold producers to explore and develop these resources further. The table above shows the breakdown of the deal as well as the cash and debt positions of the two companies.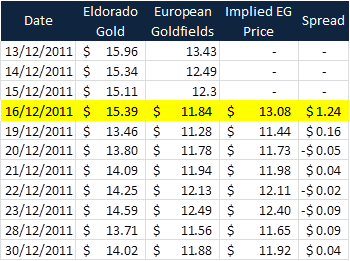 Market data from Yahoo finance
A few days after the announcement of the deal, share prices of the two companies began to converge as investors signaled they thought the deal was likely to go through. The deal was announced after hours on December 16 when the spread between the implied price and the actual price of European Goldfields was about $1.24. The next day the spread closed to only $0.16 and has traded within a narrow range ever since. This small spread means the market believes the deal will likely go through. At the same time the stock price for Eldorado Gold has fallen, a normal occurrence for the acquirer when the market believes the deal will go through, reflecting the new costs to ensure proper integration.
The deal is set to boost future production levels and add long life, low cost assets to Eldorado's portfolio. The combined companies will grow to produce about 1.4 million oz. of gold by 2014, when many of European Goldfields' mines are set to start producing gold. European Goldfields needs more cash to develop its properties, and Eldorado Gold has a strong cash position that it can use to fund these capital expenditures. Eldorado also expects some financing synergies, as the combined company's stock will have greater liquidity and a lower cost of capital. Eldorado has said it expects to maintain its $0.10 dividend payout after this deal, signaling a strong balance sheet and expectations of an accretive deal.
Deal Background
This is the biggest deal the mid-size gold producer has ever taken on, inevitably leading to questions about whether or not it can properly integrate the new firm. Previously, their biggest acquisition was of Sino Gold for C$2 billion, which boosted the firm's presence in China and gave it some of its most successful producing mines. Its Chinese assets are responsible for almost half of the gold the company produces. Eldorado entered a bidding war with Goldcorp earlier this year for Australian gold company Andean Resources. Goldcorp eventually snatched up Andean Resources for C$3.6 billion, 2% higher than Eldorado's bid. Since then, they have been looking to put their cash to use in acquisitions to increase production and reserves. Gold companies have been sitting on a lot of cash lately and instead of paying out dividends they have decided it is more worthwhile to acquire producing gold mines. Since the cost of developing new mines has been steadily rising due to rising prices of input costs, they have been looking to consolidate.
The move comes just after European Goldfields signed a financing deal with a Qatari sovereign wealth fund to develop some of its mining assets in Greece. The Qatari fund promised to provide $600 million in financing to develop some Greek assets as part of an agreement between the Greek and Qatari governments. If all options and warrants were exercised, the Qatari fund could own up to 29% of European Goldfields. Eldorado's takeover bid makes the future of this financing unclear and the board is set to meet to discuss possible alternatives. As of December 28, 2011 the board agreed to delay a decision until the end of February 2012, casting doubt on the future of the Qatari funding while allowing the Eldorado bid to continue.
Macroeconomic Concerns
The offering price seems generous considering the uneasy macro environment European Goldfields finds itself in. The majority of European Goldfields projects are in Greece, a country that has been in near constant turmoil. Eldorado already has exploration projects in Greece and is further exposing themselves to some significant macro risk. When asked about the Greek fiscal situation, a representative from Eldorado Gold was unable to answer what exactly would happen to the properties if Greece exited the EU (21:30-22:25). A Greece exit from the eurozone is something many commentators see as a possible outcome, and it would be more reassuring to investors if Eldorado had a better contingency plan for this scenario. This highlights the macro risks at play that could hurt the newly combined gold company.
Historically, Greece has always had an uneasy relationship with foreign mining companies. In the mid-1990s European Goldfields was the first foreign mining company permitted to operate in Greece. European Goldfields stirred up a lot of controversy by drilling in popular tourist destinations and were accused of causing significant environmental damage to the local citizens. As one Greek commentator notes, "Wherever a new mine proposal appears, an opposition movement is born almost instantly. The central government, which has always favored mining development, is now numb and afraid of the political cost of approving these projects. Local governments refuse to issue new exploration permits on environmental grounds."
However, these attitudes prevailed during a boom period, where tourism was strong and had priority over other industries in the country. Historically, tourism constituted 18% of Greece's GDP and employed about 19% of its workforce. Recently, in 2010 tourism revenue fell by 9% as people took less vacations and as tempers flared in Athens and around Greece. In the first half of 2011 it fell 5% year over year and has largely flat at about 0.6% in the second of 2011. Now that the country is having financial difficulty and tourism is flat or declining they aren't in a position to turn away projects that could employ thousands of people. Executives at Eldorado Gold claim these projects could employ up to 3000 people, giving a much needed boost to the local economy. That said, it is also possible politicians will not want to be seen as buckling to international business interests at the expense of local populace.
Domestic companies do not have the expertise or funding to develop these assets themselves, partly because of the hostile stance toward the mining industry. The uncertainty surrounding the country raises the cost of capital, meaning foreign companies with healthy balance sheets like Eldorado are the only ones who can develop these assets.
Although both European Goldfields and Eldorado Gold already have permits for their respective Greek projects, it remains a hostile environment for foreign mining companies. Roughly 3/4th of European Goldfields reserves and projects are located in Greece, giving them exposure to some significant downside. That said, Eldorado doesn't have any producing mines in Greece, so any instability there will not adversely affect production levels.
Uncertain Gold Prices
The success of the deal will also rest with the prevailing price of gold because Eldorado Gold is an unhedged gold producer. That means they are fully exposed to the prevailing price of gold and do not use forward or future contracts to lock in prices at a future date. Many larger gold producers hedge their price exposure in order to have more certain revenues. Mid-size gold companies often go unhedged so they can gain from the potential upside in gold prices. Of course, this leaves them open to the downside in the price, tying the fate of the firm to the current spot price of bullion.
Gold is well off its highs of $1920/oz. just a few months ago, and many believe the price will fall further still. Although it performed strongly during the debt ceiling and euro crisis over the summer, it has done poorly recently, even though the troubling news hasn't slowed down. Commentators at the Financial Times explain that investors are still doubtful about the mythical properties of gold and prefer the U.S. dollar and U.S. dollar denominated Treasuries during uncertain times. This has caused gold to fall relative to the dollar, to its current price of about $1600/oz. As explained previously, central banks on both sides of the Atlantic don't want to engage in any more quantitative easing, which was what gold traditionally hedged against. Gold has done well in the last 10 years, growing in multiples since January 2001 as part of a larger commodities boom and increased money supply.
Source: Pacific Exchange Rate Service
Gold bulls argue that the price fall is temporary and that the European situation is still not resolved. Any potential solutions will only raise the price of gold to a target of about $2000/oz. The ECB may have to increase the money supply further to add liquidity in the markets, Greek may exit the eurozone or Greece may default on its debt obligation. All three of these situations will send gold prices higher as a bulwark against inflation and uncertainty. Looking at a 1 year graph, there is still a positive trend but many analysts believe it has run out of steam. It is hard to tell exactly what will happen, but a higher price of gold will only help gold companies and justify further production and exploration. Falling prices will not only hurt top line growth, but discourage further exploration and development, causing a ripple effect throughout the industry.
Conclusion
There are still some hurdles the deal needs to clear before it can pass. Shareholders of both companies still need to approve the merger with a 66.67% majority. They also need to get regulatory and court approvals before they can continue, but there are few doubts that will happen. Both companies are based in Canada and operate abroad, so there are fewer regulatory issues that might arise.
The acquisition makes Eldorado a larger and more competitive mid-size Gold producer and adds some significant upside to the firm. The cash costs per ounce are projected to remain relatively stable, allowing Eldorado to remain competitive within the space. The acquisition of European Goldfields is a bit of a gamble, especially since nobody really knows what is going to happen to Greece or the mines, but if successful it could significantly increase the reserves and production of the firm. As an unhedged gold producer, the fate of the firm relies of the price of gold which many analysts believe is past its bull run. In the near term, Eldorado is a risky buy with more downside than upside. In the medium to long term, when gold prices and the eurozone stabilize, it has the potential to be a great company with strong growth and great fundamentals. In the meantime, investors would be best to hold off on the stock and wait for a better entry point.
Further Reading
Green Stance on the Mining Industry
Presentation to European Goldfields Shareholders Recommending the $2.5bn takeover offer
Disclosure: I have no positions in any stocks mentioned, and no plans to initiate any positions within the next 72 hours.