Beer is admittedly not the greatest growth market in the world. You can find beer in almost every corner of the world and consumption growth more or less tracks GDP growth. Nevertheless, while SABMiller (Nasdaq: SBMRY.PK) may not be in position to post eye-popping topline growth, few other companies are so poised to take advantage of population and income growth in the emerging markets of the world.
Everywhere But Here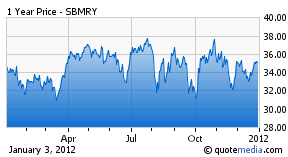 Miller and Miller Lite are pretty well known brands to American investors, but the fact remains that for all of the well-known brands like Miller, Peroni, Pilsner Urquell, and Grolsch, only about one-third of the company's business comes from North America and Europe (combined). SABMiller's Latin American business is larger than either of those regions and Asia is growing quickly in importance.
To be fair, SAB Miller is not quite so strong in Latin America as shareholders might hope. Anheuser-Busch InBev (NYSE: BUD) leads markets like Brazil and Argentina, while the acquisition of the FEMSA (NYSE: FMX) brewing business has certainly boosted Heineken in this region. On the other hand, SABMiller has 25% market share in India, over 20% share in China (through its joint venture with China Resources), over half the market in much of Africa, and the #2 slot in Russia.
All in all, SABMiller is the #2 brewer in the world by volume, is active in 75 countries, owns over 200 brands, and also happens to be the largest bottler of Coca-Cola (NYSE: KO) outside of the United States.
Growth At Any Price?
SABMiller management has been commenting lately that they do not plan on much in the way of further price increases. Reading between the lines a bit, what they appear to be saying is that they've taken about as much as they can and they do not want to imperil volumes with further price increases. Moreover, the company has started talking more and more about brand expansion and share growth – particularly in those aforementioned growing emerging markets.
Unfortunately, grain prices continue to rise, as do packaging and other production costs. Consequently, SABMiller is going to be hard-pressed to show much internal margin improvement and may well have to absorb lower margin in exchange for future growth prospects.
More M&A
With internal margin improvement perhaps limited, SABMiller continues to be active and aggressive on the M&A front. The company is shelling out about $10 billion for Fosters (long rumored to be on the block) and should be able to strip a lot of costs out of this business.
But this may well not be the end by any means. SABMiller could buy out Castel or Anadolu Efes (already partners) or have a go at Heineken or Carlsberg. There are even rumors about a tie-up between SABMiller and AB InBev, though the antitrust issues there would appear to be considerable. Also don't forget that non-alcohol business – there are plenty of Coca-Cola bottlers left around the world for SABMiller to buy.
Curiously enough, SABMiller is also surprisingly active in its North American businesses. Although big brewers like SABMiller and Molson Coors (NYSE: TAP) are not doing especially well in this market, the craft beer industry is doing relatively better. SABMiller owns quite a few craft brands and has been savvy in building them in such a way that few drinkers are aware that giant SABMiller owns them. Perhaps a deal for a company like Boston Beer (NYSE: SAM) could make sense along the way.
The Bottom Line
Simply put, SABMiller is pretty well a machine when it comes to producing free cash flow. Although the company is not quite as strong on returns on capital as its brand position would suggest, this metric has been improving. Moreover, as the company integrates these deals and JVs further, there should be some opportunities for enhancing these performance metrics.
Investors should also be aware that Altria (NYSE: MO) owns more than one-quarter of these shares. While it seems unlikely that the company would sell (it's not as though the tobacco business needs more cash investment), it cannot be entirely ruled out.
With solid exposure to some of the fastest-growing beer drinking markets in the world, SABMiller should be in good shape to grow revenue at a mid-single-digit clip for many years to come. As input price inflation eases and the company wrings more efficiencies out of its acquisitions, further cash flow margin should appear as well. SABMiller does not offer a great dividend today (but it stands up well with peers like AB InBev and Molson Coors) and the EV/EBITDA ratio is high, but on a cash flow basis this stock looks very nearly cheap enough to buy and certainly cheap enough to hold.
Disclosure: I am long OTCPK:SBMRY, FMX.