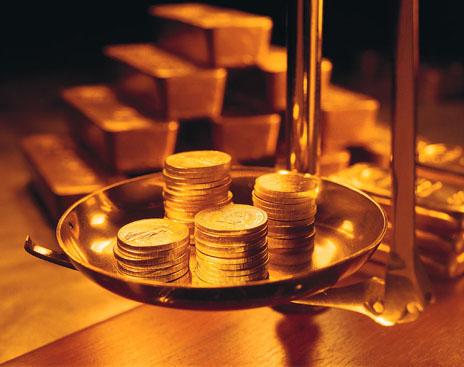 After reaching a record high in September, gold prices and exchange traded funds that follow the precious metal have been stuck in a lull as hedge funds cut their stakes, despite calls that gold prices are poised for another bull run.
SPDR Gold Shares ETF (NYSEArca: GLD) and iShares COMEX Gold Trust ETF (NYSEArca: IAU) are down over 10% the past month but ended 2011 with gains of about 10%.
Last week, gold futures dropped below their one-year average of $1,573 per ounce, according to a Bloomberg report. However, gold was set to rally on the first trading session of 2012 as the metal rallied back to nearly $1,600 an ounce on Tuesday.
Hedge funds and other speculators are now at their least bullish on gold since May 2009.
"Gold fell heavily in December, as hedge funds scrambled for cash to meet client redemptions and European banks trimmed their gold holdings to raise capital," Sky News reported Tuesday.
John Paulson, George Soros, Eric Mindich and Paul Touradji are among the more notable hedge fund managers selling gold.
Paulson dumped 36% of his position in GLD in the third quarter, but is still the largest investor in the gold ETF at $3.17 billion.
Soros Fund Management LLC sold the majority of its stake in GLD and IAU in the first quarter.
Eton Park Capital Management LP liquidated the last of its GLD shares in the third quarter.
Touradji Capital Management LP sold its stake in GLD in the first quarter of the year, but bought back 26% of its original position in the third quarter.
"Gold became very overbought," Charles Morris, a manager at HSBC Global Asset Management who also reduce his gold holding to 6% at the end of November from 15% in June, said. "It will at least consolidate following this almighty rally. When the new bull market arrives, maybe a year or so away from now, then gold will once again prove to be a leading asset."
SPDR Gold Shares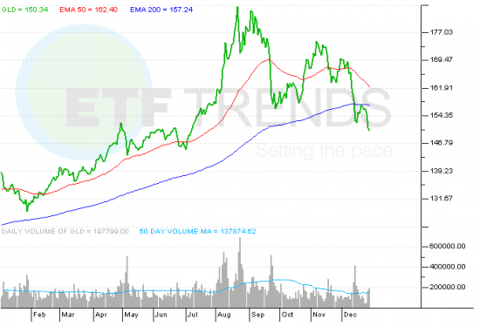 Max Chen contributed to this article.
Disclosure: Tom Lydon's clients own GLD.