Warren Buffett once said "a public opinion poll is no substitute for thought." Or, in other words, people should value their own ability of making sense of the issues that concerns them the most – at least this is how I interpret it. If I read somewhere that a public poll concludes that 9 out of 10 people are shopping at a certain store, does it make sense for me to drive 20 miles out of my way to do the same? Perhaps or perhaps not.
However, regardless of your convictions and/or motivation, it is tough to overlook and ignore why people are doing certain things or going certain places or perhaps avoiding these things altogether. Often times we use it as a gauge for our own personal circumstances. In other words, we need confirmation that how we are going about our daily lives is consistent with popular belief. In the stock market, however, this approach is known to have been the architect of the biggest bull markets as well as toughest bear markets.
It is public opinion or negative perception that drove the market in the downward spiral that investors have witnessed for most of 2011. The fact of the matter is, our confidence (or lack thereof) in the economy often determines our spending habits. The more (or less) we spend, the impact will be reflected on the earnings in the companies that we invest - it's a situation of cause and effect. The health of consumer spending has been on the mend, but there are some signs that the pace of the recovery may not be as rapid as investors may have hoped.
Click to enlarge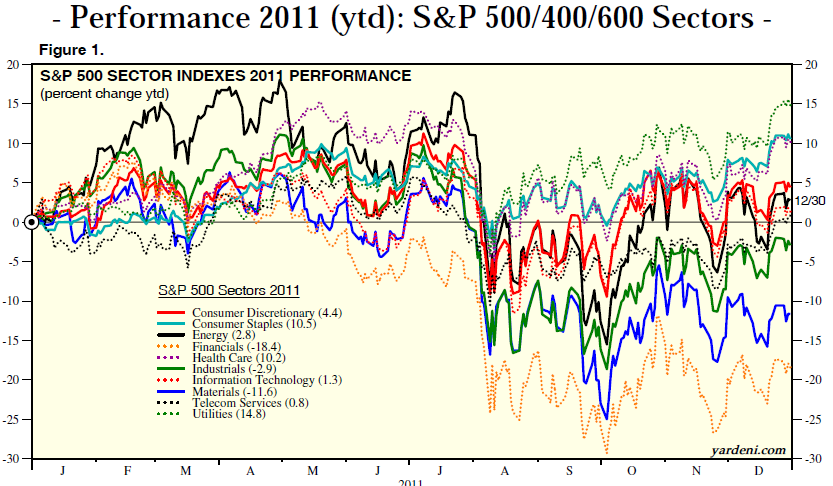 With 2011 now officially gone, its sector performance results will continue to be the backdrop of my investment approach for 2012. As the chart above shows, consumer discretionary stocks as well as consumer staples were among several of the notable dominant sectors – and this was during a recession year. So it stands to reason that as the economy continues to improve companies within that sector will perform even better. Having said that, one has to also think that beaten down sectors such as technology materials as well as telecom should also rebound.
I am not suggesting that we are "out of the woods" by any stretch in terms of the economy. There are some challenges still ahead with regard to home prices as well as uncertainty in the commodity market – not to mention, consumer spending may languish for the first couple of quarters of the year. But regardless, these challenges can be overcome, in fact I think the early stages of 2012 will be anything but smooth sailing. As "value" and "perspective" continue to be my operative words for 2012, here are some stocks that I think stand to benefit from an increase in consumer confidence.
Sirius XM (NASDAQ:SIRI) – Target $2.50
I continue to be bullish on Sirius and over the past couple of weeks I have developed even more reasons for such optimism. As far as perspective goes, in a tough 2011 (recession year), the company raised performance guidance three times. It has become a cash flow generating machine of sorts though the company continues to operate in some unorthodox ways. One recent example is the fact that it opted to release its prized Lynx Radio 2.0 on December 29 – after the holiday shopping season.
The radio is said to the most advanced radio ever from Sirius XM with the capability to receive the new expanded Sirius XM 2.0 channel lineup of commercial-free music, sports and comedy that includes Sirius XM Latino, a new suite of Spanish-language programming. Lynx is built with a flexible architecture which allows for new features and capabilities to be added through software updates.
All of this is great, right? But the issue investors have with the company is that nobody will know about it because of its limited marketing – some might say it has not been marketed at all. This is one of the many issues that continue to frustrate Sirius investors. But I suspect things will soon change and this year the stock will finally catch up to the company's recent stellar performance.
As consumer confidence and spending continue to rebound, one of the effects will be automobile purchases – this has been and will continue to be the company's bread and butter. Early indications are that auto sales are poised for a second straight year of growth due to the availability of easier credit, low interest rates and pent-up demand for cars and trucks created by the Great Recession.
Automakers report U.S. sales for 2011 on Wednesday. When final figures are calculated, sales of new cars and trucks are expected to reach 12.7 million, up from 11.5 million in 2010 and 10.4 million in 2009, the worst year since 1982. In 2012, they could climb as high as 13.8 million, close to what experts consider a healthy market - around 14 million.
Although I have set a tentative target for the stock at $2.50, it would not surprise me to see the stock approach the $3.00 mark is these sales trends continue. It also helps that the company's new pricing plan is now under way and with its recent hints at a stock buyback in an effort to reduce the float, investors will be rewarded and likely compensated for their loyalty and faith demonstrated in 2011.
Micron (NASDAQ:MU) – Target $10
Micron has been beaten up for most of the year 2011 and it didn't help that it recently reported disappointing earnings results and missed expectations that were already "average" at best. To make matters worse, this was its third miss in a row. It reported a 7% drop in revenue from the previous year and a 2% decline from the prior quarter. But I suspect that the fortunes on the company will change in 2012 for a couple of reasons - the first of which being (as mentioned previously) an increase in consumer spending.
Micron has tried (unsuccessfully) over the past several years to transform itself from being a commodity-focused memory chip company. As witnessed by the chart above, the sector in which it operates has been in a downward trend. But I have to think that its shares have become so depressed that it deserves a long look from investors willing to bet on a rebound in chips. For all of the consumer electronics headwinds, the fact remains that Micron is still one of the stronger players, and demand will rebound eventually.
This is where consumer confidence plays an all important role. Investors are able to witness the success of Apple's (NASDAQ:AAPL) iPhones and iPads as well as the Amazon (NASDAQ:AMZN) Kindle Fire – all of which will help chip makers such as Micron rebound in a meaningful way. This is despite the disappointments in PC sales reported from the likes of Dell (DELL) and Hewlett Packard (NYSE:HPQ). Though the company posted a disappointing quarter, I don't think many analysts were expecting otherwise. Now that the bad news is out of the way and seemingly the worst being over, Micron should begin to see some signs of recovery.
Texas Instruments (NYSE:TXN) – Target $35
As with Micron another company that stands to benefit from an increase in consumer spending is Texas Instruments. The company recently announced disappointing earnings as well as an unfavorable outlook so I get why it has fallen out of favor not only with Cramer, but also Wall Street. But looking at its numbers going into 2012, I have to think that the worst is behind it.
The company's biggest challenge continues to be its tough competition. With state-of-the-art lower-cost manufacturing in place, this should allow the company to compete more effectively on price without risking margins. Price competition/margin trade-off is a seemingly ever-present concern for investors within the chip sector. Another challenge for the company is convincing investors that it is time to reconsider chips.
I will concede that the upside on the company may be limited, but it is far from a sell when one considers that the company is already (arguably) below its fair market value. Investors should also consider that cash flow conversion question - the extent to which TI is undervalued today really does seem to hinge on just how good the long term margin potential is.
Wal-Mart (NYSE:WMT) – Target $70
Speaking on consumer spending, there is no other name more reflective of this than in retail giant Wal-Mart. Remarkably it continues to get overlooked when some of the best companies on the market are mentioned. It has that same Microsoft (NASDAQ:MSFT) syndrome of being slow moving and slow growth over the past 10 years. Outside of a few excursions, the stock has stayed relatively steady between $45 and $55 for most of the past decade. During that same period, though, the shares have returned nearly $7 in dividends, so long-term investors are not exactly empty-handed.
Wal-Mart is not likely to ever excite anyone with its growth again, but it continues to be a very reliable stock in any type of market. The company is working to repair relationships with suppliers and pay a bit more attention to what customers would like to see in the stores. At the same time, it is expanding relatively aggressively overseas. With a shockingly consistent record of mid-teen returns on total capital, a large foreign opportunity and a nearly 3% yield, Wal-Mart can be a core holding in conservative portfolios.
Summary
It goes without saying that confidence is a great thing to have. On the other hand, lacking confidence or trust often causes a vicious cycle that is tough to recover from. In other words, by being afraid of our economic condition, we are thereby making it worse than it already is. This is why I agree with the notion that investors should be careful in how they translate consumer confidence numbers into investment actions. While I don't think the numbers should be ignored, I do believe that investors should focus more on the company's fundamentals and less on public opinion polls.